Modified vans are fun. From Scooby Doo's mystery machine to the A-Team's supercharged GMC Vandura everyone enjoys a tricked out ride. The Ford Transit is no exception and has seen its fair share of special editions since it was first introduced to the world in 1965. Now to celebrate the Transit van's 50th birthday a new edition has been launched by commercial vehicle modifying specialists, M-Sport.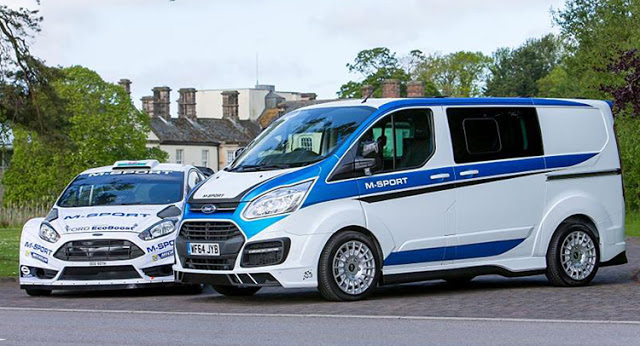 You may think that vans aren't known for their racing pedigree, but it could be argued that the humble Ford Transit has contributed more to motorsport than some racing cars. Holding its own and standing the test of time, the Transit paved the way for all similar commercial vehicles that came in its wake. It was the first van to narrow the gap between how vans and cars drove, with a well-balanced chassis and a 3.0 litre V6 motor, it was alarmingly adept at holding its own in general traffic.
Revving up this long history of quality commercial vehicles is the Ford Transit M-Sport. Replicating the appearance of M-Sport's Ford Fiesta RS World Rally Car (WRC), the special edition Transit – created by Van Sport – comes complete with a WRC-inspired bodykit and hand-crafted leather interior.
Eibach lowered suspension and OZ racing wheels with 18ins Michelin tyres highlight links to the World Rally Team, while a remodelled steering wheel with M-Sport branded dials and floor mats add finishing touches. A custom 2.2-litre turbo diesel engine under the hood and a new exhaust system – integrated into the rear bumper – completes the look alongside a striking roof spoiler.
A unique numbered plate identifies the limited edition status of the vehicle and an exclusive range of M-Sport branding options allow buyers to specify how they would like the vehicle to look.
Malcolm Wilson OBE, managing director of M-Sport at Dovenby Hall, near Cockermouth, said: "This is a fantastic project which we are all extremely proud to be involved in.
"Combining Ford's driving dynamics and the Transit's versatility with Van Sport's ingenuity and style, this product complements the M-Sport brand which is all about quality, performance and flair."
As a multiple winner of the International Van of the Year award, the Ford Transit is a proven success. Aimed at those in the professional sector, this limited edition product combines Ford's fantastic driving dynamics with the excitement of M-Sport's FIA World Rally Championship campaign – creating a thrilling new edition to the family.
Some people may think that 'white van men' drive like rally drivers, which isn't entirely true – check out this report for proof. With all the custom options for car drivers out there, it's about time the hard working people driving for a living got their chance to drive something fit for the Nürburgring. For those who like to play it safe you can opt for Van insurance from constructaquote.