Considering how personal a decision your brand of car is (if you've ever tried mentioning anything other than a Bimmer to a BMW fan – you'll know what we're talking about), it's amazing how impersonal we tend to keep our motors. Complete customisation tends to be reserved for the very rich (think London's Marylebone area) or the very young (think back-alley job and a failure of next year's MOT).
One way a fair few of us express a slight sense of character, however, is in our number plates. From personalised options using names or creative spellings of words, to choosing a border for around the outside. However, with great personalisation (of a kind) comes great responsibility and a huge number of people don't understand exactly what constitutes a legal number plate and what an issue disobeying the rules can be. Some figures suggest that in Greater Manchester alone over 784 vehicles were stopped and 553 on-the-spot fines were given in a week-long blitz on inappropriate plates.
So what, exactly, is legal and how can you keep your personalised plate out of trouble? Number plate supplier Number1Plates explain.
Creating a personalised registration
If you're looking to create your own new registration, the DVLA are your first stop. With information on what should and shouldn't be included, you can rest in safe hands and know you're not going to get into trouble. It's important to remember that only outlets registered on the DVLA number plates R.N.P.S system can legally supply plates – be wary of any companies that don't seem legitimate and, if in doubt, check.
If you're after a plate that already exists, DVLA Personalised Registrations hold auctions around six times a year to sell exclusive registration numbers with reserve prices starting at around £130. Likewise buying a personalised registration from a dealer or in a private sale is completely legal – providing you receive the V750 certificate of entitlement or V778 certificate of retention. If anything untoward is related to the plate, it will be you that has to deal with the consequences. Never underestimate the necessity of doing your homework and researching beforehand.
Spacing
It sounds like such a small matter, but it's actually one of the biggest issues buyers of personalised plates face. Your spacing. While it might be tempting to shift the gaps around just a little to spell your name, don't. It's one thing the DVLA are extremely strict on and there is very little leniency with what is allowed. See the image below for an idea: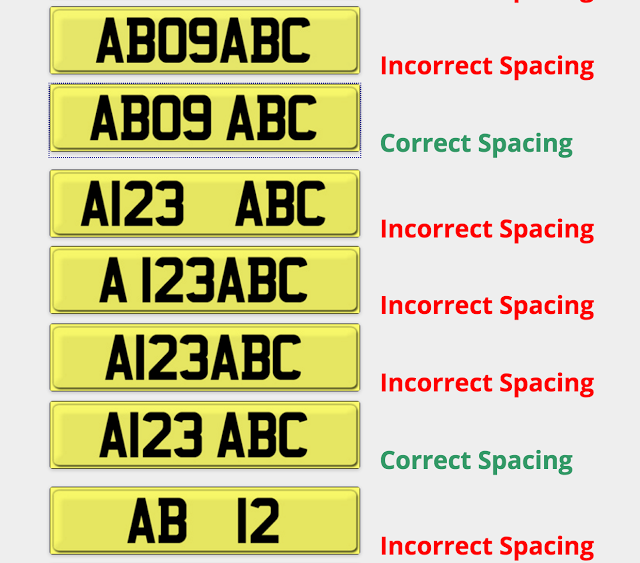 Fonts
There are currently six road-legal fonts available: Standard, 3D, Carbon, Hi-Line, 3D Gel Black and 3D Gel Carbon. If you're tempted to stray away from these – don't. You'll face a hefty fine, potential stops by the police and further action if you continually disobey.
Side badges on plates
Usually to the left of a number plate, side badges will often show a flag with the country's name or initials underneath. There are many illegal badges available online and, however tempting a picture of a dragon or heart might be, do not be fooled. If you're really after a specific design on your plate, a frame or holder can be a good (legal) way to achieve this, but there are still restrictions so don't go too crazy!


Borders
Here's one subtle way you really can express your personality. A thin border can be located along the outside edge of a number plate with a brief, bottom line of text. From pink to green and black to red, there's a selection of colours to choose from and it can be a sophisticated way to bring out accents of your paint job or a matching colour. Remember all number plates must include the manufacturer's and supplier's name and postcode. If a company offers plates without some form of verification, be wary. It doesn't have to be large, but just readable by police scanners – Number 1 Plates, for example, don't use the space as an opportunity to advertise – instead including just a code that can be read easily.
Personalisation of number plates can be a fantastic and subtle way of expressing some creativity, providing you abide by the rules. If in doubt, check. Being complacent and trying to bend what the DVLA set out as correct will only lead to fines in the long run – it's simply not worth it!
Number1Plates are a UK-based supplier of DVLA-approved, road-legal replacement plates for cars, motorbikes, caravans and vintage vehicles. They pride themselves on having the best plate builder on the web, so try it and test it.