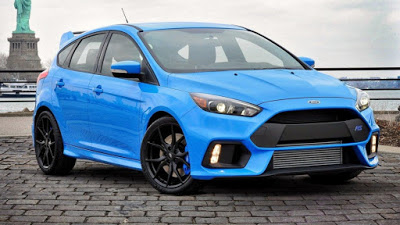 All new Ford Focus RS is all ready to hit the road with a bang after being hyped and anticipated world over for more than a year. In this new car Ford has been particular in introducing lot of demands for sophisticated finish, design and powerful features. From the state of the art bespoke AWD technology offering real torque vectoring in the wheels to the new drift mode, the car is made to redefine speed driving and control. Let us have a look at the key features and attributes of Ford Focus RS.
1. Focus RS is Equipped For Racing
Jamal Hameedi, chief program engineer of global performance vehicle development division of Ford recently said to a question that the car offers really an incredible platform for racing. He further commented that "Awesome cars always go racing." Ford's ambitious program to equip RS as a powerful racing car is clear from this.
2. Impressive Torque and All Wheel Drive Technology
Ford has earlier introduced powerful RevoKnuckle front suspension in other Focus RS models is going to be replaced this time by a more power packed all wheel drive technology. The torque steering of RS is powered by a more equipped all-wheel-drive system allowing tuning of suspension more usefully and specifically.
This all-wheel-drive technology can route up to 70 percent of total torque to the rear axle of the car that further can be split among both rear wheels. Besides this allocation of torque in real wheels, in case of emergency needs, the car can allow directing total rear axle torque to a single wheel. This will obviously make easy rotation of a single rear wheels to bypass an angle or corner while driving.
3. Powerful Mustang Engine Upgraded For RS Focus
The engine of the New Ford Focus RS is basically Mustang derivative. But the engine has been upgraded to a great extent for more performance, fuel efficiency and cooling mechanism. The Focus RS comes loaded with a 2.3 liter 4 cylinder engine with a turbocharger, all new cylinder head and a completely unique cooling mechanism addressing the engine and front end layout. Though the official announcement regarding the output is still not known, the engine is expected to give 315 horsepower or more. The expectation is not baseless as the Mustang engine used in it offers 310 horsepower.
4. Powerful Grip for Steep Surfaces
The all-wheel-drive system of Focus RS has been designed completely in-house in contrast to other cars putting the same technology in their new models. This allowed Ford tweaking with the new technology to allow a better grip for driving in steep surfaces. To explain how it works we can say that as soon as the car detects any slip in the surface all front wheels can send up to 70 percent of the available power to the rear wheels preventing the car from slipping downwards.
5. Time Tested Brembo Brakes
These days, almost a vast majority of high performance cars and vehicles use Brembo brakes and Focus RS is no different in this respect.
6. Ultimate Speed Star
The previous generation Ford Focus vehicle, 252-hp Focus ST had many limitations and among them the biggest one was in speed. It could not make an aerodynamic move at 150 mph which is not even equal to the optimum level of U.S. speedometer mentioned in specs, 160 mph. But as the images of Ford RS and tech specs revealed until now, the car seems to make out up to 186 mph. Though, without having a personal experience behind the wheels it is hard to say, at least the speedometer of new Ford RS is all set to beat the other Ford Focus variants.
There will be a 6 speed manual transmission in RS as it was with Focus ST. The only difference is that RS will also be equipped with drive mode. Though we are still in darkness about the kind of modes the car is coming with, you can expect some really adrenalin pushing high speed driving modes to be there.
7. High Quality Sport Car Wheel
Lastly, when it comes to the tyre, RS tyres will have high performance grip. Technically speaking, bonkers on both sides of the car there will be 19-inch 235/35 Michelin Pilot Super Sports wheels. Damn good grip, sweeping speed and responsiveness to torque vectoring mechanism to beat the nooks and corners at high speed, these wheels have been made equipped for all.