After giving back the little AMG A45 I was having AMG withdrawals until their new two-seater sports coupé arrived at my door.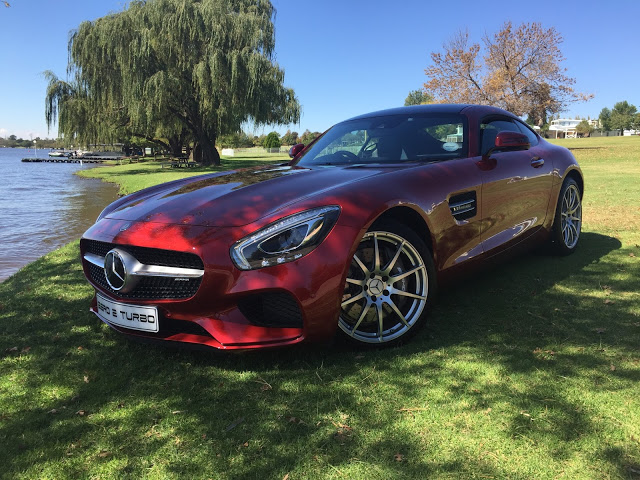 So what is this AMG GT that has come straight out of the AMG factory? Put simply, it is Merc's challenger to the ever popular and always performing Porsche 911. Contrary to what you may have read, it is actually based on the SLS chassis but it is noticeably shorter and it is sadly missing the gullwing doors. The car delivered was the GT version which is one below the GT S version and to be completely honest, the GT is more than enough. Under that long bonnet but pressed up close to the dash sits the new 4.0-litre bi-turbo V8 pumping out 456 horses via a seven-speed double-clutch gearbox.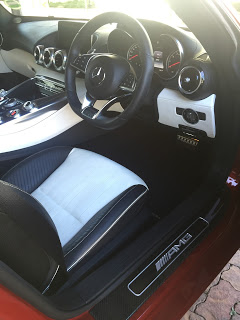 Looks wise, the rear end is a little too round for my liking. Pop the little spoiler up and it changes the whole look of the car. The Edition 1 comes with a fixed rear wing and this is on the money. Side profile and front end look fantastic and what surprised me the most was just how much of a head turner this car really is.
One thing you notice quite quickly was just how tight it feels inside the car. The centre console is raised so you actually have to lift your elbow high up to change gear etc. Cosmetically, it looks amazing and changing driving modes is a pleasure. With that long bonnet and low seating position, it is a little intimidating at first but get your seat in the right position and you will get used to the length and width of the GT pretty quickly.
It has the same driving options as the A45 (Individual, Comfort, Sport and Sport+) so around town Comfort mode works but when you in a car that goes and sounds like this, it is almost impossible to be in a setting other than Sport+ and Manual transmission. Sport+ is not a mode you can permanently leave it in though because not only will it annoy the neighbors when you leave and get back from work but your liver can almost feel the tyres rolling over an ant thanks to the uber-stiff suspension setting.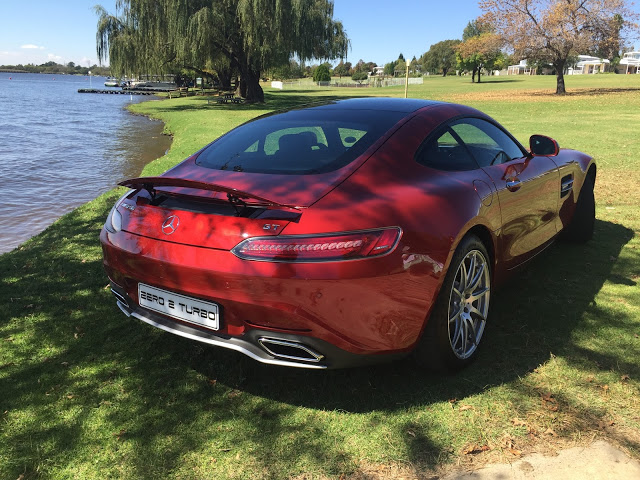 This car can get you into a lot of trouble if you are not careful. Firstly the way it gathers speed is next to none so you take a look down at your speed and realise you are going A LOT faster than it feels like and what the speed limit indicates. Secondly when you have those exhaust flaps open the noise urges you to go faster and hold the gears later as the symphony bellowing out those pipes behind your head shuts down everything around you. Getting off the line proves to be rather tricky for those rear tyres when simply planting your foot on the accelerator but hacking into the Launch / Race mode start and this car turns into a missile. It pushes you back into the seat so hard that you actually feel tired after doing it more than once. This is where I think the GT S is simply not necessary but of course when you are shopping for cars like this, you will generally go for the most powerful option.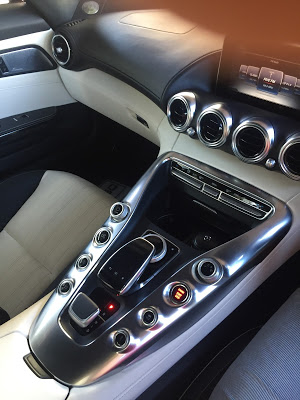 The AMG GT is a dramatic car to drive. It's loud, phenomenally fast and twitchy on cold tyres. You need to have your wits about you but this is what makes it and I can only imagine what is in the pipeline with rumors of a full-blown Mercedes-AMG supercar coming.
Latest pricing
Mercedes-AMG GT – R 1 776 000
Mercedes-AMG GT S – R 2 142 600
PRO's
Launch
Exhaust note (on downshift)
Rolling acceleration
Traction control (when talent runs out)
Torque
CON's
Consumption (when having fun)
Interior and boot space
Too much power to get off line (without traction control getting involved)