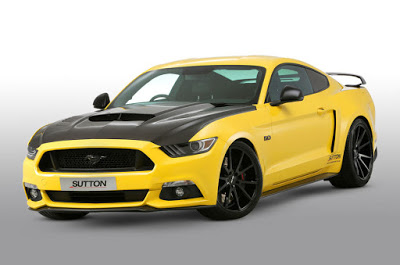 There's no denying that the Ford Mustang is an iconic and powerful motor vehicle. Since the 1960s, Ford has sold various Mustang models, many of which have a place in people's hearts.
Even if you're not a car enthusiast, you will know the Ford Mustang as one of the world's best-loved sports cars. Today's models get sold in various countries around the world. And, for the first time, they are available in right-hand-drive formats. That means places like South Africa, the UK and Australia can enjoy RHD Mustangs!
Another first for the latest generation of the Ford Mustang is the Clive Sutton tuning pack. In case you didn't know, Clive Sutton is a famous British car dealer. They specialize in all kinds of exotic and luxury cars, many of which come from American shores.
One tuning pack they offer in particular has raised a few stares in the Mustang world. Especially over in the USA! The "CS700" tuning pack is one that only applies to the latest Mustangs with V8 motors.
It boasts an impressive power upgrade of 55%, believe it or not! That means peak power is now at 645 brake horsepower!
What do you get in the tuning pack?
For a start, Mustang owners can enjoy the installation of a Whipple supercharger. Plus, an upgraded intercooler and four-branch exhaust system are also part of the deal. The new intercooler also complements the stylish stock aluminum radiators too! Yes, I know – I have a love for all things shiny under the hood!
The power upgrade options don't end there! If you want to break the 700 brake horsepower mark, there are some optional items you can get too! Examples include a larger throttle body, fuel injectors and a stronger pulley. They come as part of the CS700 tuning pack.
Are the upgrades worth the money?
If you buy a new V8 Ford Mustang, it's likely you do so because you want to enjoy that American muscle. Of course, few owners leave their Mustangs in a standard condition. The V8 engines offer plenty of tuning potential, as Clive Sutton has demonstrated.
Ford tell us that most people buy the V8-powered Mustang for track day usage. They want an eight-cylinder American muscle car that packs a punch.
One could specify a few performance enhancements from Ford. But, it's the aftermarket tuners that can unleash those extra horses under the hood!
Upgrades for non-V8 models
According to Clive Sutton, there are tuning packs available for the other Mustang engines. That means EcoBoost units can also gain some extra horsepower with various tuning modifications. Still, the V8 engine is the one to have in the Mustang for ultimate performance.
You might be wondering why I haven't quoted any 0-60 mph statistics yet. Well, the answer is there haven't been any tests carried out aside from power output. Clive Sutton did mention that they will be providing such statistics in the near future.
Without a doubt, the latest Ford Mustang V8 offers plenty of ways to increase power. If you own a new Mustang V8, how have you improved yours?