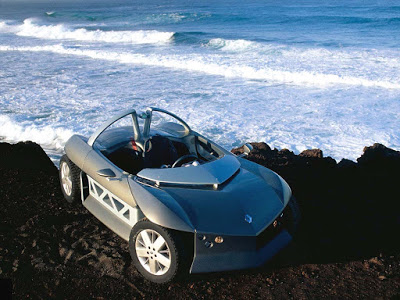 The French car company Renault have been known to bring some crazy car concepts to the table, and even the cars that made it past the concept stage such as the 100% electric Renault Twizy is an interesting vehicle. Renault has created some cars that look like they've jumped straight out of Wonderland, and although they've had some honest offerings like the Captur, Twingo and KADJAR, are all available at Glyn Hopkin used Renault cars, and have taken the car industry by storm. However, we're taking a step back from the norm, and looking at Renault's craziest ever concept cars.
Renault Roadster Laguna
The Renault Roadster Laguna was created 'driving for the love of it'. When it was created, in 1990, it was a technological innovation when it came to passive safety. The two seater sports car was ultra-low and ultra-modern for its time and also featured no windscreen or roof for a true hair in the wind experience. Instead drivers and their passenger are supposed to wear a protective visor which featured a built in infra-red radio. This 2 litre turbo charged engine allowed drivers to go from 0 – 60mph in 6 seconds and was easily one of the craziest concept cars that Renault ever came up with.
Renault Racoon
This concept car was first shown in 1992, and the Renault Racoon was also acquatic capable. Drivers had to enter the vehicle by opening the front of the car and its suspension also created a levered effect which allowed the car to be raised up in order to provide additional ground clearance. It also featured many radical technologies for the time, such as remote controlled entry, satellite navigation and cameras instead of rear view mirrors.


Renault Zo
The Renault Zo is an open top car that was introduced in 1998, that was based on the Renault Spider. The car was a futuristic, two seater roaster, with pneumatic suspension system and a hydraulic pump which allowed the car to be lifted while driving. Although this car never came into production, the more sensible, yet revolutionary 100% electric Renault Zoe has taken the car industry by storm.
Renault Nepta
Although the Renault Nepta doesn't look as outrageous as some of Renault's other concept cars, the two-door convertible offered a 7 speed gear box. The Nepta could accelerate to 62mph in 4.9 seconds and was unusual for the Renault brand as it was a rear-wheel drive that consisted of a large petrol. It was a stunning concept car and it's a shame that it never came into production.
Renault Vesta II
The Renault Vesta II was one of the world's most efficient passenger car that was powered with gasoline and was bought to life in 1987. This drivable prototype gave active aerodynamics to manage airflow around the engine and an air suspension that offered a fuel-efficient answer to the car industry. According to the factory the top speed of the car was just 86mph and although the three door hatchback may not have been the prettiest of all cars, but it certainly would have been revolutionary for the time.