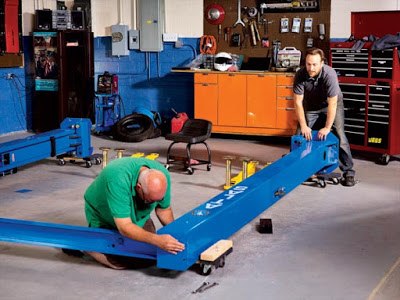 All garage equipment must be correctly maintained by law to meet requirements set by certain regulations. These regulations entail a thorough examination of all workshop equipment on a regular basis to maintain functionality and safety.
It is the responsibility of the garage owners to ensure that these requirements are met.


Why is Garage Equipment Maintenance important?
Garage Equipment Maintenance should not be underestimated. If a piece of equipment has a fault whilst in use and a customer's vehicle was to be damaged or a technician hurt, then the garage could be liable for legal action if regular garage equipment maintenance is not carried out. Thus, proper regular maintenance and garage equipment repairs are imperative to the reputation and future of the garage.
Garage Equipment Maintenance Regulations
There are two legal regulations which garages need to be in accordance with.
LOLER 1998, Lifting Operations And Lifting Equipment Regulation.
This regulation requires a full examination of all lifting equipment.
All lifting equipment following installation must be thoroughly checked to ensure that installation has been carried out correctly. 4 post lifts, two post lifts. This is for the safety of the technicians using it. If a garage owner does not adhere to these regulations and a subsequent accident occurs, then the garage would not be insured for any claim made and may well be liable for a hefty fine.
PUWER 1998, Provision And Use Of Work Equipment Regulation.
This regulation requires full maintenance of all equipment to ensure that it is fit for purpose.
At What Frequency Should Garage Equipment Be Checked?
Regular and comprehensive checks should be carried out at different intervals following garage equipment installation, starting just 7 days after the equipment has been installed.
7 days post installation
• Base anchor screws and column fixing screw should be checked for tightness.
• Tension of motor drive belts.
Three monthly intervals
• Base anchor screws checked for tightness and connecting bolts tightened.
• All screws checked for tightness.
• Check motor drive belt tension.
• Inspect arms locking systems and safety devices.
• Observe and register grease lead screw bearings at the top of the posts through the grease nipples
• Clean posts and carriage rubbing blocks.
Yearly/12 month intervals
• Visual inspection of all structural parts and mechanisms – check for damage or malfunction.
• Test electrical systems.


Who should carry out these checks?
A GEA approved garage equipment servicing company will be able to carry out thorough examinations and routine maintenance.
For your own peace of mind, this should ensure that your garage equipment is always safe and reliable. And it will maintain your manufacturer's warranty on all equipment and avoid you any fines or legal action.
Written for A1GarageEquipment.com by Nik Wilkinson