Having spent some time on the track in the baby M machine, last week was my turn to see how the staunch little German was on public roads and general day-to-day driving.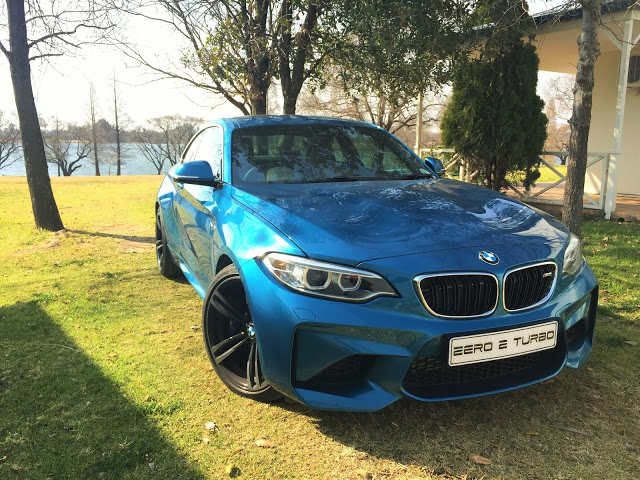 Let me start off with the looks. Out on the road and even parked in your garage, this is one car that you will turn around to look at over and over again. The lines this M car features and the flared arches really draws attention and I found myself on more than one occasion stopping to have a full blown stare at the Long Beach Blue beast. It kind of reminds me of a Staffordshire Terrier with it's chunk rear end and of course it's performance. You will all know by now that Long Beach Blue is one of my favourite colours and you really need to see it for yourself to believe it. Under the sun this car turns heads more than most supercars and this is not made up as I actually tested it.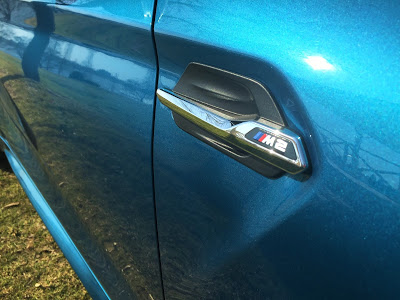 The first thing you notice when you get behind the wheel of this car is just how taut the chassis and suspension are. Every single little bump and stone is felt through your backside even in comfort mode. This leads me to believe that it would work better as a weekend car for a little joyride here and there than your daily car. Being a petrol head this did not phase me at all so I drove and drove and drove until my insides hurt (in a good way).
The car in comfort mode is really easy to drive with quiet exhaust noise, gentle throttle response and all the other mechanics that soften in this setting. Sport mode would be the mode I would leave it in as you get sharper throttle response, louder noise out of those quad pipes and the backside wiggles when you punch the throttle. Sport+ should only be used if the road is empty and if you have a bit of driving experience behind you. Why you might ask? Because you push the loud pedal a little more than usual and the wide rear-end will step out quicker than you can ever imagine and if you are going to catch it, you need to be very aware. Did this put me off? Not at all infact it made me fall in love with the car even more. No other car I have tested has kept me so focused and on my toes as this little Bimmer did. Someone asked me if this made me a bit frightened to drive it and to be honest in the beginning when I was learning the levels of grip and power delivery yes it was but you get the hang of it rather quickly and then that apprehension turns into pure ecstasy.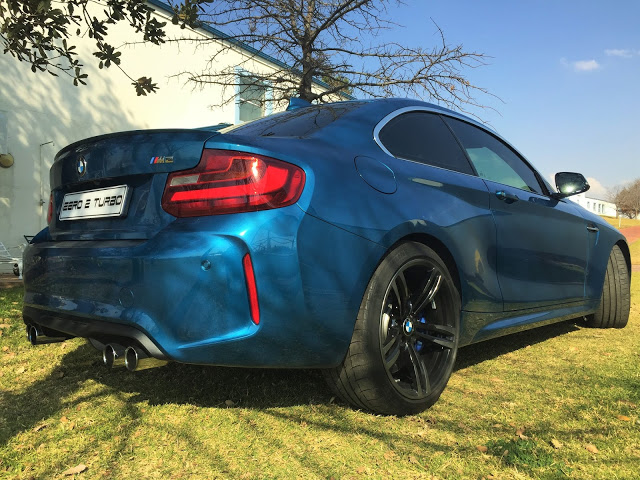 How can you not love a turbocharged 3.0-litre pushing out 272 kW to the rear wheels in a small German package? It is impossible and the day that car went back was the day I vowed I would own one.
BMW claim that the combined fuel consumption is around 7.9l/100km but if the car was reading 13l/100km at 120km/h on a flat highway, then this cannot be true. This is one very thirsty machine and if you have a lot of fun (which is highly likely) you might as well practice drifting into the petrol station as the tank just does not last.
PRO's
Dynamic drive
Power delivery
Looks (drool)
CON's
Consumption
Stiff ride
Slightly dull interior
Base price on the M2 DCT is R791,000 but add on a few extra's which this car has and you will be touching the R1 mil mark before you know it. This car had nice-to-have's like electric seats, high-beam assist and navigation and the inclusive price was sitting at R963,719. You have all been asking me what I would take between this, the A45 and the RS3 and to give my final verdict I would say RS3 for the week and this little demon for the weekend and track time.