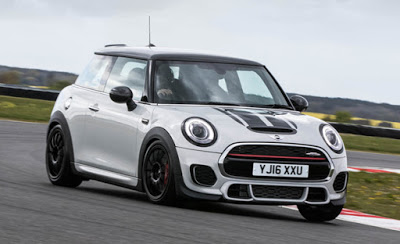 In the past, I have written about the latest hot hatch to come from MINI: the John Cooper Works. In fact, it was more of a preview as I only attended a launch event. But, what I didn't do was talk about more of the car's technical aspects. And, of course, what it's like to drive!
The MINI John Cooper Works is, without a doubt, the ultimate hot hatch to come from the UK and the Netherlands. So, why does MINI want car enthusiasts to buy this little pocket rocket? Here's what you can look forward to if you did decide to buy one:
High performance
Perhaps the biggest selling point of the MINI John Cooper Works is the power! Under the bonnet lurks a BMW-designed unit, as you might expect.
As standard, you get a 2.0-litre twin-scroll turbo petrol engine that boasts 231 bhp. It will get you from zero to 100 km/h (62 mph) in a mere 6.3 seconds for the six-speed manual. If you opt for the automatic version, it's 0.1 seconds slower.
The car has a top speed of 152 mph, which is great if you plan on doing some track day action with the JCW. If you're interested in learning more about the twin-scroll turbo on this engine, check out www.popsci.com. I found it quite a fascinating read!
Impressive fuel economy
Most people want to know if the MINI John Cooper Works is a gas guzzler. The good news is that it's quite frugal on fuel! The manual version boasts 44.8 mpg combined. However, if you go for the automatic, fuel economy increases to an impressive 49.6 mpg!
For most people, the MINI JCW will get used as a daily driver. I mentioned the fuel economy figures as that is often a deciding factor when buying a car.


Packed full of gadgets
As you might expect from MINI, the John Cooper Works comes with an array of innovative technology. For a start, the Navigation XL system ensures you don't get lost driving to new places.
Meanwhile, the MINI Connected system lets you pair your smartphone for Bluetooth handsfree calls. Plus, you can also stream music from your device or a service like Spotify. The Connected XL system, which comes free with the JCW, also features some extras.
For instance, you have an array of "apps" you can use on the touchscreen system. There's more information about it over at www.coopermini.co.uk. But, let me tell you that it'll feel much like the gadgets that come with a BMW 5 Series!


Razor-sharp handling
Another of the MINI JCW's selling points is the suspension system. When you put this car through its paces, you seldom feel any body roll. The car feels "tight" on the road. Owners often remark that it feels like they're driving a go-kart on the road. Having got behind the wheel of the John Cooper Works, I can see why that is so!
An optional extra on the JCW is Variable Damper Control. In a nutshell, it allows you to select different driving "modes" on the go. I'd recommend paying for it if you're planning to do a lot of track events with the car.
Have you bought a JCW? Let me know your thoughts on it. I must say that I'm quite impressed with it!