If you follow my social media pages, you will know that I just had my time with the new Mercedes-AMG C63 S Coupe and before we get into the review on the German machine I must let you know a few things about the test car. This was the same car that was used on track at the SA Festival of Motoring so when it was delivered, the brakes were shuddering, the tyres were worn and the wheel alignment was WAY out.
Let's start with the looks of the Coupe because let's be honest, it ticks every box in the book in this department. Sleek lines for the Coupe profile, angry front end and one of the staunchest looking rear-ends out there. I found myself doing a lap around it before leaving it parked. The Mercedes-AMG team really outdid themselves here as it is not overly dramatic but strong enough styling to turn many many heads.
Jumping in the driver's seat and you are presented with the typical AMG feel thanks to the carbon console, supportive sports seats, fine leather and a fantastically crafted steering wheel to give you a sense of sturdiness and confidence. Space in the rear is good enough for kids if you are an average height but if you are around the 2 meter mark, then you can kiss the rear seats goodbye.
Starting it up you feel that 4.0-litre biturbo V8 grumble to life. One of the nifty 'unknown' features is you can start it up with exhaust flaps open or closed depending if you want wake up the neighbors or not. I opted for the flaps open every time and if you ever hear one starting up, you will know why.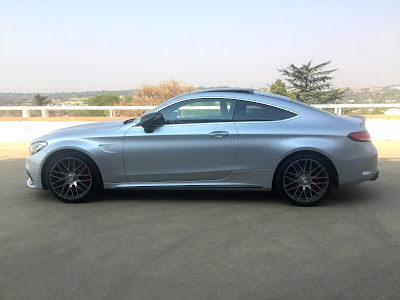 As with other AMG cars you have different driving modes to choose from. Individual, Comfort, Sport, Sport+ and Race. As it increases through the range, the suspension stiffens, the throttle and steering response improves. the power output increases and the traction control lessens. Race mode is obviously the most exciting and theatrical but if you bury that pedal to the floor, you need to be WIDE awake. Considering the V8 packs a whopping 510 horsepower and 700 Nm of torque one would assume that pumping all of that to two rear wheels would be too much and you would be right. The traction control system is interfering/helping until 4th gear to prevent wheels spinning too much and ultimately losing control. This was even worse as the tyres were well worn as mentioned above. So while the acceleration off the line is not ming-boggling the way this starts to spring after 3rd gear is something to behold. It almost takes your breath away as it runs up through the AMG Speedshift MT 7-Speed gearbox and before you know it, you are going faster than you should be.
Slowing down and coming to a stop is certainly no problem with the AMG high-performance brakes and if you really jump on them, you will feel parts of your inside move to the front of your body.
I was asked by many people whether I thought this was a daily driver and I may be being a little difficult here but I would say no because of the insane performance numbers and more importantly the comfort. Even in Comfort mode you feel every little undulation in the road and if you tap the loud pedal a bit too much, the rear end wiggles. We love this as we are testing it but if this happens every day you will start to get a little nervous behind the wheel as it happens when you don't expect it.
Would I buy it if I had the money? Abso-bloody-lutely. It is a complete and utter brute of a car and if you like to live life wagging your vehicles rear-end then this is for you. Don't expect pure luxury and comfort and don't expect it to be fuel efficient. I managed just 250km on the first tank but that is because flicking up and down through the gears is intoxicating. You find yourself changing gear for no reason at all just to hear those quad-pipes at the bark and shout and give people on the side of the road a fright. This or the BMW M4? I would have to say both. M4 for the week and this monster for the weekends.
Base price on the C63 S Coupe is R1,287,300 but as you all know some nice options takes it to R1,500,000 quite easily.
PRO's
Styling and looks
Sound / Noise
Running speed
CON's
Comfort
Fuel economy
Launch control (this did not work at all with worn tyres)