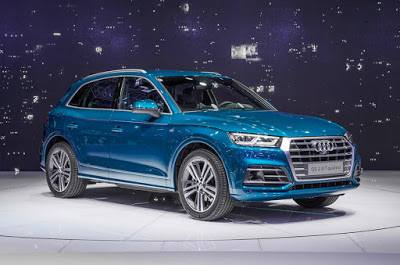 The new Audi Q5 was unveiled at the
Paris Motor Show
a few days ago. To some, it may have been a little bit of a disappointment. A quick glance at the thing showed us that there are very few changes that have been made when compared to the existing Audi Q5.
Of course, when the Audi Q5 sold so well, can you really expect that much of a radical change?
Audi has been on an upward sales trajectory recently, especially in the US. In fact, Scott Keogh, Audi's US boss and representative, called the first Audi Q5 the most successful Audi launched thus far. So they obviously don't want to rock the boat too much when it comes to the release of this second generation model.
The 2018 Q5 looks, of course, very similar to the original Q5. However, there are some slight differences that Audi enthusiasts and design geeks have picked up on. There are quite a few similarities to the most recent Q7 when it comes to the design. Some have also mentioned that there are similarities with the Q3, too. The chromed, angular grille armed with LED headlights suggests inspiration from both those models. But these are definitely more subtle design changes. Take both generations of the Q5 and turn them into silhouettes and you're basically looking at mirror images.
Of course, there won't be too many people who care that much about the exterior of this thing. After all, the Audi Q5 can hardly be said to have needed much of a change in the looks department. Many more people are going to care about what's under the hood. How much has changed when you consider the car's interior?
By the looks of it, you're going to have a good choice. Four turbocharged direct injection diesel engines are going to be available for this thing. A turbo fuel stratified injection petrol engine will also be available. The horsepower you can get in the Audi Q5 has also seen a marked improvement. The turbocharged direct injection diesel engines range from 148 bhp to 283 bhp. Considering the maximum you could get in the original Audi Q5 was 177 bhp, that's definitely an improvement. Of course, you'll need to keep these things in top condition if you want to get the most out of that horsepower. Visit
Kwik Kar
for more details about oil changes and auto repairs.
The interior is definitely under a lot more scrutiny given this year's controversy with the Audi Q5. In September, sales of the model had to be suspended in India due to its high level of emissions. Thankfully, it wasn't a scandal that even touched the Volkswagen emissions scam in terms of size and poor ethics. Still, it did ruffle some feathers and had some people worried about what this new model was going to bring.
It's too soon to give a full analysis on what to expect in the emissions and ethics department. But Audi has been doing well over the past couple of years, and the new Audi Q5 looks like it will keep that sales trajectory skywards.