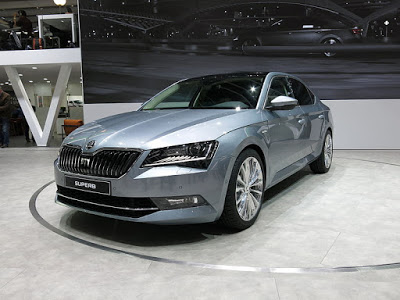 One of the most important decisions when you are buying a car is whether to go petrol or diesel. The kind of gas you use makes a huge difference, after all. Depending on your engine, the gas consumption can vary dramatically from petrol to diesel. If you are looking for something with a longer shelf life that will be more reliable, diesel is often the better way to go. What's more, more often than not it turns out much cheaper to run. But what diesel vehicles are the best, and which should you consider buying? In this post, we will take a tour of some of the best diesel vehicles going at the moment. If you are looking for a diesel car, you would do well to start by looking through these. Let's take a look at what they are, and what they can offer you apart from great fuel consumption.
Skoda Superb
Skoda is one of those badges which seems to be improving year after year. No matter what you are looking for in your new vehicle, chances are you can find it in one of Skoda's cars. With the Superb, you have a great example of a general all-round car which runs on diesel. The Skoda Superb is known for being fantastic value for money in a general sense. But that's not all. It also provides you with a great deal of space, a surprising amount given its outward appearance. All in all, you will be grateful that you found this useful little car.
Mercedes E-Class
A lot of people make the mistake of thinking that if you are going diesel, you can only go for certain models. However, it can often be surprising just how many cars are available to you. A good example of a surprise diesel engine is the Mercedes E-Class. This is a beautiful and stylish car with a whole host of distinct features you are likely to love. It has also been shown to be one of the best performers of the past couple of years. In terms of its placement as an executive car, you can't really say much fairer. If you are looking for something which will make you feel like a king of the road, then look no further.
BMW 3 Series
Next, we come onto a car with a veritable legendary status. The BMW 3 Series is one of those vehicles which seems to just get everything right. This is true in its performance on the roads, its engines, as well as the design of the interior. It drives superbly, and also happens to be one of the most comfortable cars around on the market today. Taking this car into a Diesel Works & Auto shop is unlikely to bring up many nasty surprises. Indeed, it is famed for – among other things – its sheer reliability.


Vauxhall Astra
Finally, a look at something on the cheaper end of the spectrum. After all, diesel tends to cut across the line in that way. If you are looking for a great hatchback with a diesel motor, this is probably your ideal solution. The great thing about this vehicle is that its size seems to be perfect for just about anyone's general daily use. A great all-rounder with a low price tag.