Honda is no stranger to making waves in the automotive world. Recently, the company announced that it will be launching a brand new Civic Type-R next year! As you can imagine, the news has got a lot of people hot under the collar!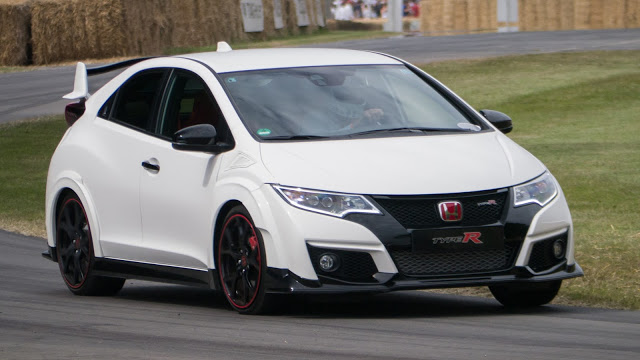 At this year's Paris Motor Show, the Japanese carmaker unveiled a prototype of the new model. The next-generation Civic Type-R is even closer to production. Why? Well, a couple of production mules recently got spotted in the wild in London about two weeks ago.
For the new generation Civic Type-R, Honda plans to make the design appeal to a broader audience. We don't know much about what they are planning to put under the bonnet. But, we can only hope it will match or exceed what's already in the FK2 model.
Of course, we are still some way to seeing the finished car in the flesh. In the meantime, if you can't wait, nothing is stopping you buying the FK2 model! Here are 10 reasons why buying one today will be the best decision you've ever made:


1. The insane exterior styling
Let's face it; if you're going to drive a high-performance car, it might as well look the part, right? No-one can deny the exterior design of the FK2 model Honda Civic Type-R looks insane!
It offers a low, aggressive stance for a start. The contoured sharp edges define it as a car unlike no other. And the rear-end design, including the spoiler, shows people it means business. In fact, with the power under the bonnet, most people will only see the rear of this car!
2. More horsepower than you know what to do with
From the factory, the Honda Civic Type-R comes with 305 brake horsepower. That's thanks to its 2.0-litre VTEC turbo engine with variable valve timing. From a standing start, this car will get you to the magical 60 mph spot on your speedo in only 5.5 seconds.
It's no secret that the Civic Type-R is a car aimed at those with a love of track racing. The engine that comes as standard makes the CTR a desirable option to enthusiasts.
3. It loves to be revved
One of the features of owning any Honda with a VTEC engine is that it likes high RPMs! To get the best out of the FK2, you should take it up to around 6,000 RPM. Don't worry, though; doing so won't kill the engine!
When you drive this car around a track, the engine won't scream at you at such high revs. Instead, it roars! Don't believe me? Check out this video to see for yourself!


4. The turbocharger boosts low-down power
One downside to the VTEC engine is that most of the power is only available at higher revs. To combat the problem, Honda bolted on a single-scroll turbocharger to the FK2's engine.
Thanks to that addition, drivers no longer have to drop down a gear and almost hit the limiter for big power! Another advantage of turbocharging is increased fuel economy. More air forced into the engine means less fuel gets used. That's also a good thing when talking about carbon emissions. On that subject, the FK2's emissions are 170 g/km.


5. The best six-speed gearbox out there
When you have a high-performance engine, you need a good way to use the power. The transmission is just as important as the power plant it gets connected to. Unlike most of its competitors, Honda does not offer a dual-clutch semi-automatic gearbox here.
Instead, it sticks with a popular, tried and tested method: the manual gearbox! Specifically, it uses a bulletproof six-speed transmission that allows shorter shift times. You can enjoy precision shifts between gears to help you get up to speed quicker.


6. It laughs in the face of adversity
Ask any seasoned FK2 owner about hard driving, and they'll all tell you the same thing: it doesn't care! No matter how hard you thrash this car around the track, it will stand up to the challenge without so much of a whimper.
Honda has spent millions fine-tuning the chassis and suspension to provide ultimate handling. When you drive the Honda Civic Type-R to the extreme, you can see that money was well invested.
7. It's quite nice in the cabin
You might assume that a road-legal track car isn't going to have much refinement inside the cabin. But, it might shock you to learn the FK2 Civic Type-R is quite a pleasant ride, if a little firm, on normal journeys!
As you might expect, you've got all the usual tech such as a touchscreen display and climate control. Plus, the race-inspired dashboard is both exciting to look at and has a premium feel. What I love the most are the shift lights that converge at the top of the speedo!


8. They hold their value well
Depreciation is a concern many people face, especially those with high-performance cars. But, as far as hot hatches go, the FK2 Honda Civic Type-R keeps its value. Depreciation is slow on this model and isn't likely to speed up with the new model next year. Just take a look at the Car Deal Warehouse to see some price examples!
I wouldn't necessarily call the Honda Civic Type-R an investment. But, if you want to lose as little as possible on your next car, the CTR is for you.
9. There is plenty of modification potential
From the factory, the FK2 Honda Civic Type-R is powerful, fast, and looks sexy. Still, that shouldn't stop you from wanting to make the car more unique and to your needs. The good news is there's a wealth of tuning potential with this car.
For instance, you could do an ECU remap that could take into account the use of higher octane petrol. Such a tuning option should easily see you achieving around 340 brake horsepower.


10. It's a car that will make your friends jealous
Do you want a car that turns heads wherever you go? If so, there's no denying the Honda Civic Type-R is it! Buy one, and all your friends will wish they owned one too. Just don't lend them your car; they might not give you the keys back!