Ferrari F12 Successor Spotted Testing In Maranello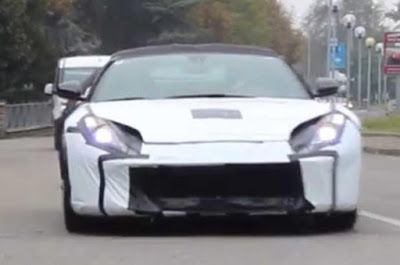 The new Ferrari F12berlinetta has been caught on video near Ferrari's factory in Maranello and although the reveal is around four months away (Geneva Motor Show), it looks like the model will be facelift and not an all-new car. It is covered under some heavy cladding but we can see the familiar bodyshape underneath. It will apparently be called the F12 M and will get an uprated version of the V12 from the F12 but with an output close to that of the F12tdf (769 hp). The power hike could be joined by Ferrari's 'virtual short wheelbase' active rear steering system, borrowed from the F12tdf. Inside we may see the dual-screen infotainment system that the new GTC4Lusso sports with a host of cabin updates.
Earlier suggestions that 2017 F12 model would receive hybrid technology have now lost momentum. The new generation of hybrid assisted V12 Ferraris is not likely to be seen until an all-new flagship is launched around 2020.