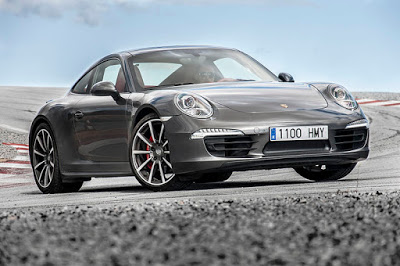 Everyone knows that Porsche is a brand synonymous with performance motoring. It's a global vehicle marque that has been around for many decades and is much-revered by us all. I'd even be willing to bet that some of you have lusted after models like the 911 from your teenage years!
If you're a Porsche enthusiast, you might assume that you know everything there is to know. The thing is, even prestige brands like Porsche have some cool and just plain weird trivia! Test your knowledge about your beloved car brand with these strange but true facts:


Porsche's founder invented the world's first hybrid car
You may be conjuring up mental images of hybrid Porsche models like the Cayenne and Panamera. But, the history of hybrid Porsche cars dates a long way back. Did you know the first hybrid built by Porsche was in 1899?
The company's founder, Ferdinand Porsche, made the Semper Vivus. It had electric motors integrated into the wheel hubs and also sported a petrol engine. As you can imagine, it caused quite a stir; especially at its world debut at the 1900 Paris World Exhibition! Five years ago, Porsche displayed a replica of that same car at the New York Auto Show.



The PDK transmission was around well before 2005
Most fans will know the PDK or "Porsche Doppelkupplungsgetriebe" got unveiled 11 years ago. The thing is, what most enthusiasts won't be aware of is the PDK existed well before that year. In fact, the transmission was in use by Porsche for more than 30 years!
The state of the art dual-clutch gearbox first made its public appearance in 1983. It wasn't fitted to any road-going models, in case you wondered. Rather, it was installed on a 956 race car complete with five forward gears.
You might be wondering why it took such a long time for Porsche to migrate it to road-going models. Well, the simple truth is that the PDK was an unreliable gearbox all those years ago. A transmission rebuild was standard practice for each unit after relatively little use.
It wasn't until the dawn of the 21st century that Porsche figured things out. Today, it has a reputation for being a "bullet-proof" dual-clutch gearbox!


Some Porsche cars are a firm favourite with Dutch cannabis growers
Now, I know what you're thinking. This sounds like a bit of a non-story, given that many marijuana growers like to flaunt their wealth. But, what makes this story interesting is that the cars aren't used for posing! Rather, some Dutch cannabis growers have taken a shine to the headlights of some Porsche models!
Why? The answer is quite simple. Many Porsches on the road today have Xenon headlights fitted as standard. Cannabis cultivators like the idea of using those types of lights to grow their crops. That's because they are energy-efficient, bright, and free. The latter is down to the fact that the headlights get stolen from Porsche cars parked in public!
You might be wondering why Porsche Xenon lights are preferred to ones from other models. Well, why steal the lights from a Toyota or Ford when you can have Porsche ones?
So, what fun facts do you know about Porsche that others don't? Let us know!