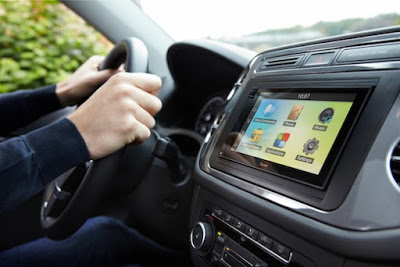 Oh how we all lust after the latest cars, like the Tesla Model S, Aventador and the Mercedes AMG SL, with all their fancy technologies and life-affirming gizmos. But alas, many of us are stuck with old cars that already feel outdated, despite the fact that we bought them only a few years ago.
Perhaps it has something to do with the fact that the nature of cars is fundamentally changing. Cars aren't so much cars anymore as they are smartphones on wheels. Every major car manufacturer in the world, from Ford to Toyota, is investing heavily in making their cars as high-tech and as "appy" as possible. It's a strange time to be a car lover, with pure mechanical engineering being replaced with all sorts of newfangled tech that seems straight out of a movie. Infotainment systems, cars that park themselves and cars that predict crashes further up the road so that you don't end up dead: it's all happened in just the last few years.
The good news is that a lot of this tech is available aftermarket, meaning that even those of us with old cars can still benefit from it. Here's a list of killer gadgets that'll make your car feel brand new – sort of.


Remote Startup From Your Smartphone
Older cars don't come with a remote startup button. Instead, on a cold and wintry morning, you have to go out to your car, sit in it and then wait for the heating system to warm up enough so that all the frost on the windscreen melts. It's not ideal.
Now though, there are smartphone apps on the market that promise to retrofit your car with remote start technology. One of the companies doing that right now is Viper. It has a system which allows you to start your vehicle using the infrared device on your phone. The cool thing about the Viper system is that it goes beyond just allowing you to start your car. It's also a tool you can use to remind you when you're about to run out of time at the parking meter and where you parked your car as well as starting the engine automatically, based on your commuting habits.
If you share your car with your kids, there's also an option to put the car on "lock down," meaning they can't take it out for a joy ride in the middle of the night if they're grounded.


Aftermarket Heads-Up Display
Heads-up displays used to be reserved for fighter pilots. In fact, the technology was so advanced that it was rarely used outside of the military. Now, though, it's become almost standard, and millions of new cars come equipped with it every year.
Now though, even people with older cars are being given the option to experience this exciting technology. Technology companies like Navdy are building hi-tech projectors that are compatible with modern smartphones, allowing drivers to feed images from their phones to heads-up displays in their cars.
The basic idea is to allow drivers to keep their eyes on the road when interacting with all the shiny new in-car gadgetry we've seen over the last few years. Drivers have access to the best GPS for car navigation, hand gesture recognition, voice control and app notifications.


Aftermarket Infotainment Systems
Standard infotainment systems, especially in older cars, leave a lot to be desired. As a result, Apple decided that it was going to find a way to make older car screens display their modern user-interface so that customers could get the full Apple experience while driving. The result of the project was Carplay, a service that plugs into the iPhone and converts in-car screens into bona fide iPhone displays. The technology means that drivers can enjoy all of the services that they would usually get on their phone screen, including texting, listening to podcasts, videos and voice control. The device also charges iPhones at the same time.
Currently, the gadget is compatible with Pioneer and Alpine car systems and will get more updates in the future as Apple expands its features list.


The Massage Chair
Top end cars, like the Mercedes AMG SL come with massage chairs. But there's nothing to say that you can't have one of these puppies in your own car, even if it's a 1980s Skoda. InSeat Solutions are now offering massage chairs for drivers will sore muscles after a day at work. Their seats have a bunch of different massage settings, as well as a "hot stone" feature designed to warm you up – perfect for winter driving.