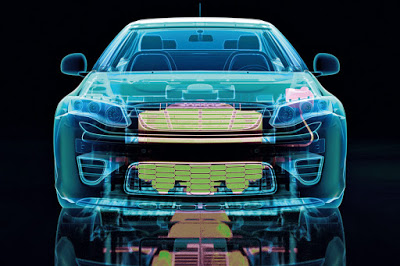 The typical car you drive away from the showroom today is barely recognizable from the sort of model that you would have taken ownership of just 25 years ago.
The pace of change in technology and safety improvements have made vehicles smarter and safer than their predecessors.
Here is a look at some of those landmark automotive innovations and an insight on where car tech is heading in the future. This includes how electronically controlled torque changed performance levels, why LED and airbags have made such a difference to road safety, plus a peek into a driverless future ahead.
Torque tech for the millennium
If you are looking for something radical that changed under the hood without many drivers being aware until they put their foot on the gas, Active Yaw Control was definitely a game-changer.
It was developed in the late 1990's but didn't come to prominence until about 2003 and what it means is that cars were now able to be produced with a differential that could be electronically controlled.
What you see now is many performance cars using electronically controlled active differentials to electronically deliver torque across the axle. You might not fully understand the technology but you will feel the difference when you hit the accelerator.
A clearer road ahead
If you buy a car like the Jeep Renegade, for instance, you might even take for granted how good the lights on the vehicle are for lighting the way ahead, but it is thanks to LED that you enjoy a brighter passage.
Automotive headlamps barely changed for decades and virtually all cars were the same, but the introduction of High-Intensity Discharge headlamps around 1992 was the start of the headlamp revolution.
About a decade later and cars with light-emitting diode (LED) headlamps started to roll off the production line. Technology has progressed from there and we now have adaptive LED headlamps which help to keep the road illuminated without that blinding glare that all older cars used to be guilty of.


Rapid improvements in safety
There has been much advancement in automotive technology over the last 25 years in particular, but alongside all the added features and gadgets to improve your driving experience there have also been some notable improvements in safety.
Airbags were actually first introduced back in the 1950's but they bear no resemblance to the ones that will be fitted in the car you will be driving today. Even the most basic model will normally come equipped with passenger airbags, side-impact, and even side curtain, all of which have helped to reduce the number of deaths and injuries to drivers and passengers.
The way ahead
If you are looking for a technology trend that is going to change the shape of the automotive industry over the coming decade or so you need to look no further than driverless cars.
We are witnessing the transition with vehicles that offer a semi-autonomous system, using eye-tracking technology to spot when you are not paying attention to the road and taking over control of the vehicle to keep you safe.
The pace of change is breathtaking and who really knows what cars will be like in another 25 years from now?
David McAndrews works in the auto industry and enjoys seeing how the industry is changing and growing faster than ever before with smart cars on the not-so-distant horizon.