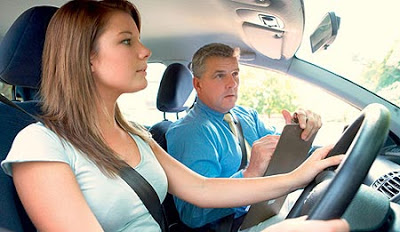 If you love driving, have bucket loads of patience and an aptitude for teaching, then becoming a driving instructor could be just the job for you. Helping people of all ages from all walks of life to reach a driving milestone can be an incredibly rewarding journey, in all senses of the word.
You'll need steely nerves for awkward mishaps and driving blunders. You'll have to learn to love the smell of a burning clutch. You will even have to learn to love the smell of body odour too. You'll get all sorts of people taking lessons with your driving school and not all of them will be friendly or nice. Some really won't have an aptitude for driving at all. Here, J. Doulton divulges all after spending time with the UK's Simply Driving Lessons. So, if you still think you have what it takes, read on to find out how you can help even the most timid driver take to the roads.
What qualifications do I need?
To become a Driving Standards Agency (DVSA) Approved Driving Instructor you will need to have an unblemished driving and criminal record. You need to have held a full clean driving licence for a minimum of 4 years. The driving licence needs to be for manual cars. You will also need to pass a Criminal Records Bureau Check.
You may be refused in the application process if you have previously been banned from driving or have had more than 6 penalty points. Any conviction for motoring offences will also rule you out.
To check your initial eligibility to become a driving instructor take a quick test on GOV.UK.
Criminal Record Check


You'll need to get a criminal record check before you apply to become an approved driving instructor (ADI) for the first time, or prior to ADI registration renewal. The Driving and Vehicle Standards Agency (DVSA) review criminal record certificates to ascertain whether or not you are a 'fit and proper' person to train as a driving instructor. They will assess any risk you could likely pose to your potential pupils.
Having a criminal record may not necessarily bar you from being accepted to train as a driving instructor. Applications are, however, very unlikely to be successful if you have been convicted of serious violent, sexual, financial or drugs offences.
What skills do I need?


The most important skills you'll need if you are serious about becoming a driving instructor are:
Excellent driving skills and road safety knowledge
Ability to calmly give clear instructions
Ability to adapt your teaching style to suit different personalities
Ability to react quickly, calmly and safely to any problems
How long does it take to become a driving instructor?


It can potentially take up to 5 years to become a driving instructor. If you pass your regular driving test at age 17, you'll have to wait until you are 21 before you can start the driving instructor training. If you are over 21 and have had your full driving license for 4 years it usually takes between 6 months to a year to complete all of the training and pass the exams.


What are the tests to become a driving instructor?
You first have to be accepted to start the qualifying process (criminal record check and driving licence qualification). You then need to pass 3 different tests:
Approved driving instructor (ADI) part 1 test
Approved driving instructor (ADI) part 2 test
Approved driving instructor (ADI) part 3 test
ADI part 1 test is a theory test. It takes about 1 hour and 45 minutes to complete. The test has 2 parts – a multiple choice paper and a paper on hazard perception.
ADI part 2 is a test of your driving ability. It takes about 1 hour and includes a test for your eyesight, vehicle safety questions and a test of your driving ability.
ADI part 3 tests your ability to instruct pupils. The test takes around an hour. It assesses your core competencies, your instruction techniques and your personal characteristics. The examiner plays the role of 2 different pupils to assess your instruction.


How much does it cost to become a driving instructor?


In all, it will probably cost around £3,000. That will include all the tuition, test fees and registration fees. The pass rate for tests is around the 50% mark, so an estimate of £3,000 factors in a bit of leeway for any exam resits.
How much will I earn when I'm qualified?


Most driving instructors earn in the region of £20,000; some highly experienced instructors can earn around £30,000.
What will my working day be like?


You can set your own hours, but be prepared to work in the evenings, at weekends and during peak holiday times. You'll be spending most of your time in the car, either with a pupil or travelling between lessons.
Once I've qualified is that it?


Once you've passed the 3 ADI tests, you'll need to register with the DVSA. Then you'll get your first approved driving instructor (ADI) badge. Every 4 years you also have to pass a standards check to ensure you are fit to carry on as a driving instructor.


Find out if being a driving instructor is the right career for you


Safe Driving for Life is a one-stop information resource for drivers and motorcycle riders. They have a great Approved Driving Instructor job preview tool. It's a test with multiple choice answers. It will take you about 10 minutes to work through the 3 sections and it will give you an idea of the kinds of considerations and personality traits you might need to become a driving instructor.
Good luck!