One car can be different from the other car on the basis of its features and specifications. When car-lovers think about cars, a thought about expensive cars is bound to pop-up in their minds. Cars have the same anatomy and they are driven in the same manner. Expensive cars are not just cars; they are the premium blend of engineering, style, and sophistication. They constantly push the limits of the vehicular performance. Car-lovers skip their heartbeats when they get a golden opportunity to see the expensive driving machines. We can't even imagine what goes in their minds and which level of adrenaline rush hit them when they get a chance to drive such ultimate driving machines.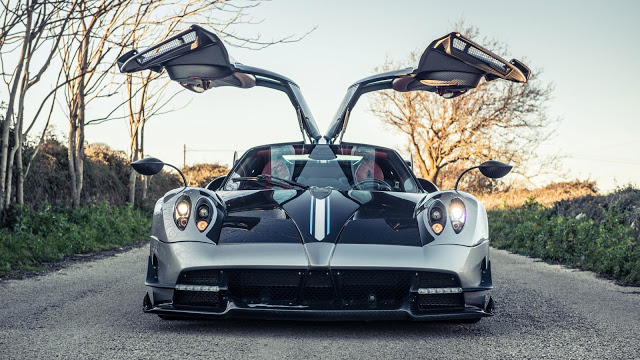 These cars provide the refined exclusive driving experiences to the drivers. These cars simply define the supercars and cost a fortune. Their price tags exceed a whopping amount of 1 Million Dollars.
No matter what the price of a car is, buying insurance ensures that you don't have to bear additional expenses that may incur in an unfortunate event like theft or loss of the car, road accident, challan by the Traffic Police, any third-party liability, and so on. When dealing with the supercars, buying car insurance is a must. In fact, you simply have no option to ensure its safety and your peace of mind.
You are in for a ride, fasten your seat belts. Here, we feature the most expensive, beautiful, and speedy cars of the world.
Pagani Huayra BC
This car is the epitome of the design and engineering that justify it being an expensive car. Pagani Huayra BC comes exclusively from the house of the Italian boutique automaker that costs approx $2.8 Million. It is an ultra-extreme limited edition, i.e. 20 units. It's light weight that features the wider track, more aerodynamic styling featuring a significant active rear spoiler, 6.0-liter twin-turbo V12 engine with approximately 750 horsepower.
Bugatti Chiron
It is the worlds' most exclusively luxurious production sports machine that is worth $2.7 million. It has a stylish design that is highlighted by fabulous scoop capped with the brand's signature horseshoe-shaped grille, located behind the doors. It boasts of the 8.0-liter W16 engine that estimates 1,500 horsepower that is able enough to prompt the two-seater car to fly at 60 mph in a just 2.5 seconds and reach the top speed of around 260 mph.
Koenigsegg Regera
In English, Regera means to "rule" or "reign". The car comes from the house of Koenigsegg – a Swedish builder that produces a limited number of hyper cars that even automobile enthusiasts are not aware of. It is the first plug-in hybrid model. It made its debut at Geneva Auto Show 2016. The production of 80 units is planned; each unit costs $1.9 million.
Regera embraces the roads with a 5.0-liter twin turbo V8 gasoline engine with 3 electric motors. It gives a combined output of 1,822 horsepower with the help of exclusively designed single-gear Koenigsegg Direct Drive transmission. It has got a beautiful exterior is styled by the appealing features and daytime running lights that give it afford a starry LED-illuminated forward appearance. Adding on to that, there are automatic soft closing doors and hoods.
Ferrari LaFerrari Aperta
When you talk about elite class cars, Ferrari must be there by default. Ferrari La Ferrari Aperta is a super-sleek open-top model of the most sought after LA Ferrari hybrid sports car. At present, it is still capable of retaining its original extraordinary butterfly-winged doors. This model made its debut at the 2016 Paris Motor Show and it costs approx $1.4 million. Its production is restricted to 200 units. It is equipped with a 6.3-liter V12 gasoline engine along with a 120-kW electric motor. Together, they produce 950 horsepower. Under three seconds, it is good enough for a 0-60 mph run and a high speed of 217 mph.
AM-RB 00
Aston Martin is working on the production of its latest hyper car, the AM-RB 00 for the next year, i.e. the 2018 model year. It is priced at whacky $3.9 million. The street-legal racer was designed in coordination with Red Bull Racing and it wraps a latest, high-revving, mid-mounted, and naturally aspirated V12 engine. The AM-RB 00 has an ultra-lightweight carbon-fiber structure, which is styled with unexampled aerodynamics that induces super extreme levels of downforce. From 99 to 150 road cars along with 25 tracks exclusive versions will be produced.