When news broke about the new Ford Mustang making it's way to South African shores, the petrol in my veins flowed a little faster as I knew I would finally get a chance at driving some proper American muscle. Well thanks to Ford South Africa, I was given the keys to the mighty 5.0-litre V8 pony for a few days to experience what the Mustang mania was all about.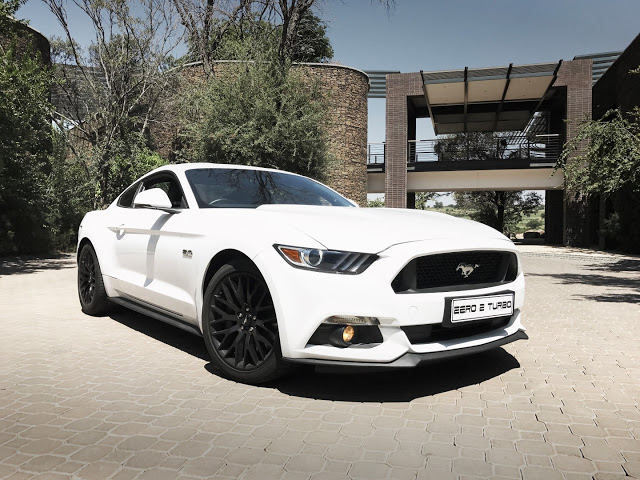 It may already be well over a year old but seeing one on the road still catches my eye and if you give it some thought, there are not too many cars out there at this price range that turns this many heads. I was actually driving down the road with a Ferrari just behind me and 90% of the people who looked and took pictures did so of the V8 pony. It is a nice modern looking machine but with instantely recognizable retro touches.
The big 306kW, 530Nm V8 is a rather thirsty machine but with a very competitive starting price, you can bank the cash you saved for the regular stops for fuel. When it arrived in South Africa many individuals ordered one with the hope of selling it for a profit but this has backfired as you can get a brand new V8 Mustang for R890,000 these days.
There is a large sterotype when it comes to Mustang's and American muscle in general for being fast in a straight line and terrible in corners but that does not apply to the new model thanks to some independent suspension at all four corners. You have the option of choosing from four selectable driving modes; Normal, Sport+, Track and Snow/Wet. Normal is well, very normal. Sport+ gives the exhaust a throatier sound, better response from the throttle, steering adjustment and some tinkering with the stability control. Track is a little bit loose for public roads (hence the name) and Snow/Wet, well you shouldn't be driving a V8 rear-wheel drive muscle car in these conditions anyway.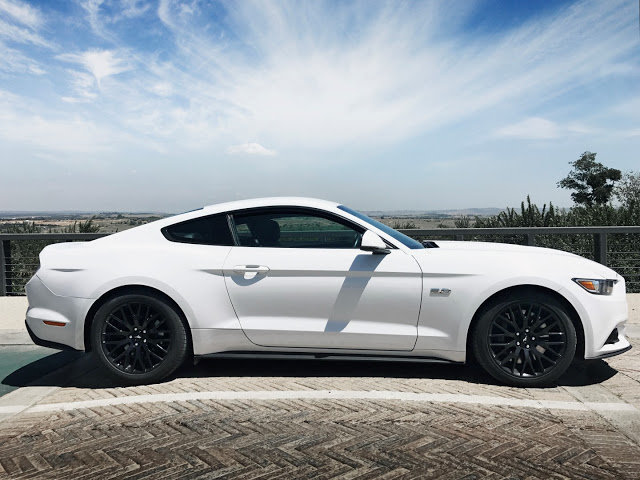 Overall the ride is very comfortable with the suspension soaking up the bumps and around town it is a very manageable car to be in thanks to the reverse camera which is fitted as standard. On the faster twisty pieces of tarmac the Mustang holds it's own and perform admirably. Direction change is no problem and body roll is kept to a minimum to ensure the four pieces of rubber maintain contact with the road at all times. Stopping you which you will need to do every now and then are some six-piston Brembo brakes and they do the job with ease.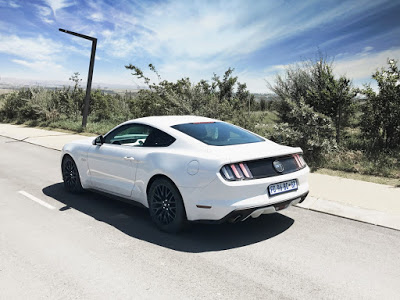 One of the biggest let downs for me after my time with the car was the very subdued noise the might V8 makes. Even with the help of a sound symposer that uses the stereo to deliver a more sporty soundtrack it is just not loud enough in my opinion. It is no wonder so many owners are turning to aftermarket exhausts.
Fantastic styling on the outside is a little let down on the inside. Quality is nowhere near the German manufacturers but I guess this is how they keep their costs down. There are more retro touches inside with the three-spoke steering wheel finished in silver and a chrome Mustang logo takes the center stage. Some of the buttons and switches feel a little cheap but the leather seats are extremely comfortable and seem to be of a very decent quality.
The Mustang comes with Ford's latest infotainment system, although sat-nav is an option. Ford's advanced Sync voice control system is right up there with the best as it allows you to make hands-free adjustments to the radio, phone and climate controls by pressing a button on the steering wheel to speak your instructions. This system works well and is easier to use than some of the fiddly buttons that pop up on the touchscreen.
Would I buy it? I most probably would because it is a V8 muscle car for less than a R1 million but I would have to have bought all the other toys I want first.
PRO's
Exterior styling
Brembo brakes
Ride comfort and handling in fast corners
CON's
Interior quality
Exhaust note