It's a full 70 years since the first Ferrari V12 hurled itself onto the roads and to celebrate this auspicious platinum anniversary the company have launched the new Ferrari 812 Superfast complete with a new color. You can order your new Ferrari in Rosso Settanta.
A lot of work has gone into giving the F12 a thorough overhaul and the result is Ferrari's most powerful V12 road car ever. This is a lot more than a midlife crisis for the Ferrari F12 range. The model replaces the Berlinetta coupe and TDF models.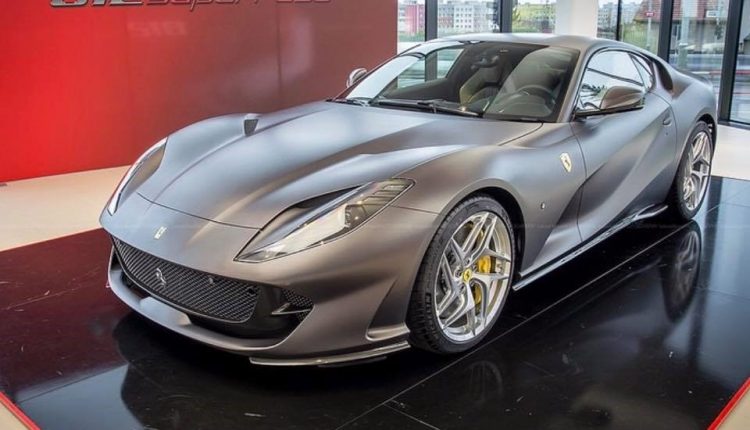 Superfast is a true Super car
Yes, the numbers add up if you do the math. The most powerful series production car ever to come from the iconic Italian brand is officially a super car packing a full 800 horsepower! The stats are impressive. It can achieve 0-62mph in 2.9 seconds, 0-124mph in 7.9 seconds and 211mph flat out. Super car territory indeed!
Yet the firm is at pains to describe it as a GT car. They have moved the engine and talk about things like luggage space as if you'd pack your family belongings up in there for a long weekend. You can certainly fit a jump box in there once you've read up on the reviews and decided which one could cope best with a V12 engine that refused to fire up for you. The jaw-dropping specific output of 121bhp per liter makes it the most powerful Ferrari road car of all time. A joyous anniversary present!
Has the anniversary triggered an outbreak of sentimentality at the Italian car giant? Well, there is something distinctly old-school about the model and a return to natural aspiration. This range topper has shunned turbos in favor of old-fashioned power. And what a lot of power there is!
It's provided by the 6.5-litre V12 engine. The variable length inlet tracts are powered by good old engine oil and complemented by traditional power boosting techniques like a raised compression ratio. A return to the old days and what Ferrari do best. However, there is nothing old-fashioned or quaint about what this machine can deliver. You can expect a peak power of 789bhp at 8500rpm, a redline at 8900rpm and a specific output of 123 horsepower per liter. Does this sound like a 6.5-litre V12 to you? There is clearly something special going on here, with or without sentimentality.  
Can the rear wheel drive handle it?
Well perhaps not in theory but this is where the old meets the new and some high-tech modern wizardry keeps this baby on the road. You get an E-Diff and F1-Trac, together with a second-generation version of Virtual Short Wheelbase. The front tires are extraordinarily wide giving you a sharp turn-in that is countered by automatically controlled rear steering. There will be no unwanted rotations for you to cope with.
When Ferrari decided to fit this model with electric power steering for the first time ever, they added a few extra elements. You get the benefit of Ferrari Power Oversteer and Ferrari Peak Performance. The car encourages you to use ideal steering inputs by varying the torque to the steering wheel. This does sound off-putting, especially to those who like to be totally in control. Do not fear, the tech is very subtle and only ever intervenes near the limits of grip.
Does it feel like a super car?
Does all of this 'help' from the electronics and the trip down memory lane detract from the super car experience which is, after all, what you buy the car for? The answer is a resounding 'no'. The gadgets do not get in the way of the very organic driving experience.
You get to connect with the engine and that is what matters. This is not just any old engine, this V12 is a beast with a huge force that talks to you in an exhilarating growl once you reach 8900rpm. It turns into a conversation that you want to keep having over and over again. Your dialogue is still predominantly via the steering and you will find it easy to make yourself heard, despite the electronics trying to translate for you. The Superfast is eager beneath your touch and keeps you looped in on the amount of grip you have. With the steering wheel switch flicked to the CT Off position you can achieve plenty of oversteer and your super car driving experience will be complete.
How does it look?
There is much to commend the 812 Superfast, both inside and out. The Italian masters have managed to integrate the air management into the overall shape with easy style and grace. It achieves a huge downforce (the same as the crazy F12 tdf) but has less drag and 40% of it comes from the underbody diffuser.
There has been a shift around of the engine position which may disturb some die-hard traditionalists but others will welcome the extra space in the 812's cabin. They may also appreciate the boot which provides 320-500 liters of space, depending on how you organize it. Yes, a long weekend in this car is possible.
Inside, the glorious red model does not disappoint the senses. It is based on the layout from the Ferrari GTC4Lusso which is a good start. You are not overwhelmed by instruments. There is a twin-screen layout but the giant analog rev counter has pride of place where you can't miss it. Not that you'd want to!
Would you like one?
Yes, you would. The 812 is an easy to drive Ferrari but when you want a reminder that you are sitting in a super car, you can get one. It is a perfect symbiosis of GT and supercar selecting the best features of each and making few compromises.
Ferrari is good at this. They have been producing 12-cylinder GT gems since the swinging sixties. You can feel the heritage when you drive this big-capacity, naturally aspirated gem. History never sounded so exciting.