Considering Ford are already making changes to the Focus RS, this review is a little delayed but I always say better late than never as I was very patient in getting a go in one of the most hyped of hot-hatches to date.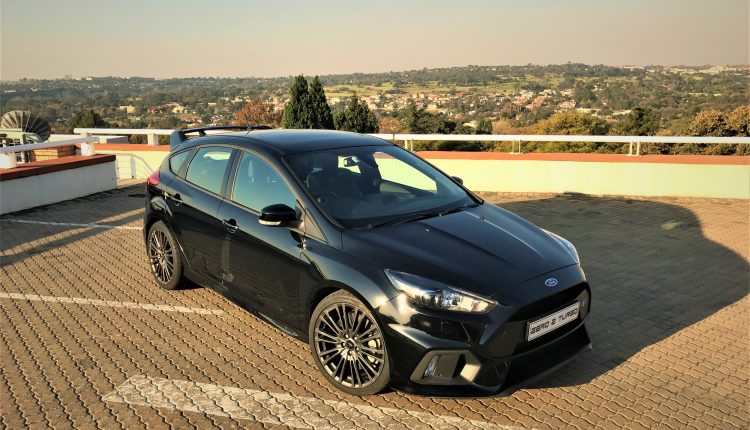 The Looks
Considering the current Focus is only offered in 5 doors, the RS version had to make do with this configuration and although it does not look as drastic as the MK2 the large air intakes at the front, the rear wing and the massive pipes at the back do make it rather imposing. This particular car was finished in Shadow Black with the standard Painted Aluminum wheel design but I much prefer the optional Forged Alloy Wheel design and of course the incredible Nitrous Blue paint job.
Interior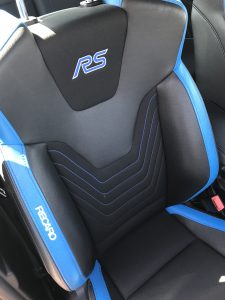 This is a bit of a sore point for me because a car with a base price of R700,000 should have a rather high calibre of interior quality. It looks just like the interior of a regular Focus albeit a few RS badges scattered around and it does not come close to matching the quality of it's similarly priced German rivals. I have read a lot of complaints about the Recaro bucket seats not allowing you to get low in the cabin but this is not a negative for me at all as I love being high up with maximum visibility of the road. The benefits of it being a Focus is there is more than enough space in it for 5 people, it's very easy to get in and out of and the boot is more than big enough for things like golf clubs.
Performance
The Focus RS comes from the Ford Performance division so I had rather large expectations before I climbed into the hot hatch and I was not disappointed. Under the hood sits is a 2.3-litre turbocharged 4-cylinder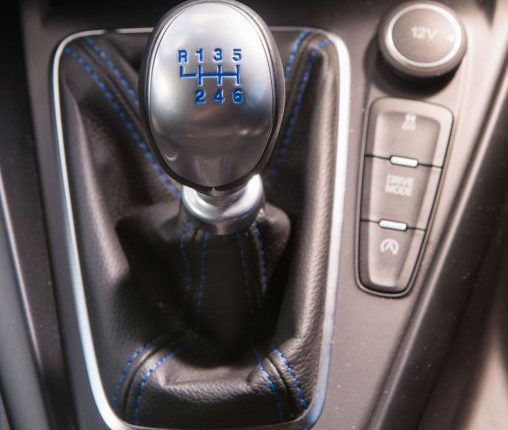 motor that packs a 257 kW (345 hp) punch  (440 Nm of torque). Thanks to all four wheels being driven via a six-speed manual gearbox, the hatch can hit 100 km/h from standstill in 4.7 seconds. It has a phenomenally easy-to-engage launch control system which makes the sprints a breeze to attempt. With launch engaged and managing the gearbox yourself it does feel quite harsh on the car but this example has done 13 odd thousand kilometers and felt as rock solid as ever.
I heard the in-gear acceleration was rather impressive so I gave it a bash. With 3rd gear selected at a speed of 50 km/h it reached close enough to 120 km/h in just 5 seconds which is the same as the beefy 5.0-litre V8 Mustang. For a 2.3 EcoBoost I thought this was phenomenally brilliant.
The Drive
You immediately know you are in something that packs a little punch as your insides jiggle thanks to the firm ride at low speeds but pick up the pace a bit and it actually becomes very smooth. The RS has very quick, sensitive steering and I found that on some bumpy roads where you are moving around a bit inside that you are constantly giving steering input. I didn't find this too much of a negative though as it actually engages you slightly more in the drive. Too many cars these days practically drive you and you feel disconnected from being the 'thing' in control.
The chassis does allow a bit of roll and gives you a good feel as to when the Michelin Pilot Super Sports are going to let go. If you are smooth with the inputs, the RS will reward you with very high speeds through corners which gives you a sense of confidence. Unfortunately I did not find roads suitable for the Drift Mode so I simply cannot comment on it but I hear it is a tricky customer to get right.
Although the RS is no longer powered by a burbling in-line 5-cylinder, the EcoBoost feels strong and eager to hurtle you into the distance. The power delivery is certainly not linear because as you reach 4000rpm, the turbo kicks on properly and wants to break traction with the tarmac, but it doesn't. The sound was a large focus point for Ford and we know it is hard to get a 4-cylinder turbo to sound decent which is evident during normal driving but when you hear the pops and bangs on overruns and hard gear changes you will love what the Performance engineers have managed to achieve.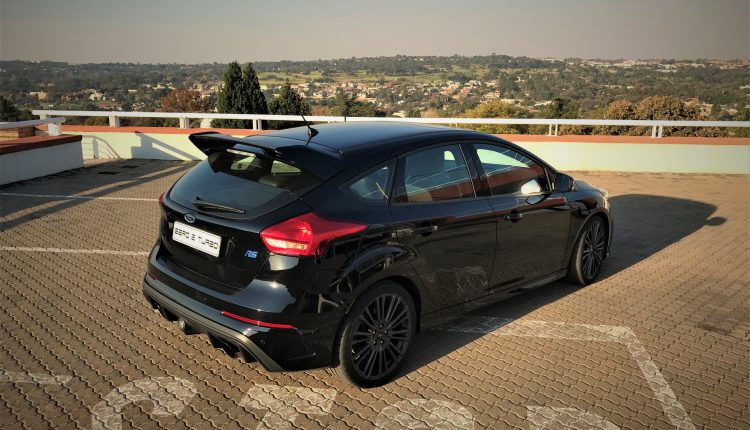 Overall
As a package I don't think I have driven a more fun car. I thought the A45 and RS3 were fun packages but you lose a little bit of this without a 6-speed manual in your hand. The constant steering input you have to give engages you and it is a properly rapid little thing. I went through a tank of petrol in three days as it encourages you to drive enthusiastically. You want to change gears often so you can hear the dual pipes popping at you and I would choose the RS over the other two if it was a breakfast run or something similar but for day to day driving it can't match the comfort of the other two German's.
PRO's
Package fun value
Exterior styling
Performance
Noise
CON's
Ride a bit stiff
Interior quality