While we may have grown accustomed to people spending outrageous amounts of money on cars, most of us don't know much about the cost of the license plates that go with such cars. Even though most of the world does, not everyone goes to the DMV for their license plate. Expensive registration numbers are common among the extremely rich. In fact, beautiful and expensive cars that do not feature matching license plates are not considered complete by many billionaires. The world's elite covets unique license plates in several different forms depending on culture and geographical location. As a result, license plates auctions are held all over the world to meet this demand. Whether they are considered the perfect high-end accessory or it's their rarity that creates the allure, private license plates are considered a symbol of status. Here's a look at the most expensive number plates in the world.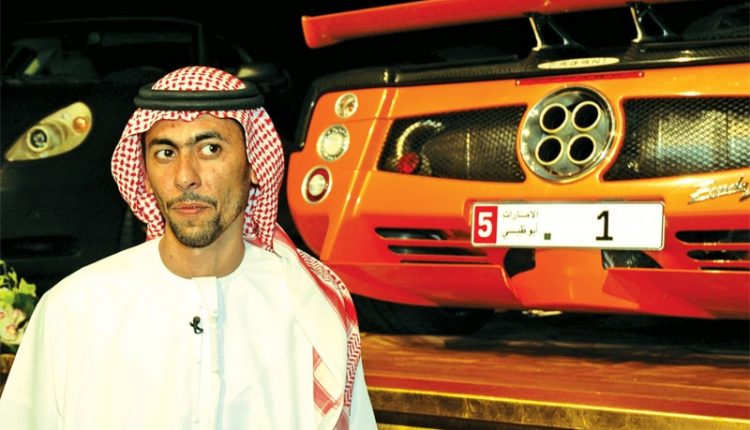 1. Registration number "1"
The number "1" license plate, bought for a staggering £7.25 million by Saeed Abdul Ghafour Khouri back in 2008, remains the most expensive private number plate in the world. Saeed Abdul Ghafour Khouri, an Abu Dhabi property mogul, is part of a car-centric group of individuals defined by the type of car they drive and the affixed license plate numbers. Khouri said that he bought the plate because it's the best number. To this group, a rare and consequently expensive license plate number is a symbol of pride, status, and indulgence.
2. Registration number "5"
In 2007, Dubai property owner Balwinder Sahni purchased what is still the second most expensive license plate number in the world. Balwinder Sahni paid an astounding £3.5 million for the number "5" license plate, a registration number that takes pride of place on his white Rolls Royce. At the same auction, Mr Sahni reportedly paid more than £800,000 for another private license plate, the number "55". He later said that both numbers held absolutely no significance to him. Try win some money at https://777spinslot.com/free-slots-win-real-money/
3. Registration number "28"
In 2016, a Cantonese man was the highest bidder for the number "28" license plate. He paid a stupefying €1,744,780 for the plate. This license plate bid, placed at an auction in Hong Kong, remains one of the biggest ever. He wanted the number '28' plate for specific reasons. Because the number 28 means easy and prosperous in Cantonese, it is believed to be a good luck charm. He bought the plate for almost six times its initial price.
4. Registration number "25 O"
The fourth most expensive license plate in the world was sold in the UK. In 2014, John Collins bought registration number "25 O" at a DVLA auction for a sum total of £518,000. The plate reportedly adorns his £10-million plus Ferrari 250SWB, a car that once belonged to Eric Clapton.
5. Registration number "F 1"
In 2008, Afzal Khan, an entrepreneur from Bradford, broke Mike McCoomb's record when he paid £440,000 for the "F 1" number plate. According to demonplates, Afzal Khan thought it was a good buying price, saying the license plate was probably worth ten times that amount. At one point, Afzal Khan turned down a €6-million offer for the registration number plate. Although it remains attached to his Mercedes SLR McLaren, rumor has it that the plate is currently up for sale. The asking price is an astounding €10-million. Though Afzal Khan has since refuted that claim, it looks like he was right.
6. Registration number "S 1"
This historic plate is thought to be Scotland's first ever license plate number. Originally, the "S 1" belonged to Sir John MacDonald, who was Scotland's Lord Justice Clerk from 1888 to 1919. The "S 1" was issued to Sir John MacDonald in 1903 upon the introduction of motor vehicle registration marks. This took place in Edinburgh. An anonymous buyer bought this private number plate for £404,000 in 2008 with the aim of fixing the digits to an old Skoda.
7. Registration number "1 D"
Nabil Bishara, a Lebanese businessman, bought this private number plate for £352,000 in Warwickshire. Despite the obvious reference to One Direction, the purchase was done one year before the formation of this popular pop group.
8. Registration number "M 1"
In 2006, Mike McCoomb, a self-made multi-millionaire, snagged the "M 1" license plate for a record-breaking £331,000. Mike McCoomb made his fortune in 2000 when he sold his mobile phone business to BT Cellnet. He reportedly bought the plate as a birthday present for his six-year-old son. At that age, it will be another three years before the young boy is able to use the plates.
Although more than 40 million great-value private number plates are available today, you can still get the perfect registration. All you need to do is engage the services of a reputable custom number plate dealer.
These number plates are worth a lot of money and if you want to start earning some money hit up bet365 app for android