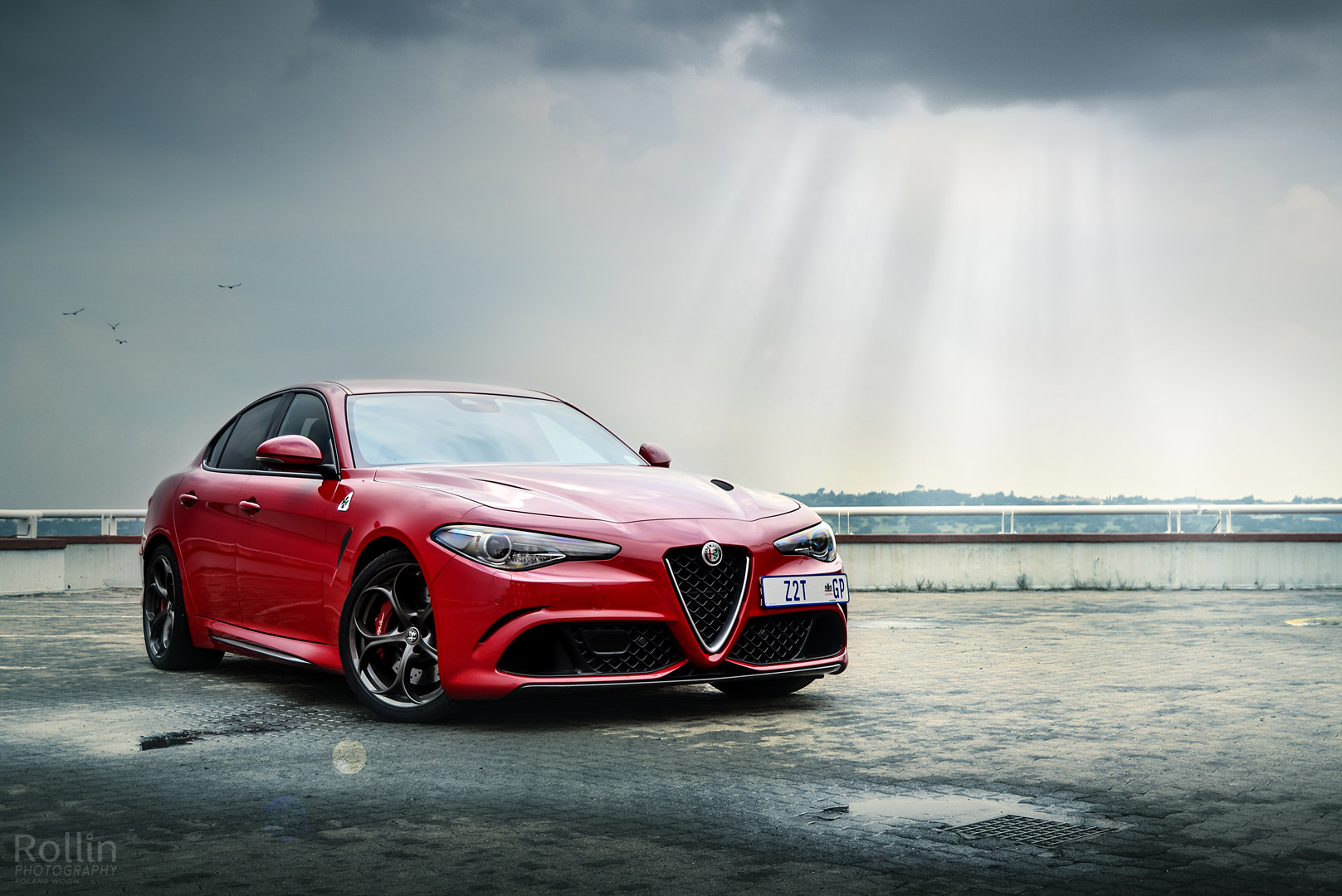 The range-topping Giulia from the Alfa Romeo range is called the Quadrifoglio and although the first customer cars arrived back in January 2017, I finally got my turn behind the wheel of Alfa's stab at handing a blow to the mighty BMW M3 and Mercedes-AMG C63 S.
Everyone has asked me would I pick the Giulia over the M3 and I will get to that in a minute because we need to just tap on the looks of this Italian stallion. If you are parting with R1,4 million (give or take), it needs to have plenty sex appeal and this car drips with it from every angle thanks to every curve. From the snarling front bumper to the massive racecar-like rear diffuser providing the perfect exit for the mean quad exhaust tips, this sports sedan gets a big fat tick in this department.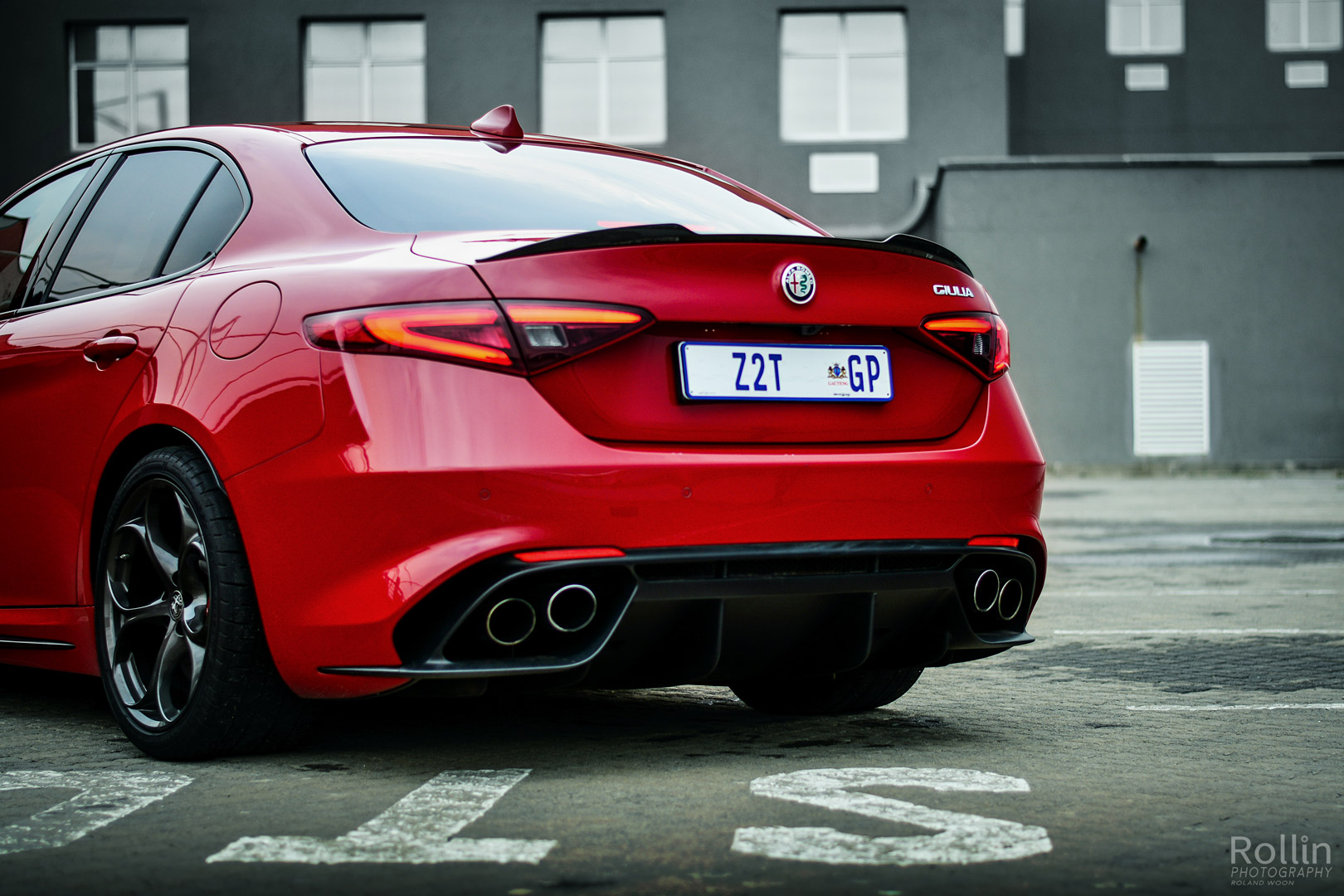 Inside you are treated to a plethora of carbon fibre and this not only gives off an uber-sporty feel but also an expensive feel. Unfortunately, there are some interior plastic components that are a little cheap and let it down slightly for a car of this stature but you can look past this when you sit in the carbon fibre seats as they are well bolstered and graciously accept the human form. Headroom in front and back is generous thanks to the attractively domed roof, although rear legroom is a little tight if you are slightly taller than the average individual.
[snap_ad id="37444"]
A trio of knobs on the center console are within easy reach of both front-seat occupants for command of the stereo volume, the DNA drive-mode selector (with Dynamic, Natural, Advanced Efficiency, and RACE settings), and the dashboard display. The infotainment albeit a little basic is one of the easiest systems to control and the screen sits perfectly flush with the dash which unlike other cars makes it look like it is actually part of the car and not an afterthought.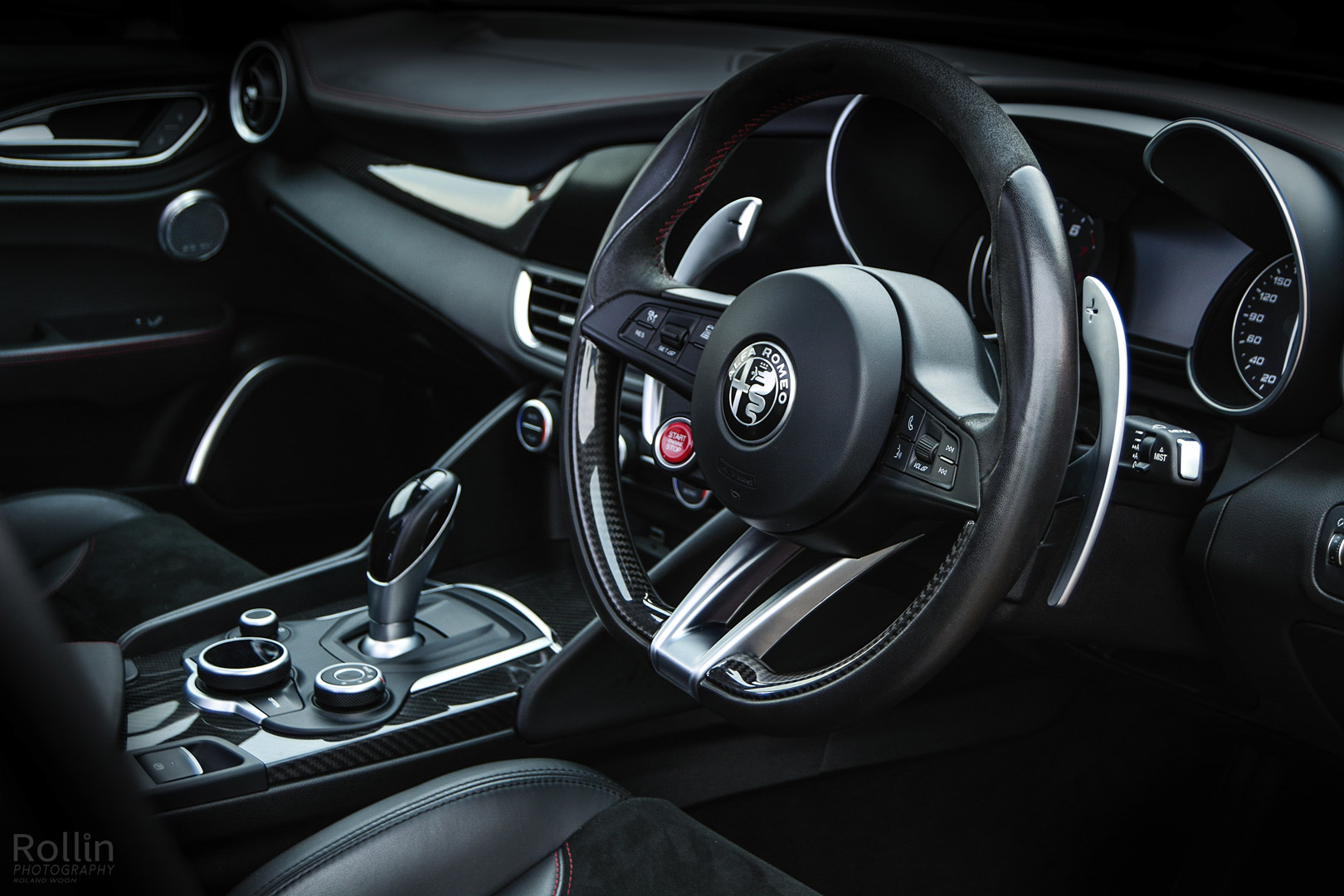 The steering wheel is a little on the thin side (for me at least) as I prefer the chunkier feel but this is quickly forgotten thanks to the enormous metal shift paddles which makes them very easy to pull no matter where your hands are positioned. The steering is brilliant and the light effort that it requires shows the maturity of this steering rack from the Italian manufacturer.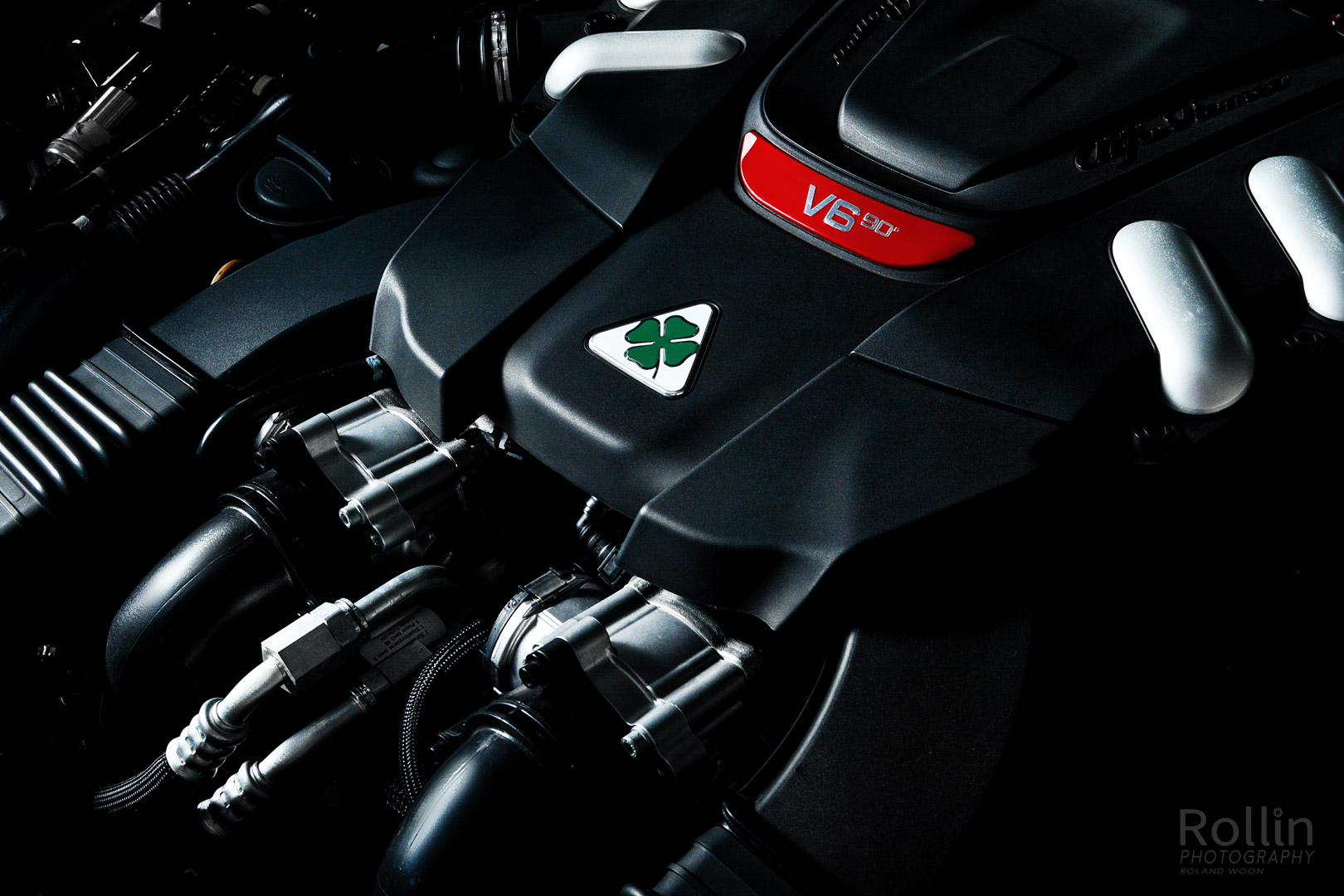 So what is it like to drive? Well it is fast, really really fast and this is thanks to a 2.9-litre twin-turbocharged V6 engine (Ferrari-lineage) pushing out a whopping 375 kW (502 hp) and 600 Nm of torque. This packs enough grunt to zip the sedan to 100 km/h in 3.8 seconds and reach a top speed of 300 km/h which means it will sail past it's German rivals with their 250 km/h limiters.
In the Giulia, the throttle response is as immediate as your right foot can move even in the calmer settings, and the suspension never goes harsh, even with the drive-mode dial set to RACE. If you like to live on the edge a little then RACE is the mode you are after. The traction control is off (and boy is it tail happy) and the valves in the quad exhausts open all the way (even at idle) to produce a glorious V6 note that can be heard from very far away. Pulling on the huge paddle shifter during acceleration gives you a nice shunt in the back and a big bang from the exhaust if the revs are just right. You are almost rewarded (in terms of noise) for driving it sensibly. Mash the loud pedal to the floor and you the gear change pops and bangs nearly disappear and the horizon appears as fast as ever.
This car needs to be driven with caution (especially in RACE) but to really get a feel for what the engineers at Alfa have achieved, one would need to blast around a circuit for a few laps. Driving this super sedan around town and on public roads is a lot of fun and one cannot deny that but it needs to and absolutely loves to stretch it's legs which is rather difficult (at least legally) to do without a closed off piece of tarmac.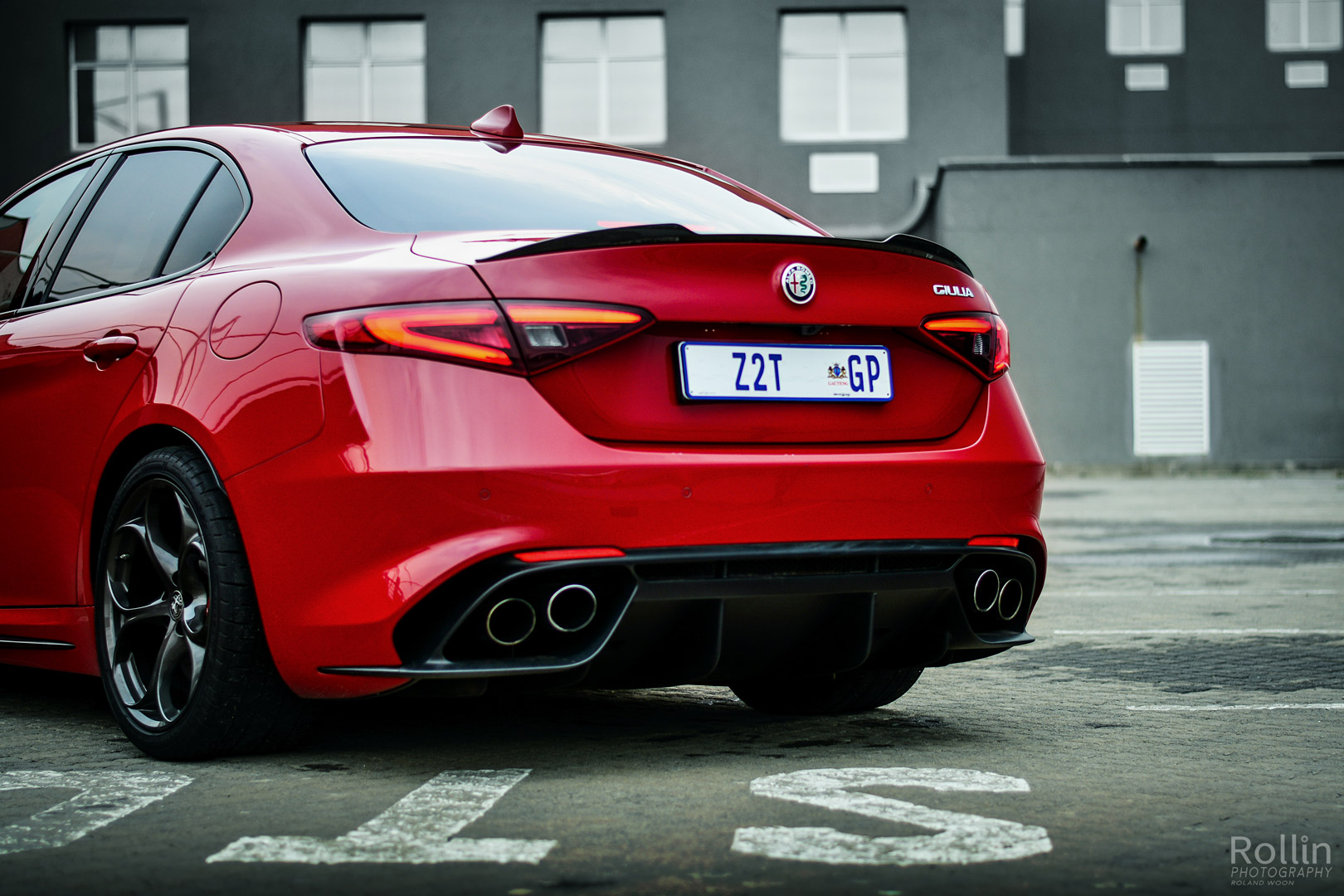 So would I take the Giulia over the mighty M3? At this stage I think I would still opt for the Beemer because of two simple aspects. The comfort of the BMW ride is a little better and the interior quality is a lot better. If you will be driving it as a daily, you will be better off with the German but I feel if you want a really rapid, stupidly good sounding weekend toy / track car, then you head off to your nearest Alfa dealer and pick up the glorious Giulia Quadrifoglio.
PRO's
Styling – Just look at it
Steering
Blistering performance
Superb soundtrack
CON's
Interior plastics could be nicer

Rear seat space is tight for the class
Alfa Romeo Giulia Quadrifoglio South Africa
Thanks to Rollin Photography for these absolutely FANTASTIC photo's.