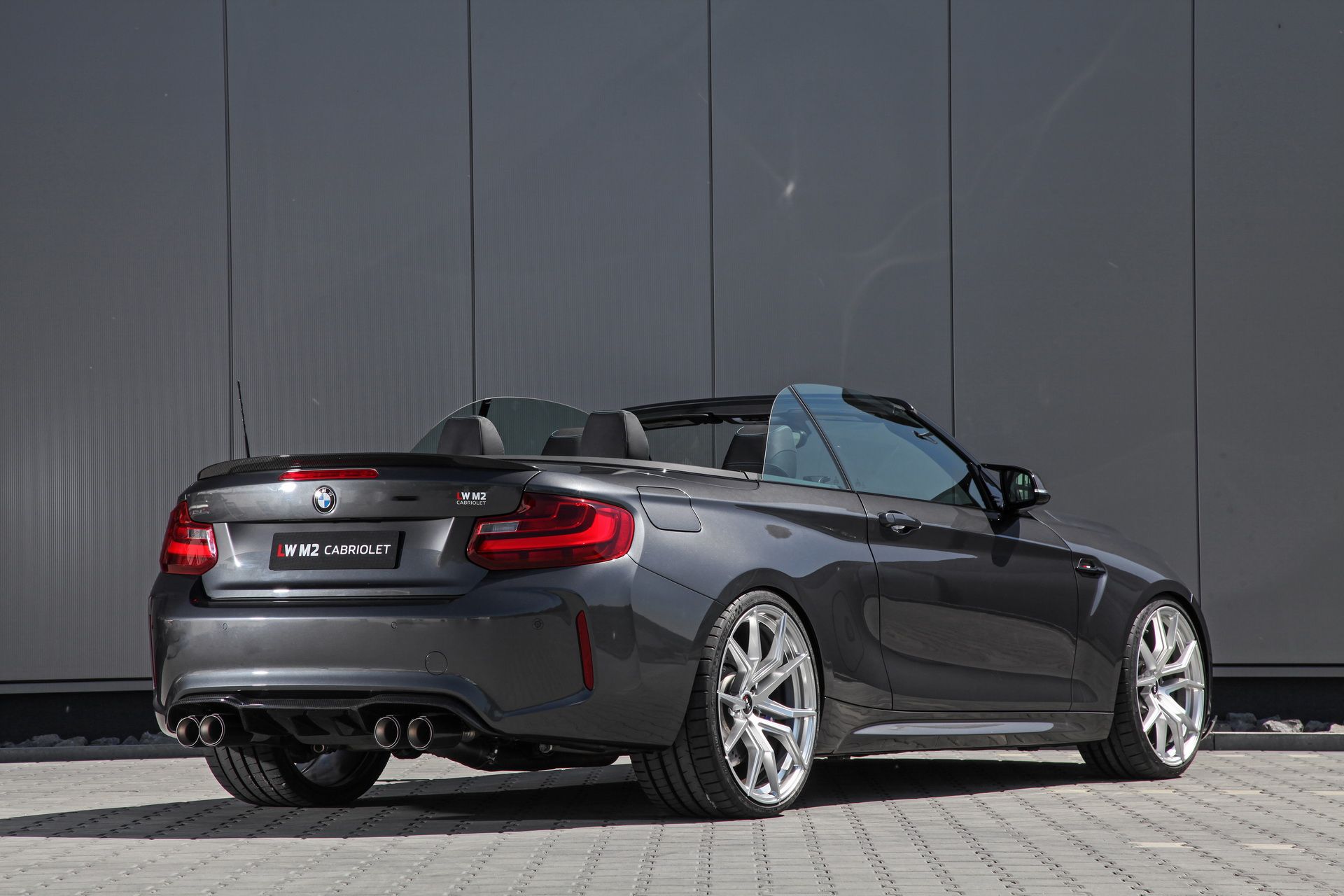 While BMW may have effectively ruled out rumours that they would be making an M2 Cabriolet, a German tuner by the name of Lightweight Performance clearly just couldn't let go of the idea. This company, responsible for modifying an M2 Coupe with M4 GTS DNA a few years ago, has now decided to make a drop-top M2 a reality.
Despite what the headline says, this BMW "M2" Convertible is not a result of simply hacking the roof off an M2 Coupe. Lightweight Performance have gone through extremes of taking a 2-Series Convertible, adding some M goodies on it, and naming it the LW M2 Convertible.
When I say "goodies", don't assume that Lightweight Performance simply slapped a few M badges on the car and called it a day. For starters, this 2-Series Convertible has been fitted with M2 front and rear axles, and I think it's worth mentioning that this includes the clever Active M Differential. Under the bonnet sits the heart of an M2, which is mated to the same 7-speed M-DCT box found in the M2. In this application, the N55 powerplant generates 422 hp (315 kW) and 600 Nm of torque, that's at least 17 hp (13 kW) and 50 Nm over even the Competition pack.
Inside, the LW M2 Convertible resembles a proper M2. With features including carbon-fibre trims decorating the Alcantara and Nappa leather, there's also contrast stitching and of course, M badges fitted to the gear lever, steering wheel and dials.
The exterior, as you can probably see from the images featured, announces the car's compact performance convertible aspirations, just as the M2 shows that it's unmistakeably a compact, performance coupe. The LW M2 Convertible's bodywork is almost identical to that of the M2 Coupe; only in this case you get carbon-fibre bits and pieces which add a bit of an individual look.
Accessories adding to the eccentricity include a set of 20-inch front wheels and 21-inch rear wheels wrapped in 265/30 and 305/35 tyres respectively. The wheel-tyre combination leaves very little space in the wheel arch, giving the car a really sporty look.
If you were genuinely excited by rumours of a convertible M2 before BMW disappointed you by squashing them, you can now cheer up thanks to engineers at Lightweight Performance. But the news is not all cute and cuddly; the LW M2 Convertible costs €75 000 which is about €15 000 more than what the base M2 costs in Europe. The price however, starts to make sense when you consider the fact that you'll be able to drop the top off your M2 while you have more power than the M2 Competition Pack in your 300 km/h BMW 2-Series.