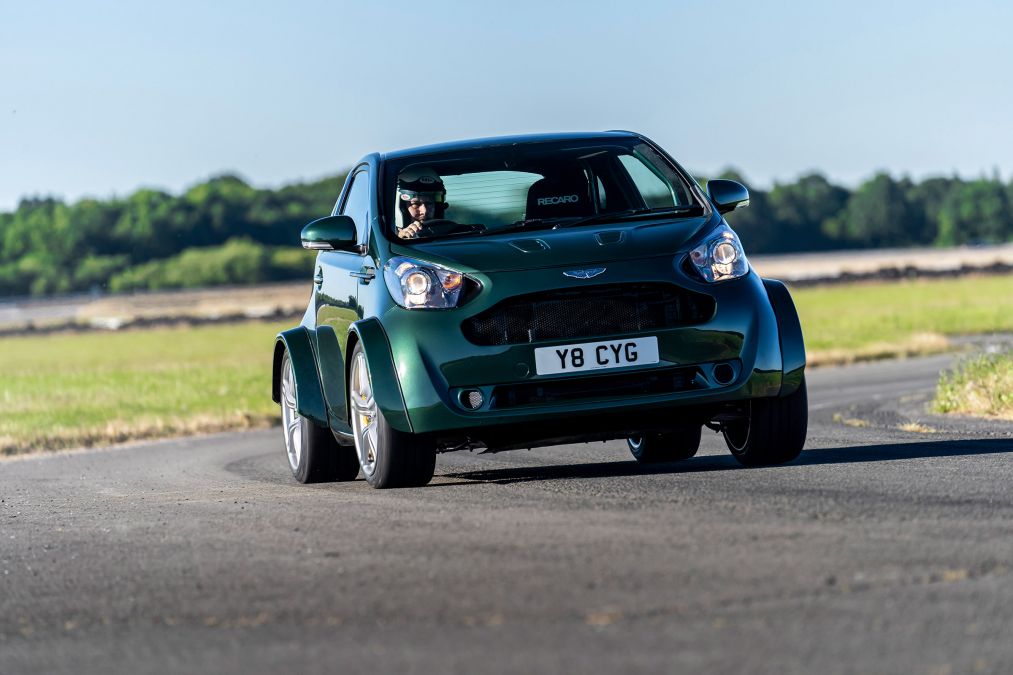 Q by Aston Martin is proving to be an even more wicked side of the British marquee than we thought. This in-house specialization department has stuffed a V8 engine inside Aston Martin's version of the Toyota iQ and straight away it has big shoes to fill at Goodwood as it dashes up the hill at the Goodwood Festival of Speed.
Not only has Q by Aston Martin has shown how it likes to push boundaries, you also can't argue with the brilliance of its packaging skills. Where we normally find a tiny 1-litre three-cylinder engine, the team managed to fit a Vantage S derived normally aspirated 4.7-litre V8. The Cygnet has of course gained some weight, but with the kerb weight of 1,375kg it is still pretty light. The weight increase is made particularly invisible thanks to the V8 firing 430 hp (320 kW) to the rear axle via a seven-speed automated manual transmission and a short torque tube.
The compact, light body coupled with the 430-horse powerplant sees a power-to-weight ratio of 313 hp (233 kW)/tonne. The outcome is a 0-100km/h sprint that takes just 4.2 seconds, and it will keep accelerating to speeds of up to 270km/h. The car uses a compact exhaust system specially made for it to produce an antisocial noise.
The V8-powered Aston Martin Cygnet features new carbon-composite wheel arches, but some elements such as the 19-inch alloy wheels, the six-piston brakes at the front, sub frames and some suspension setups are also sourced from a Vantage.
Q by Aston Martin seems to have gone for a racy design as the cabin has been done away with for an FIA type-approval setup. This includes seating and a roll cage that enables the buyer to enter in FIA-approved motorsport if they have the aspirations for it.