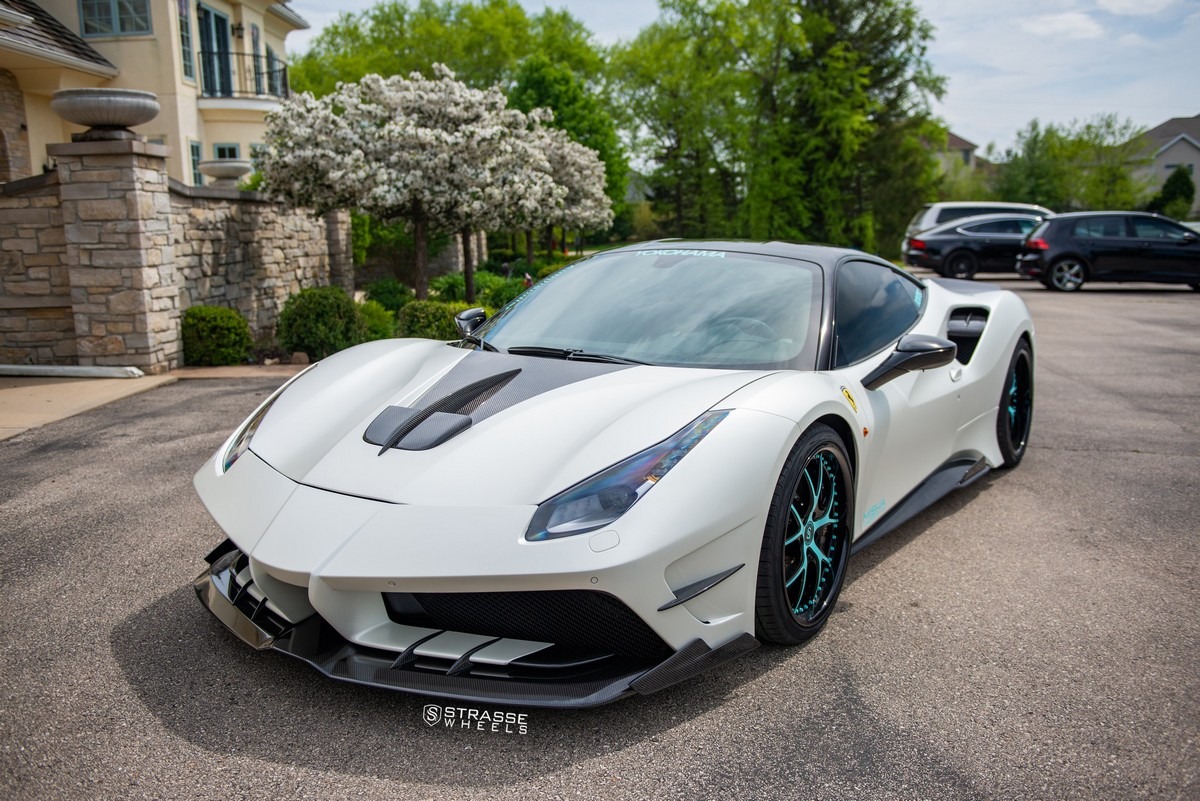 Owners of the Ferrari 488 looking to modify the look of their Italian supercar are spoiled for choice as there are a number of tuners which have done a fairly good job of making this mid-engine Ferrari look more race-ready. But with this tuner by the name of Misha Designs, things may get a bit tricky as they will leave your car looking like it belongs in an American hip-hop music video such as the Ferrari 488 featured on this piece.
As far as subjective styling goes, the modifications done on the 488 featured have to be right at the top – you will either love the styling or abhor it. For starters, the car has been given tinted windows which look more than strictly necessary, this is contrasted by the Pearl White exterior paint as well as 20-inch Strasse SM5R Signature Series wheels that feature a glossy black lip and barrel finish with Tiffany Blue spokes.
The colour combination may look a bit excessive, but the tuner still insisted on adding custom decals on some body panels as well as the windows. There are also new front and rear bumpers and the option of a considerably massive rear wing – however, if this is not your style there is a more subdued deck lid spoiler.
If this kind of styling is a total miss for you, you may be even more disappointed to find that the 3.9-litre twin-turbo V8 is left untouched as Misha Designs' kits do not include any mechanical upgrades. But there is not much to cry about in this regard as the Ferrari 488 in factory shape produces 661 hp (493 kW) and 760 Nm of torque to achieve a 0 to 100 km/h time of just 3 seconds before 200 km/h is dealt with in some 5 seconds later and the madness does not stop until the car reaches a top speed of 330 km/h.
While Misha Designs' work on this Ferrari 488 might not be a hit for everyone, the good news is that it was done on a very special car which does not easily lose its supremacy. This 488 therefore will surely be one hell of a catch on the streets.