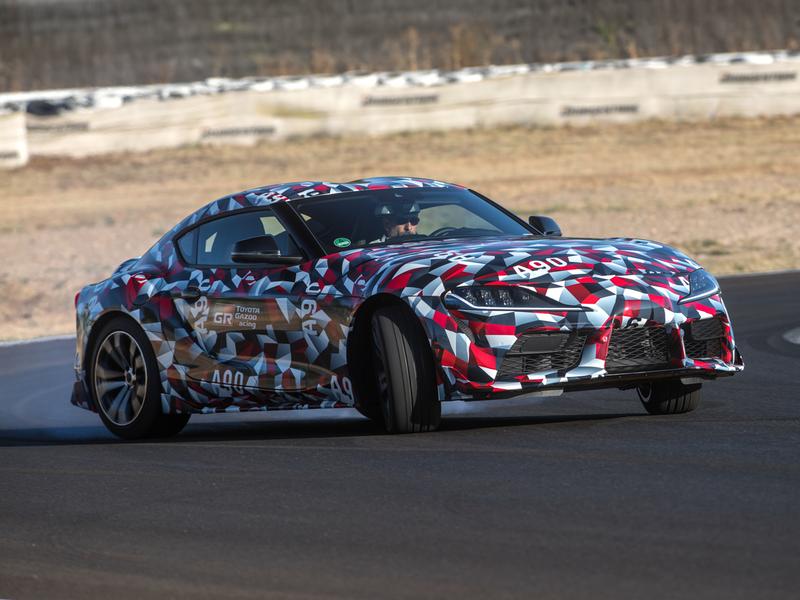 A few lucky automotive journalists from around the world made their way to Spain recently to get behind the wheel of the highly-anticipated and long-awaited Toyota Supra.
The return of the Supra is actually a joint venture between Toyota and BMW that started way back in 2012 so subsequently the new Supra will have similar components to the new BMW Z4 and will also make use of BMW's engine, drivetrain and the modular chassis architecture.
Development of the sports car was taken care of by the high-performance Toyota department known as Toyota Gazoo Racing to ensure that a proper sports car was created.
Under the hood you will find a BMW-derived B58B30, 3.0-litre, turbocharged, straight-six engine which will then be mated to an 8-speed ZF automatic box (no manual offering for now). Various reports are saying that the final power output will be 335 hp (250 kW) but not even Toyota themselves can confirm this because the engineers are still working on the final tune.
The car will be released internationally in the first quarter of next year and will arrive in South Africa in the second quarter with the local launch taking place in June.
Chad Lückhoff from AutoTrader got behind the wheel and concluded with the following;
"It's not a rebranded BMW Z4. It's a car that feels Japanese more than I thought it would. It's a car that brings some of the analogue driving experiences of the 90s into the modern age. It reminds you that driving can be an enjoyable, exciting experience. It's a Toyota and it feels like one – and a rather good one, at that.
Admittedly, as I consider the new Toyota Supra, I am left a little torn. The old-school Supra fan in me is a little saddened that it has become as digital as it is, but, on the other hand, the side of me that spends time with modern performance cars revels in its traditional upbringing and analogue feel, especially in this day and age.
It's a wonderful thing to pilot through twisty switchbacks and hairpin turns. It rewards the driver that engages with it and encourages spirited driving. It does the GT thing rather well as too. There will always be detractors, but I don't doubt that you will find scores of fans, both new and old, defending its honour.
The Supra is back. The new album may sound a little different from the last, but the band is still rocking out, harder than ever."