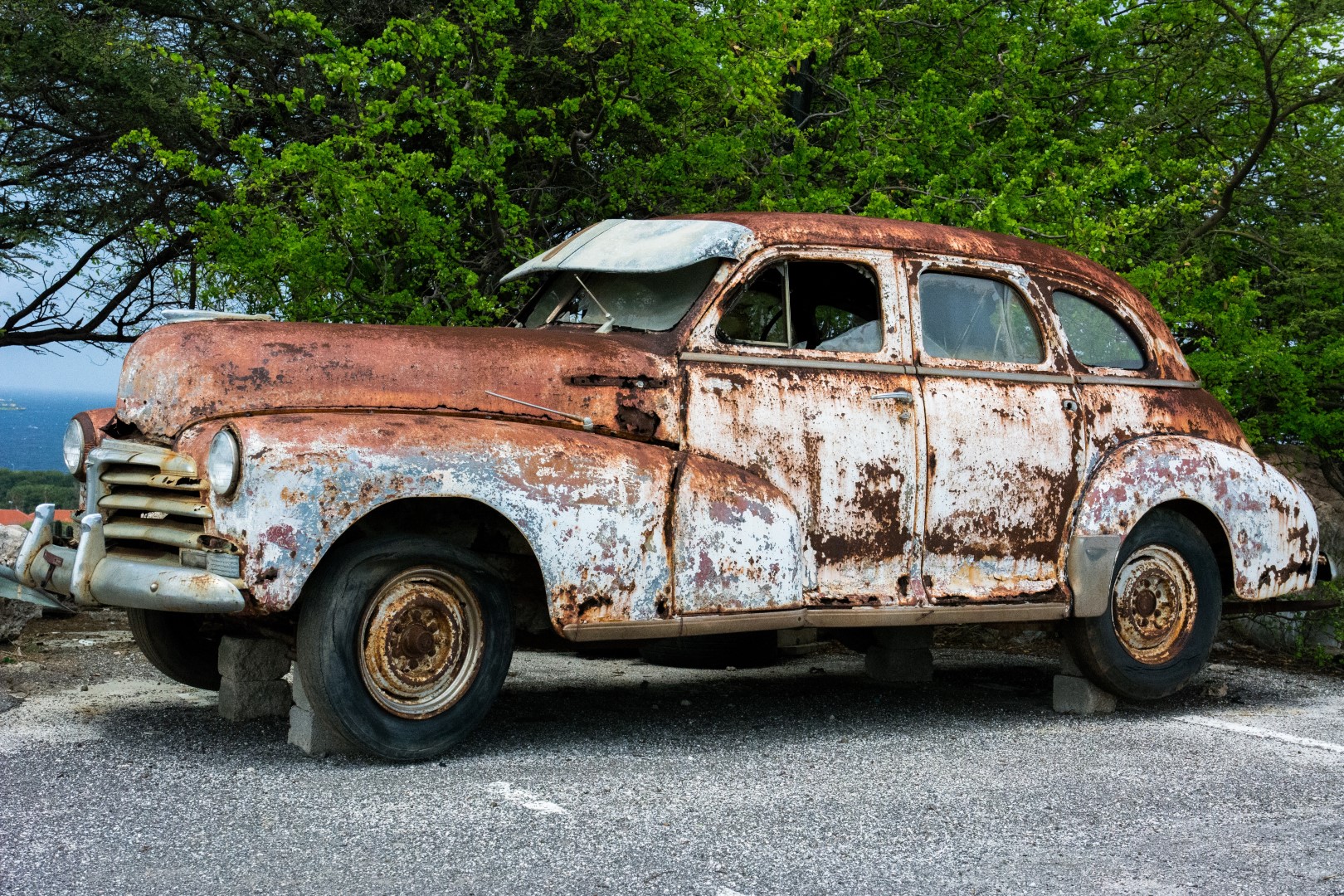 There are several ways to get rid of an unwanted vehicle. The first option is to sell it privately. This is when you post an ad in the local paper or online stating the make and model of the car, what condition it is in, and the price you are asking along with contact details. The second way is to sell it to a car lot. Sometimes you can sell it to a dealership outright, other times you use the value of the vehicle towards the purchase of another, newer vehicle in a "trade in". Then, there are those times when you cannot sell to a dealership nor to an individual. There are several possible reasons for this. The first possibility is age. After a vehicle reaches a certain age, it basically has no resale value and not many people are going to be interested in buying a car or truck that old. Another possible reason is an abundance of necessary repairs. Sometimes the mechanical parts in a vehicle break-in some way and need repaired and sometimes, so many things break at the same time that it is unusable. Just like with age, when this happens, it is generally cheaper to purchase another car and not many people are going to be interested in buying a vehicle with that many problems. Another possible reason is damage from a wreck, storm, flood, vandalism, or another terrible event. Regardless of which of these possibilities you are dealing with, there is one option remaining to get rid of the damaged vehicle, recycle it. This refers to selling the vehicle to a junk or scrap yard or to someone looking to "part it out". This means using the working parts from this vehicle to work on other vehicles of the same make and model. If you find yourself in the position of needing to recycle your vehicle there are a few steps that you should follow to ensure a seamless transaction with little to no problems.
The first thing you will need to do is find somewhere to recycle the vehicle. Most areas have at least one junkyard that will pay for large metal items such as large appliances and vehicles. Some scrap or junkyards specialize in something specific such as junkyards. It is also worth noting that there are some individuals that will purchase scrapped cars for various reasons. There are two ways to go about finding a place to recycle your vehicle. If you are interested in selling to an individual, one of the best things you can do is post an "ISO" on your personal social media pages and make it public so everyone can share it and tag friends in the comments. If you have a friends list that is at all active, you will be surprised at the number of responses and share you will receive. If you would prefer a professional company, it is time to take to the internet. Go straight to your preferred search engine and browser and type in various search phrases until you find what you are looking for. The type of search phrases that you use should be entirely dependent on how close you require the company to be in proximity to your location. If you are open to a company in neighboring towns, use broader, more generalized terms such as "scrap yards near me" or "local car recycling". However, if you want the company to be within your own two, you need to be more specific. For example, make sure you use the name of your town or city in the search. If you are located in Langley, you would search for something similar to "scrap car removal Langley" or "where to recycle a car in Langley". Make sure not to get overly specific or you may count out most if not all of your results.
Now that you have found a place that wants to recycle your car, there are a few things that you need to do. The first thing you need to do is take all of your personal items out of the vehicle. Once a person has owned a vehicle for more than a few weeks, it begins to become an important part of life, a second home even. This is especially true for anyone who travels a great deal and/or has a ridiculously long commute. Because of this, many personal items end up in a car. Certain clothing items such as jackets and scarves are among the most common items left in vehicles. Make sure all of this is removed before sending the vehicle to be recycled. Also, items such as abandoned mail, CDs, charge cords and adapters, makeup, hair ties, travel coffee mugs, toys, baby bottles and pacifiers, blankets, tools, and many other things are left in cars. In the case or trucks, many people have removable bed-mounted tool boxes installed. This is definitely something that you should remove before the vehicle is recycled. All of your documents, paperwork, and receipts related to the upkeep of the car should also be removed.
Next, you need to focus on all of the legalities revolving around having the car recycled. Generally, the individual or company will pay you a fee for the car and you will turn the title over to them. Therefore, one of the first thing you should do at this point is to make sure you have the title ready. Next, gather all of the paperwork that you removed from the car, you will need some of it. For example, you will have to call your insurance company and have the vehicle removed from your policy. You will also need to remove the license plate from the vehicle and take it and the registration to your local DMV so that they can nullify the registration and take care of the license plate appropriately.
Finally, you need to make arrangements for the vehicle to be picked up. Generally speaking, when a car is being cycled, the likelihood of it running is incredibly slim. With that being said, you will not be able to take the vehicle to them unless you happen to have access to a rollback tow truck and the necessary licensing to operate it. You will need to have the person or company that you are selling to or a professional tow company to pick up the vehicle and take it where it needs to go.