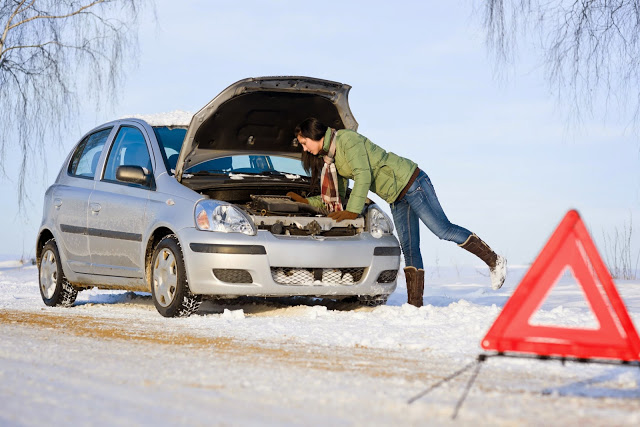 The leaves are falling so we all know the white stuff isn't far off. Now is the time to get your vehicle ready for the winter. There are a number of easy tasks and check-ups you can do on your own, others require the assistance of your local dealer or mechanic. Here's a list of things that you should have done.
Tuneup: Today cars don't need "tune-ups" like they did years ago but check to see if you have any service checkups scheduled. If you have one, for example your 30,000 mile checkup, due sometime soon, why not schedule it to be done before the snow flies.
Antifreeze: The status of your engine's coolant is important to consider before the snow flies. According to our technical consultants at East Hills Subaru (Roslyn, NY), the standard ratio of coolant to water in most cars and trucks is 50/50. This is easily check by a mechanic.
Brakes: Needless to say, in the winter months you want your brakes to be working perfectly. Your mechanic local mechanic can make sure that this is the case.
Oil Change: If you are close to an oil change interval, go ahead and have it done. Remember that your engine may require the oil be changed to a thinner viscosity to combat the freezing temperatures. Your owner's manual will let you know the best viscosity of oil to be used during the winter months.
There are some extra accessories and helpful items that make dealing with the winter months much more manageable. Consider these:
Fuel:  Keep your car's gas tank as close to full as often as you can.  The reason? Alternating cold and hot weather can cause condensation to form on the walls of a near-empty tank. This condensation will then pool at the bottom of your gas tank and eventually get sucked into the gas line. Then when the temperatures sink, guess what? Yup, frozen gas lines. It's recommended to keep your needle no lower than a quarter- to a half-tank empty for the length of the winter.
Emergency Kit:  It's always good to have an emergency kit handy wherever you are, but winter requires some extra supplies. For example, items such as a snow brush, scraper, kitty litter and a shovel can help you get out of deep snow. Just in case of an emergency, its good to have a blanket or two and some gloves. A flashlight with fresh batteries is good to have too.
Good Luck

Plan ahead for the winter weather and stay safe!  Not only are there things you can do to make your car safe for winter driving, remember to drive carefully too.