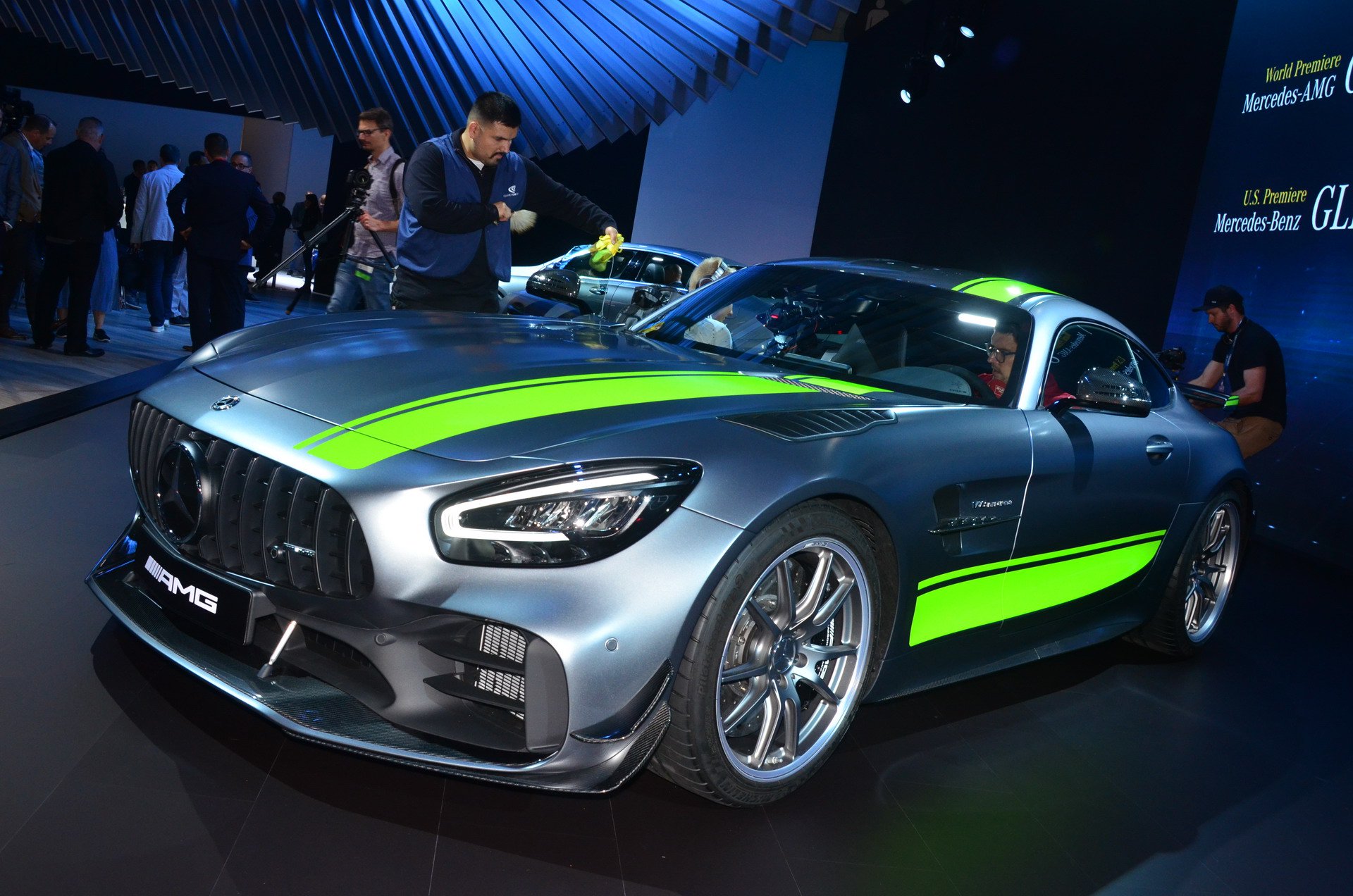 The Mercedes-AMG GT range for 2020 model year was revealed at the Los Angeles Auto Show but the main event was the unveiling of the new range-topping, limited-edition AMG GT R PRO.
It has been designed with a particular focus on racetrack performance and has come to life thanks to the automaker's experience with the AMG GT3 and GT4 racing cars. There are four key areas where the Pro stands out from other models; through its suspension, lightweight construction, aerodynamics, and appearance.
The AMG engineers developed a set of new coilovers for the GT R Pro where the compression and rebound can be easily adjusted through a dedicated dial on the damper. The car also utilizes an adjustable carbon fibre torsion bar up front and an adjustable, hollow steel bar at the rear. Additionally, the AMG GT R Pro comes outfitted with Uniball spherical bearings not just on the rear lower wishbones like the 'normal' AMG GT R but also on the upper wishbones as well. The sports car also features a carbon shear panel on the underbody that promises to improve rigidity and add stability.
Elsewhere, the 2020 Mercedes-AMG GT R Pro comes outfitted with ceramic composite brakes as standard and wears a set of lightweight AMG Performance five-spoke forged wheels offered exclusively in titanium grey.
Aerodynamics also separate the AMG GT R Pro from other models. Up front, there is a new apron that incorporates carbon fiber canards to improve stability at higher speeds. Mercedes-AMG has also developed air slots in the front fenders to reduce front-axle lift while at the rear, there is a small carbon fiber aero element on each wheel arch.
Rounding out the upgrades enjoyed by the car are standard-fit Carbon Packages I and II that include new carbon detailing across various elements, including the wing mirrors, rear spoiler, and rear diffuser. With AMG GT3 racing driver Maro Engel behind the wheel, an AMG GT R Pro prototype recently lapped the Nurburgring in 7:04.632.
Like the 'standard' AMG GT R, the Pro features a twin-turbo 4.0-liter V8 engine with 577 hp (430 kW) and 700 Nm of torque.