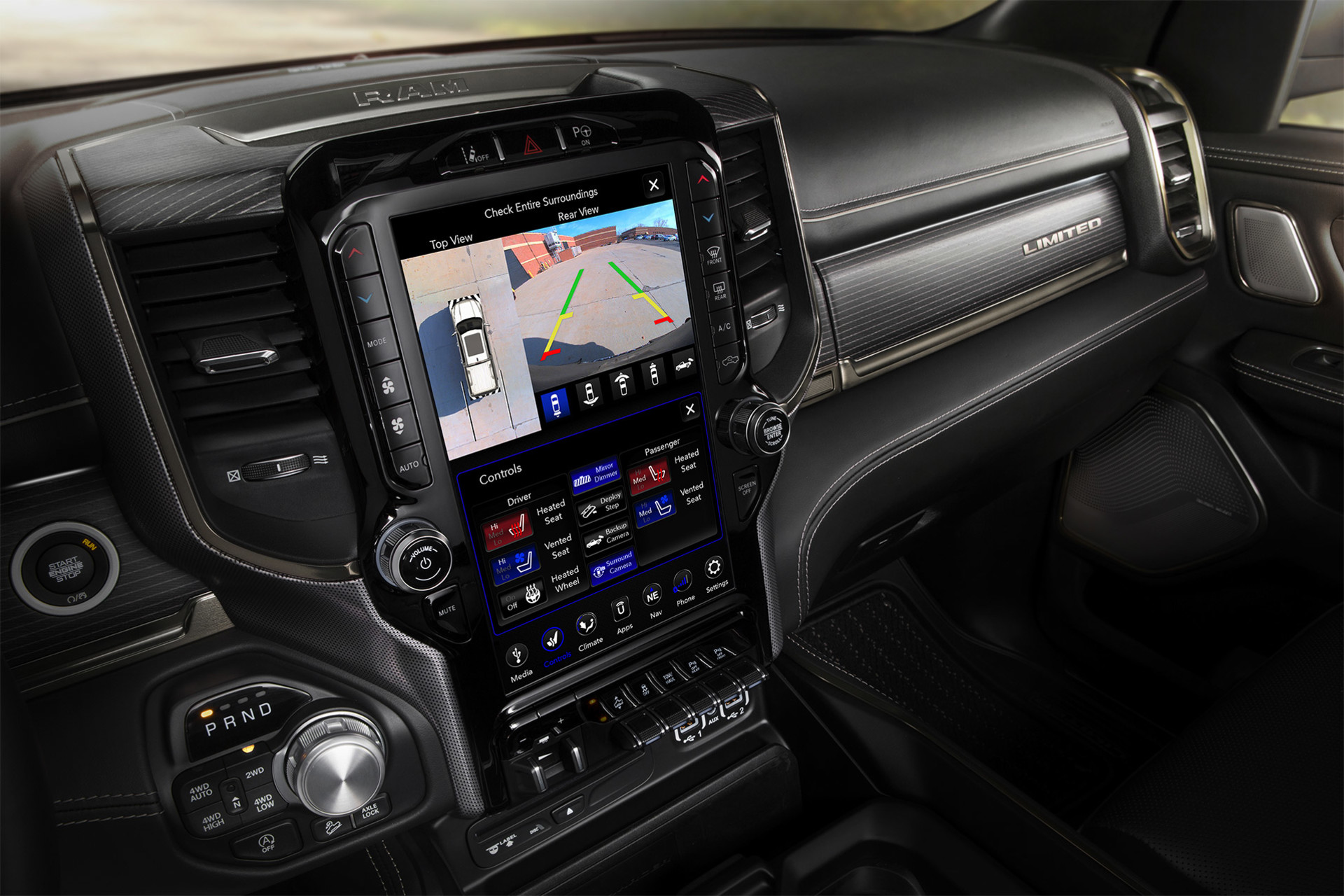 The 2020 Ram 1500's reputation is an excellent one, as it is named one of the most technologically advanced pickup trucks offered today. With the integration of the fourth generation Uconnect software and the latest and greatest in driver-assist technology, you will feel more at ease, driving one of the leading creators of passenger safety and comfortability on the market.
The new lineup is equipped with the UConnect system, which has long since proven itself to be one of the easiest, most user-friendly multi-media units equipped on any vehicle. UConnect has since been updated and is now simpler to operate and even faster to connect. Our friends at Classic Chrysler Dodge Jeep Ram are especially excited about the optional 12-inch touchscreen, which is both sleek and modern. It is customizable and compatible with seven different options, permitting an easily interchangeable aesthetic. You can upgrade from the average 6-speaker audio system to the far superior 19-speaker Harman Kardon Audio System, with the premium trim models. The 2020 Ram 1500 offers its users a WiFi hotspot, quick Bluetooth connectivity, numerous USB ports for your convenience, Apple CarPlay, and Android Auto capability.
The 2020 Ram 1500 offers the best in driver-assist technologically and various other cutting-edge, innovative conveniences for the user, such as push-to-start capabilities. Dodge Ram has established and implemented "Forward Collision Warning" and "Advanced Brake Assist." Both features measure the distance to an object or person and will signal the driver with a brake jerk. The "Blind Spot Monitoring" and "Rear Cross Path" features makes changing lanes safer than ever before, by alerting the driver that someone, or something, is in their blind spot. "LaneSense Lane Departure Warning-Plus" will assist the driver by preventing any accidental lane drifts. The truck will give the user a visual alert while simultaneously maneuvering it back into the correct position within the lane's boundaries.
The new 1500 pickup trucks offer user-friendly, smart technology, which transforms a workhorse pickup truck to your constant companion. For those who need to seat more than just two, the 2020 Ram 1500 Bighorn Quad Cab model offers rear seating for additional passengers. And with the new, enhanced technology, you'll be able to stay in contact with family and friends. It is extremely reassuring knowing that you can always safely and effectively stay connected to the world, with the help of some of the highest quality technology available on the market today.
Thanks to the 2020 Ram 1500's quality control, attention to detail, user-friendly tech and their innovative capabilities, the new truck lineup truly deserves all of the hype it receives.