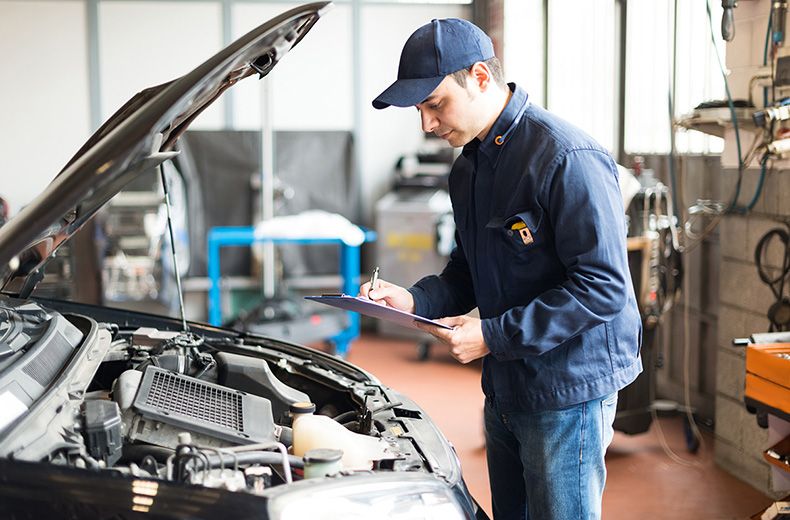 You are all set to book your MOT online, but do you know exactly what it entails? This annual vehicle test has been carefully put together to ensure that your car is worthy of driving on public roads.
Check MOT guidelines online to see exactly what the MOT examiner will be looking at to get a good idea of whether or not you are going to be leaving the service centre with a valid certificate.
Lights
About a third of all MOT faults relate to lighting and indicators. Your car's front, rear lights and reflectors, brake, indicator and registration plate lights must be in the right place and not be obscured, in condition and clear. Lights in pairs must give off the same, colour, size and shape. The headlight dip and main beams should not dazzle other drivers and all lights should illuminate with a single command of the switch.
Electrical wiring, battery and horn
Electrical wiring – this should be secure and in good working order. The examiner to check to see that there isn't the potential of a short circuit or any of the electrical wiring at risk of becoming detached.
Battery – this must also be secure and in good condition. It shouldn't be leaking acid either.
Horn – it must give off a continuous uniform sound (no strange jingles, bleeps or honks) and it must be loud enough so that other road users can hear it clearly.
Mirrors
The interior rear view mirror and one offside exterior mirror should be intact and not have any chips or cracks that can obscure your view of the road. Mirrors that are hanging off or missing could mean your car will have to resit its MOT exam.
Windscreen and wipers
Cracked or chipped windshields could constitute a fail, especially if these damages are in the driver's line of vision. The cracks or chips on the driver's side should not be longer than one centimetre and cracks on other parts of the windscreen can't exceed four centimetres. There must be water for the wipers to work effectively and the wipers should not be bent or the rubbers cracked to the point where it poses a risk to the driver's visibility.
Brakes
These form a major part of an MOT test and the discs, pads, shoes, lights and brake fluid are all thoroughly checked. If your brake pads are showing signs of giving up the ghost, it might not mean an outright fail. In this instance, the examiner might mark it down as a minor fault and give you an advisory note to replace them before they wear right down. The brake fluid should be clean and the lights should work when you apply the brake pedal.
Wheels and tyres
There shouldn't be any damage to the wheel rim that could impede your car's ability to hold the road. The tread of the tyres should not be smooth because if this is the case you will receive an outright fail for your car's MOT test. If the tread's condition is deteriorating, but still has a few miles before it becomes dangerous, the examiner will you an advisory note to have the tyre replaced in the near future.
You can book your MOT online now armed with the knowledge of what parts of your car make up a MOT test.