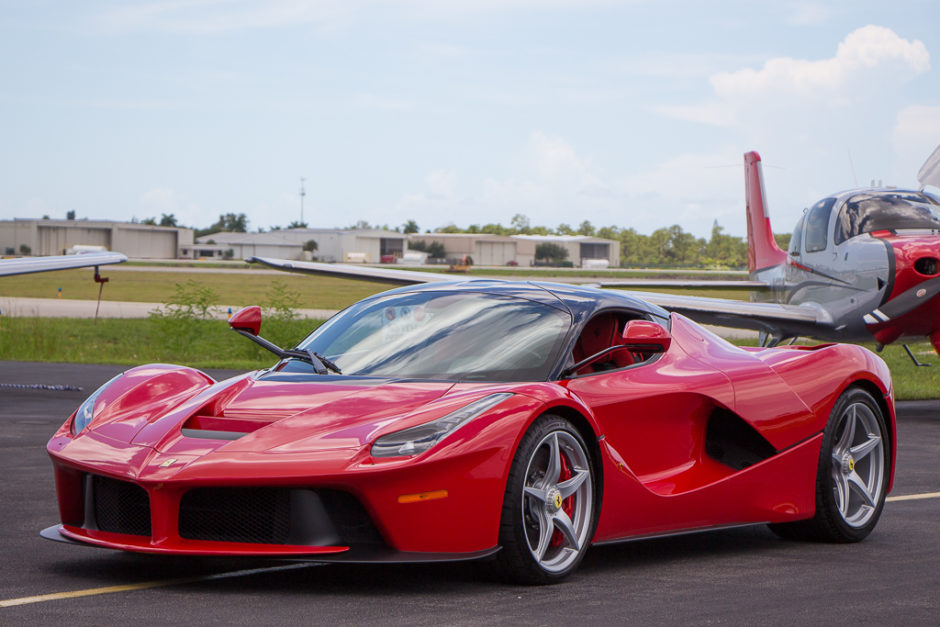 It looks akin to a spaceship, with sensuous lines and an engine to-die-for. But is the Ferrari LaFerrari really the best hypercar on the market? What is it about this marvelous piece of Italian machinery, touted as a must-have for the rich, that makes it so special?
We take a look at the Ferrari LaFerrari, and how it lives up to all the hype.
Spectacular specifications
When you say Ferrari LaFerrari in English, you are literally calling it Ferrari "The Ferrari". A car so magnificent that it is named after its manufacturer – when you look at the LaFerrari's specs, you can see why. Boasting a 6.3-liter Ferrari V12 engine, and a KERS-esque battery pack with an electric motor that gives it 663lb and 950bhp of torque, it's hard to deny that this could possibly be the best Ferrari ever made. When you are looking at it only in terms of usable horsepower, it undoubtedly is. It is no slow poke either – the LaFerrari can reach speeds of up to an astonishing 231mph (372kph).
It's rare and already sold out
Only 499 of the LaFerrari were even built, and collectors and Ferrari fans snatched them all up. 
It drives on the road beautifully
You'd be forgiven for thinking that a car of this stature wouldn't be the most comfortable drive, especially with all that horsepower. Surprisingly, the V12 engine has been optimized for its high-rev horsepower and combined with the hole in the torque curve and 7-speed gearbox, it drives like a dream on the road. Its handling and acceleration join forces to give you a smooth and comfortable driving experience.
A bespoke interior
Because of the rarity and small volume of production, the seat pads of each LaFerrari are designed to fit their driver, just like in a racing car. Although the seats are essentially just pads fitted to the carbon fiber frame, they are surprisingly comfortable, and vision isn't compromised over the dash. The dashboard is fully digital, and the steering wheel features a huge red button that controls the drivetrain and Manettino dial.
A gorgeous exterior
Whichever way you look at it, the LaFerrari looks like something out of the future. It has been called spaceship-like, and it's not hard to see why. In the beginnings of design, the LaFerrari was put in the same wind tunnels as Ferrari's F1 cars, helping to shape its aerodynamic design. Its front splitter was created to eliminate the pitch sensitivity and increase downforce. The wide front air vent helps to channel hot air away from its large radiator, only adding to its futuristic look while improving its aerodynamics. At the rear there are a pair of ram-air intakes fitted on top of the wheel arches, giving the car increased horsepower of 5hp. A simple one-piece spoiler rounds off the exquisite Italian design of this motorized beast. 
As far as colors go, the LaFerrari isn't just available in "Ferrari Red" – officially called Rossa Corsa – as we've come to expect. In addition to the Rosso Corsa, the only other two colors available to the discerning buyers are Giallo Modena yellow and Nero Black.
Owning one
Since all 499 of the LaFerrari are already sold out, it looks like you may have to give up on your dream of owning one. If you did happen to have one of these in your garage, you would definitely be looking at an appreciating asset, as the LaFerrari is seen as a collector's item. Although all 499 of the LaFerrari have been sold, you never know if your luck might change. If you have the money to buy one, keep your eye on supercar dealer websites and auctions.
How safe is it?
For such a light and nifty Hypercar, the LaFerrari boasts quite a few important safety features. The massive Brembo carbon-ceramic brakes supported by emergency brake-assist and brake-force distribution mean that you won't have a problem bringing the car to a stop. The window wipers work on sensors, so you don't have to worry about doing anything – they will wipe away the rain after sensing the first few drops! The tire pressure monitoring system will notify you of any issues, and the front and rear parking sensors add a level of practicality. Another great safety feature is the advanced traction control system that helps keep it on course and boasting great handling. There are also front and rear crumple zones, and four airbags in the cabin.
How does it compare to other hypercars?
When compared to its competitors the McLaren P1 and the Porsche 918, the LaFerrari pushes the envelope on what we expect from hypercars. Giving the LaFerrari a one-up is the fact that it's a hybrid, so it moves at lightning speeds while looking immaculate, and being more fuel efficient than you would expect. Aside from this, it all comes down to personal preference. You're either a die-hard Ferrari fan, or your supercar drug of choice is Porsche or McLaren.
The Ferrari to top all Ferraris
If you can afford it, and get your hands on one, it's not hard to see that the Ferrari LaFerrari is a Hypercar worth having! Featuring impressive specs, a breath-taking exterior and a surprisingly comfortable interior, you can see why Ferrari hyper-fans the world over have fallen over themselves to own one.