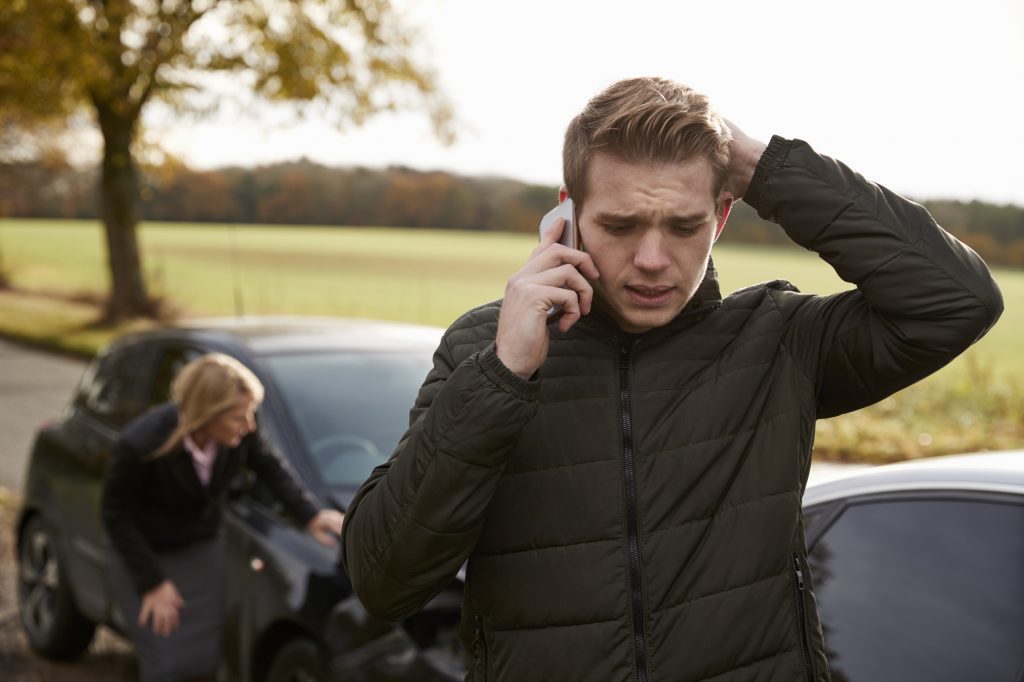 The state of Oklahoma uses an at-fault insurance system. This means that damages are awarded to drivers 50% or less at fault in an accident. In these circumstances, the at-fault driver's insurance will only provide benefits up to the policy limits of the driver's insurance policy. If the costs exceed this, the at-fault driver may be held responsible for the remaining damages. How do you know if you have a car accident case?
Required Minimum Liability Coverage in Oklahoma
In Oklahoma, drivers are required to carry a minimum liability automobile insurance policy while driving on the roadway. The required coverages are:
Bodily Injury Liability Coverage –

$25,000 per person, $50,000 per accident

Property Damage Liability Coverage –

$25,000
Drivers are encouraged to obtain Uninsured Motorist Bodily Injury Coverage in the amount of $25,000 per person and $50,000 per accident, but this coverage can be rejected. 
When Can You Sue For Damages After An Accident?
After a car accident, the only way to sue afterward is if the other party acted negligently. The negligence must be what caused the accident and is used to determine liability. How do you determine liability in Oklahoma?
Determining Negligence
Three elements define negligence in Oklahoma. When there is a failure to use reasonable care, there is negligence present in someone else's actions.
To determine negligence, these three elements must be present:
There is a duty to protect the injured person from harm

There was a breach of this duty by failing to act reasonably

Injuries or damages were proximately caused because of this breach of duty
Every driver on the road has a duty to act reasonably while they are driving. When they fail to use reasonable care and an accident occurs, they may be found liable. For example, if a driver fails to stop at a stop sign and causes an accident with injury, they are liable.
Reasonable care: The driver should have stopped at the stop sign, obeying the traffic laws

The reason for the traffic laws is to provide safety for others (including the driver) on the road

When the driver failed to stop at the stop sign, they failed to act reasonably because they did not obey the traffic laws

The driver is liable for the injuries or damages that resulted from any accident occurring from the breach of traffic laws
If negligence is determined to be a factor, the liable party's insurance will have the claim submitted to them.
What Liability Coverage Pays
Liability coverage only pays for third-party claims. If you are the negligent party in a car accident, your insurance will not pay for any of your damages if you only have liability coverage. The payment for your injuries would come from your own pocket, medical insurance, or any medical payment addition you might have on your insurance policy. 
Damages that are included in a car accident lawsuit against negligent parties (especially if insurance minimums do not cover) include:
Medical expenses, cost of treatments, therapy, medications

Lost income if unable to work due to the recovery from the car accident

Reduced earning capacity if there is a change of jobs due to the injuries sustained in an accident

Pain and suffering
Contributory Negligence
Oklahoma has a contributory negligence statute that helps determine how claims are paid and how damages are allocated if there were multiple causes to an accident. Everyone who contributes to the accident shares the blame. The amount of fault in which a party is liable determines how much money they can recover for injuries and how much they owe others in the accident.
Oklahoma law states that:
A driver cannot recover damages from another party if they are 51% or more at fault for the accident.

The damages will be reduced in proportion to the fault of the accident if they are 50% or less at fault.

You have the ability to recover damages from the driver if you are 50% or less at fault for the accident.
For example, if you are in an accident and are 30% at fault, and the other driver is 70% at fault, the other driver's insurance will only pay 70% of your claim. If your claim is under the policy limits of the driver, there is a likelihood that the entire claim will be paid without the need for further legal action.
No matter what you do after an accident, it is always best practice to seek the help of a car accident lawyer to determine what your case could be worth.