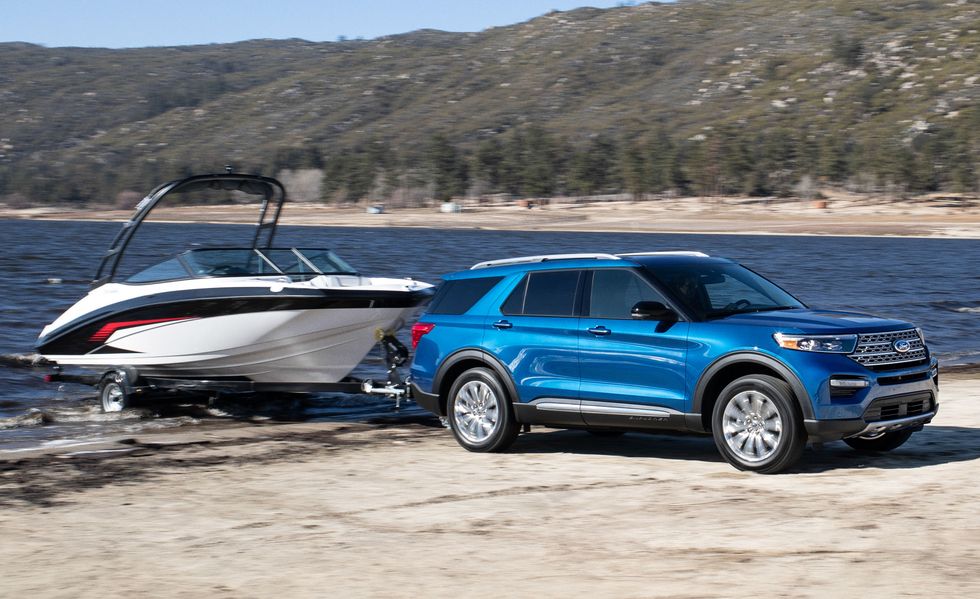 Hybrid electric cars are an excellent way to enjoy the benefits of an EV while still having the backup of an internal combustion engine. It could also be a way to test electric vehicles before committing to a pure EV.
Suppose you are in the market for a hybrid crossover and SUV in the US. In that case, it is easy to get overwhelmed by the many options available. Here, we have sorted out some of the best tips on buying SUVs and crossovers.
Audi Q5
Audi is a German maker of luxury cars, and its Q5 does not disappoint in that department. It is also full of tech.
As a plug-in, you can charge the Q5 by connecting to the grid for an electric 19 miles range.
Acceleration from 0 to 60 mph takes place in 5.5 seconds powered by its 261 hp turbocharged four-cylinder ICE. The electric motor takes the power output to 362 hp and 369 lb-ft of torque. Driving is smooth, even if you do not opt for the adaptive suspension.
Inside, there is comfortable room for four adults. A 10.1-inch screen is used to access the controls, and the infotainment system integrates both Apple CarPlay and Android Auto. Audi has crammed in safety tech like adaptive cruise control, blind-spot monitoring, rear cross-traffic alert, etc.
The hybrid Audi Q5 starts from $44,395.
2021 Ford Escape
Ford can't escape being on our list so here is the 2021 Escape, an entirely newly built-up model. The hybrid version combines two electric motors with a 2.5 litre four-cylinder ICE for 221 hp. It has a 14.4 kWh battery that can last 37 miles, according to EPA.
The interior shows Ford attempted to cut costs with cheap-feeling plastic panels and cloth seat upholstery in the standard trim. However, the seats are spacious, and the colours well-blended. The base model disappoints with a 4.2-inch radio display, but you can upgrade to an 8-inch touchscreen display. The infotainment system works with Apple CarPlay and Android Auto.
To ensure your safety, Ford has provided forward-collision warning with automated emergency braking, lane departure warning, blind-spot monitoring, etc.
The hybrid Ford Escape starts at $29,275.
2022 Lexus NX
The hybrid 2022 Lexus NX is another completely newly built-up model on the list with a more streamlined styling than its predecessors. It is an AWD that shares chassis and powertrains with the Toyota RAV4.
Powering the Lexus NX is a new 2.5 litre four-cylinder ICE with two electric motors for a combined 239 hp. Another trim offers a combined 302 hp. Lexus claims the battery provides 36 miles per charge.
The cabin is spacious and looks modern with its classy materials. There is a 9.8-inch touchscreen display (you can upgrade to a larger 14-inch unit) to control the infotainment system. More features include a wireless smartphone charging pad and a heads-up display. There is also an optional panoramic sunroof, heated rear seats, etc.
The hybrid 2022 Lexus NX starts at $47,000.
2022 Kia Sorento
This Japanese entry starts at an affordable $35,165. The handsome and mid-size SUV features a third row, although only smaller humans will find it comfortable. If you can live with the somewhat compromised cargo space, you will have a classy and rugged vehicle in your hands.
The 2022 Sorento hybrid features a four-cylinder ICE and a 66.0 kW electric motor outputting a combined 261 hp in the plug-in trim. On the battery alone, you will drive 32 miles in this AWD car.
Kia has appointed the interior nicely with good-looking and quality materials. There is an optional dashboard that is larger than the 10.3-inch touchscreen. You will also get access to cubby storage spots and cup holders on the console.
2022 Honda CR-V
The Honda CR-V comes with a nice-looking and spacious interior, including ample storage space. It is also very efficient with fuel and can tow.
The front seats are super comfortable as they take the shape of the passenger. You will like the quality finishing materials. There is also a 7-inch touchscreen to access the infotainment system, which integrates Android Auto and Apple CarPlay, SiriusXM satellite radio. Honda includes a rotary volume knob as well.
For a comfortable driving experience, the 2022 CR-V comes with heated front seats, a power-adjustable driver's seat, dual-zone climate controls, etc.
This hybrid is no slouch as it combines a 2.0-litre four-cylinder and two electric motors to produce 212 hp. Driving is smooth and quiet as Honda has tried to mitigate the ICE sound with sound-deadening material and an audio system that has an active noise cancelling feature.
Safety tech in the Honda CR-V includes forward-collision warning, automated emergency braking, lane-keeping assist and lane-departure warning, adaptive cruise control, etc.
Ford Explorer Hybrid
No list of good hybrid SUVs will be complete without an entry from Ford, so here we are with the 2021 Explorer. This mid-sized SUV rides smoothly and spots an interior that can be easily converted to hold more cargo. However, the more desirable trims that discard the cheap plastic finishing cost considerably more.
This Ford hybrid combines a 3.0-litre six-cylinder ICE with an electric motor for a total output of 318 hp that can tow 5600 pounds in the highest trim.
The interior is functional, but you have to get a higher trim before you can sit inside something inspiring. However, the third row is easier to access now with a button that gets the second-row seats out of the way. With the last row seat folded, you will get more cargo space.
An 8-inch touchscreen is standard across all trims, and the infotainment system works with Apple CarPlay and Android Auto. There is a Wi-Fi hotspot, too, with voice-activated navigation (remember, it is an explorer).
The hybrid starts at $50,600.