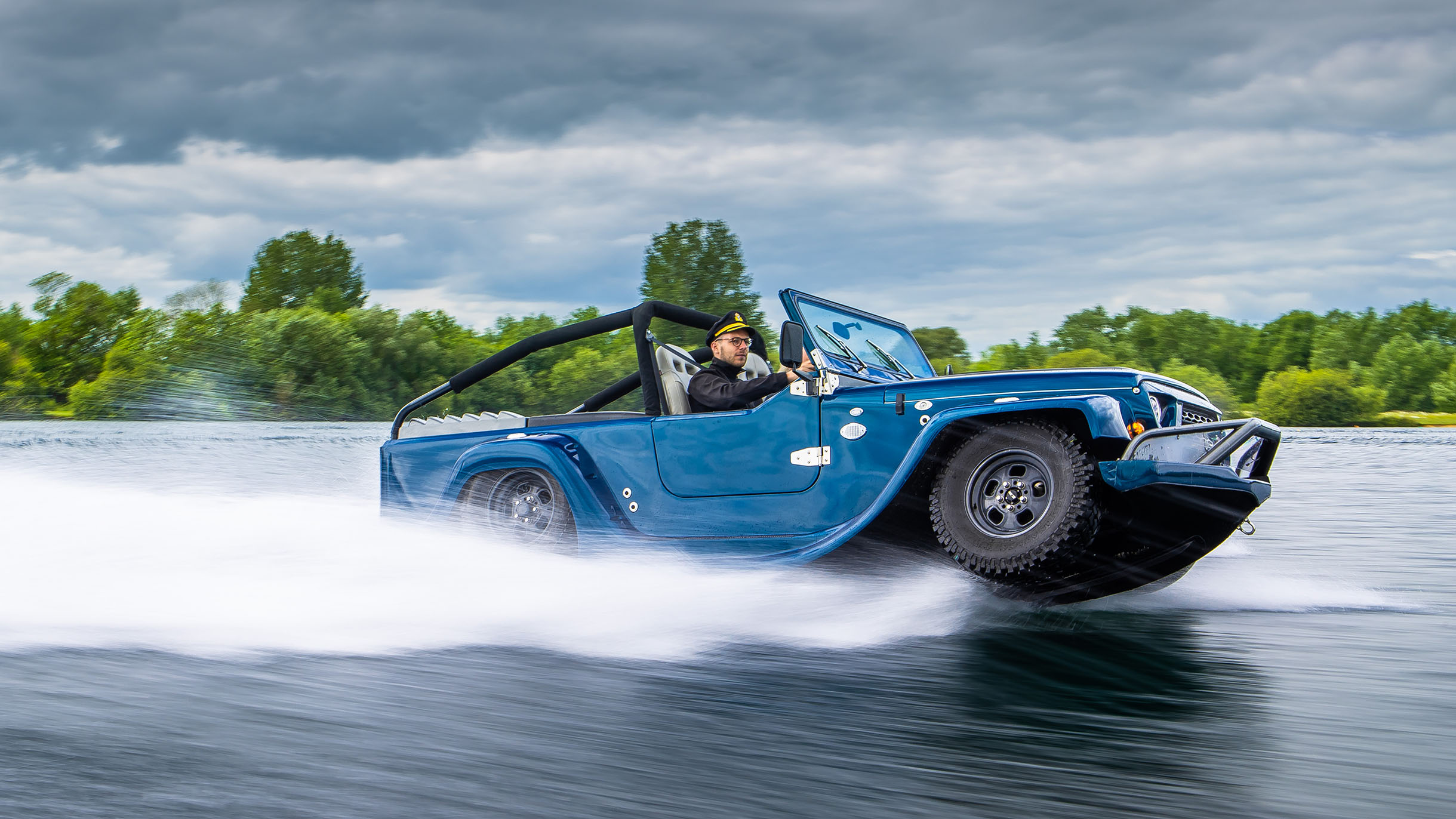 Anyone who has attempted to cross a stream or drive across a particularly enormous puddle knows that cars and water are not always compatible. Horror stories about fried electrics flooded engines, and mouldy interiors should be enough to scare anyone into always keeping their car tires dry. But did you know that there are cars that are not afraid of water? In this article, we will delve into the five fastest amphibious cars that can drive both on land and water.
Prodrive Watercar
Introducing the world's fastest amphibious car, according to its American creators. Its 3.7-litre V6 engine can achieve 43 mph (69.2 km/h) at sea, and if you have a set of water skis on hand, it can tow someone along without issue. You can even utilize it to make your weekly grocery run. This amphibious vehicle can reach speeds of up to 80 mph (128.75 km/h).
The Sea Lion
The Sea Lion is not only very fast but is also designed to provide functionality and top performance. The Sea Lion was created with the goal of setting world records on both land and water. It has a top speed of 125 mph (201.17 km/h) on the road while on the water it can reach speeds of 60 mph (96.56 km/h). According to a news announcement, M. Witt designed Sea Lion using CAD software and spreadsheet calculations. The vehicle consists of TIG-welded aluminium and CNC plasma-burned forms. The Sea Lion is definitely a supercar on par with those showcased in pop culture everywhere, like racing-themed games at Platincasino.
Gibbs Aquada
With an official time of one hour, 40 minutes, and six seconds. Richard Branson's Gibbs Aquada set the record for the fastest English Channel crossing by an amphibious vehicle in 2004. The three-seat configuration is inspired by the McLaren F1, with the driver in the centre. The Aquada uses a 2.5-litre Rover V6 engine that can reach speeds of over 100 mph (160.93 km/h) on land and over 30 mph (48.28 km/h) on water.
Rinspeed Splash
The Rinspeed Splash is a hydrofoil, which means it can 'fly' 60 cm above the water surface. If you have ever watched America's Cup, you will understand how fantastic these things are. The Splash functions similarly to any other amphibious vehicle at moderate speeds. However, once you have reached a depth of 1.3 meters, you can deploy side and rear fins. When you give it the beans, the fins force the Splash upwards, allowing it to glide through the water at up to 50 mph (80.47 km/h).
Rinspeed sQuba
The sQuba is the world's 1st submarine car, and it was inspired by none other than James Bond's legendary Lotus Esprit submarine. It looks more like a submarine than a boat. It can be submerged to a depth of 10 meters thanks to twin electric-powered rotors, and passengers can stay alive thanks to scuba-style breathing equipment. Although it is not very fast underwater, it can reach speeds of up to 75 mph (120.7 km/h) on the road.
Conclusion
With these models sold all over the world, it is no surprise that Amphibious Cars are becoming increasingly popular. You can always find something to your satisfaction among the styles, which include those that can float and those that can go underwater.