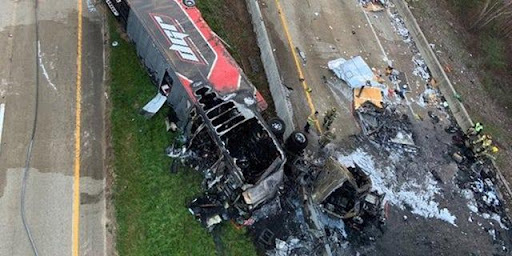 March 8th was a day of tragedy for NASCAR's David Gilliland Racing (DGR) team. A driver for DGR, Steven Stotts, age 44, sadly passed away in a tragic road accident. Steven Stotts was the DGR team's co-driver for their No. 17 Arca Team Transporter.
This fatal accident occurred early Tuesday morning and involved just the two vehicles. Local police announced that a major accident caused traffic on the westbound lanes of Interstate 20. They reported the accident at 5:30 AM as traffic piled up starting on Estes Parkway, with eastbound lanes clogging up for nearly 90 minutes later.
The police reported that the driver, Steven Stotts, failed to control the team hauler he was operating. This loss of control resulted in him colliding with an SUV that had a towed trailer. Stott's vehicle rolled onto a highway median on Interstate 20 in Texas after crashing into the SUV where it hit the concrete barrier and eventually caught on fire.
According to the Texas Highway Patrol, Stotts was pronounced dead at the scene. Police, however, have yet to release what his exact cause of death is at this time.
NASCAR reporter and FOX Sports news reporter Bob Pockrass reported early on the accident, posting at 1:42 EST on his Twitter, "Sad news from Texas Highway Patrol. DGR hauler driver Steven Stotts was pronounced dead at the scene. Passengers John Zaverl and Michael Mizzelle are in stable condition. The driver of the other vehicle involved is in stable condition. They were taking an ARCA car to Phoenix."
His team, NASCAR's David Gilliland Racing, reported his death officially at 3:14 EST, with a post to their Twitter feed, "We are deeply saddened to confirm the passing of Steven Stotts, co-driver for our No. 17 ARCA team transporter, that was involved in an accident early this morning near Longview, Texas. Our deepest sympathies go out to Steven's family and friends."
The Honda SUV's driver, Young Mo Kang, 63 years old, of Montgomery, Alabama, is in stable condition after being driven to the Christus Good Shepherd Medical Center, Longview.
John Zaverl and Michael Mizzelle, who were passengers in the hauler with Steve Stotts at the time of the accident, are in stable condition as well. Zaverl and Mizzelle received treatment for their injuries at a local hospital and were later released.
The semi-truck had been transporting Taylor Gray's No. 17 car and was heading to Phoenix Raceway in Arizona at the time of the accident. The Texas Department of Public Safety noted that the truck, which was driven by Stotts, had hit the back of an SUV and resulted in Stotts losing control of the vehicle. This then sent the truck over a median and into a concrete wall. The towed trailer ended up on its side where it proceeded to catch fire, destroying the transporter in the process.
David Gilliland Racing is owned by David Gilliland, a former NASCAR Cup Series winner. When news of the accident broke, the greater stock racing community sent an overwhelming amount of sympathy and support for those involved and affected by this tragic event.
Road vehicle accidents involving larger vehicles and trucks oftentimes end up costing thousands of dollars for the individuals involved. Consulting a car accident lawyer can help to improve an individual's chances of recouping the costs that might come with expensive, or deadly, road accident collisions. A lawyer could help the involved individual to determine just how much compensation they are entitled to. This amount and type of compensation can actually change as the individuals involved continue to receive treatment for their sustained injuries. Hiring a lawyer will help you to ensure that you are compensated for any medical expenses, lost work income, potential physical suffering, car or vehicle repairs, physiotherapy, and much more. A lawyer would also be able to subpoena the health care provider that provides you treatment, in order to receive certified records of all incurred expenses. These records can be used later on at arbitration or court trials.
There is also so much more to have to consider after automobile accidents. When an individual has been involved in such catastrophic events, nobody wishes to have to deal with the aftermath. More likely than not, individuals that are not knowledgeable about the law underestimate the amount of work involved following a vehicle collision. Hiring a car accident lawyer ensures you never have to think about:
making insurance company calls without any legal backup
having to determine and gather compensation amounts and contact appropriate health care providers
proving liability in a court of law
the steps that one has to take to correct file a court case
the process of gathering evidence to support your case (security/video footage, accident reports, witness statements, etc.)
considering and learning about various settlement options
and more!
A car accident lawyer can help take these burdens off of your shoulders and use their experience and connections to ensure you get the best possible results in court. This allows you to spend time healing physical injuries or to give your family the time and ability to grieve in peace.
Accidents such as this one happen all too frequently and oftentimes bring to light the fact that better safety and protection are needed on the road. They are unplanned and oftentimes overwhelming and extremely costly. That's why it's important to have a lawyer to help you with the processes that follow such an event. When it comes to vehicle collisions, car accident lawyers, or personal injury lawyers, are your best bet. Lawyers such as Morgan & Morgan are there to help with providing counsel, managing personal injury cases, and processing claims related to car accidents, medical malpractice, medical negligence, slip and fall claims, and more. You should not have to worry about all the necessary things you must do following a vehicle collision. Ensure you and your loved ones get the help you need and consult a professional to have your back.