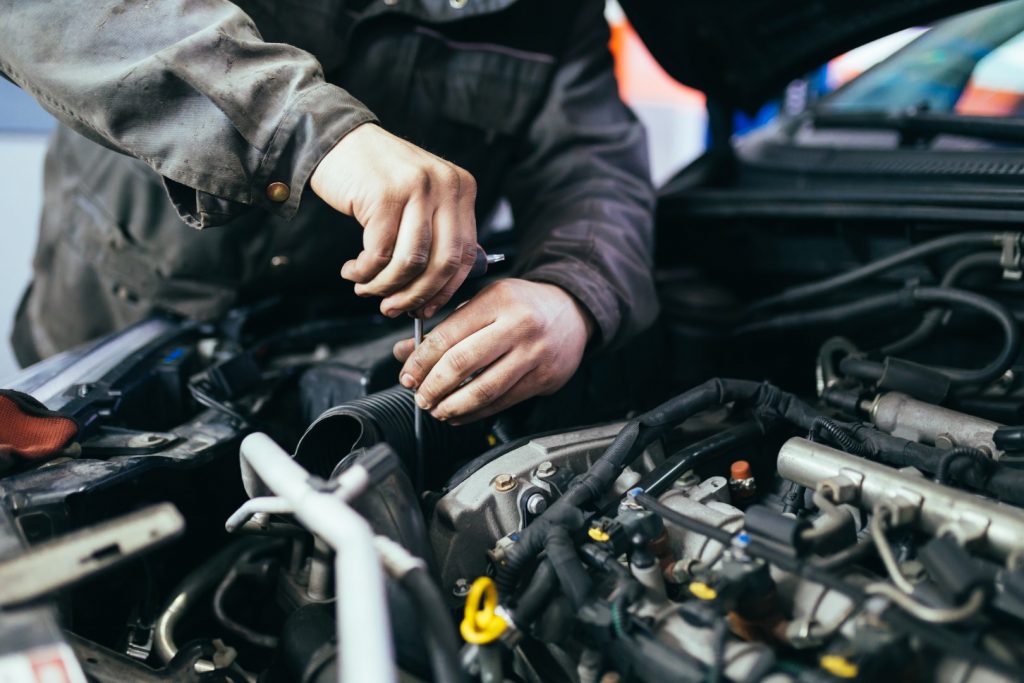 You cannot entrust every little bit of maintenance to your car insurance. Some companies do not cover damages due to specific causes. CarShield reviews, for example, say that problems caused by lack of maintenance are usually not covered.
The best solution is to learn how to maintain your vehicle by doing auto repairs yourself. While the notion may sound absurd, you would be surprised at how simple some of these are.
Would you rather spend a few hours learning how to take care of your car or waste your money?
Performing Tire Maintenance
One of the most important auto repairs you have to learn is tire maintenance. Properly inflated tires are safer, more fuel-efficient, and perform better.
The process is not complicated. All you have to do is keep the tires at the correct pressure. You can check your vehicle's user manual or the driver-side panel for accurate pressure.
You will need an accurate pressure gauge for this. You can buy one to keep at home or go to any gas station to do this.
Remove the cap of the tire's valve, then fix the pressure gauge. It should just take a couple of seconds to show the result. Take note of that.
If the tire is underinflated, you need to add more using an air pump. Again, you can either buy this for home use or visit the nearest gas station.
On the other hand, you can let some air out if the tire is overinflated. Some automated air pumps can be preset to a specific pressure, inflating or deflating the tire as needed.
Changing a Tire
The auto repair skill any driver should learn is how to change a tire. You never know when you will encounter a flat. While most cars do have the tools and a spare tire to deal with the problem, it is up to you to know how to use them.
While the process is straightforward, it can be challenging if you have not practiced this before.
Find a safe place to pull over. It should be level to keep the car from rolling and as far from traffic as possible. Avoid stopping near road bends since that will decrease your visibility.
Turn on your hazard and brake lights.
If the flat tire has a cover or a hubcap, you should easily pry this off with your hands to gain access to the lug nuts.
Use a wrench to turn each lug nut counterclockwise to loosen them.
Lift the car off the ground using a jack. Make sure to position it under the metal part of the frame. Avoid placing it anywhere it can cause damage. You can consult your user manual for an exact location to place this best.
Once the vehicle is lifted, remove each lug nut and put them in a safe place. Remove the entire tire.
Place the spare tire onto the wheelbase.
Replace the lug nuts. Do not tighten them all the way just yet.
Lower the vehicle until the tire is just touching the ground.
Tighten each lug nut evenly. Do this in increments, giving each lug nut a turn to tighten at the same time.
Lower the vehicle onto the ground and double-check each lug nut.
Do not throw away your damaged tire just yet. You can bring it to your trusted mechanic to see if it could be salvaged.
Refilling Car Fluids
Your vehicle would have a lot of different fluids such as engine oil, brake fluid, power steering fluid, windshield wiper washer, and coolant fluid, to name a few.
You should regularly perform checks on each fluid to ensure they are at the right level. For example, running the car on low oil can damage the engine.
Generally, you should check your car fluids every other time you fill your car up with gas. That gives you enough time to detect any problem and address it before it develops into a larger issue.
Replacing Air Filter
It only takes a few minutes of your time to replace an air filter. You do not have to pay your mechanic for this.
The first step is to find the air filter under the hood. You can refer to your vehicle's manual to find its exact location.
Next, note how the air filter fits and which way it faces.
Pull the old air filter out and replace the new one. It is as easy as that. You do not need to find professional help.
Cleaning Your Car
A regular wash can protect your vehicle's exterior from the elements. Do not go months on end without cleaning, as the dirt buildup can eventually damage the paint. Here is a quick and easy way to keep your car clean:
Rinse the exterior with water to remove loose dirt.
Use a bucket for your cleaning solution and another for clean water.
Start washing the top of the vehicle, working your way down.
Rinse the car with clean water.
Dry it with a microfiber towel.
Wax the car to add a protective layer against dirt.
Aside from learning the regular maintenance routines, you should also know about early warning signs for your car. The earlier you spot a problem, the better. Doing these simple steps can save you a lot of time and money in the long run.