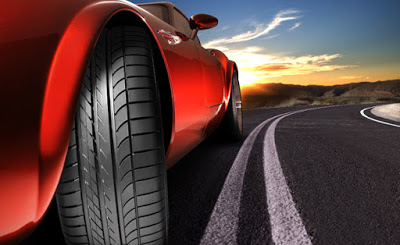 The ambient temperature, or the temperature of your vehicle and tire's surroundings, can affect tire pressure in ways many do not think about in regular instances. The air inside your tires, known as tire pressure, expands as the temperature gets warmer and contracts as the temperature gets colder. This is why it's important to check your tire pressure regularly, and especially before a long road trip or if you live in a region where the temperatures can vary and change a bit. In this article by SimpleTire, all questions regarding tire pressure and air temps are answered in a helpful guide designed to help motorists everywhere prepare for safe travels on roadways everywhere.
While it may be true that most drivers know it is important to check their tire pressure regularly, the majority of drivers do not ever check their tire's pressure at all. Some drivers may leave tire pressure monitoring to their vehicle's TPMS or Tire Pressure Monitoring System. This kind of technology allows four or more individual monitors to be placed inside the wheel (usually inside the valve stem) which can communicate with the vehicle if there is a fault. Many times, the fault will trigger the tire pressure light to illuminate in the vehicle's instrument panel when individual tire pressures vary by a few PSI. Filling or deflating the tire that is out of spec and driving the vehicle a few miles will usually get this light to clear.
When it comes to tire pressure measurement, PSI or pounds per square inch is one of the most common ways tire pressure can be measured. KpA or kilopascal is another unit of tire pressure measurement which can be found on just about any consumer-ready or professional tire pressure gauge. Every vehicle has a recommended tire pressure setting which can be found in the owner's manual or sometimes inside the driver's door jamb. 
It may surprise you that many drivers do not realize that the ambient temperature can have a big impact on tire pressure. As the ambient temperature gets warmer, the air inside your tires expands. This expansion can cause your tires to become overinflated, which can lead to a blowout. Tire temperature also increases during operation and can blow out if overinflated or underinflated so it is important to monitor your pressures regularly. On the other hand, if the temperature gets too cold, the air inside your tires will contract causing your tires to deflate and lose air pressure. When this happens, your vehicle's TPMS light will illuminate. If your vehicle is not equipped with a tire pressure monitoring system, you will need to regularly check your tires with a tire pressure tester to ensure that you are within factory specifications.