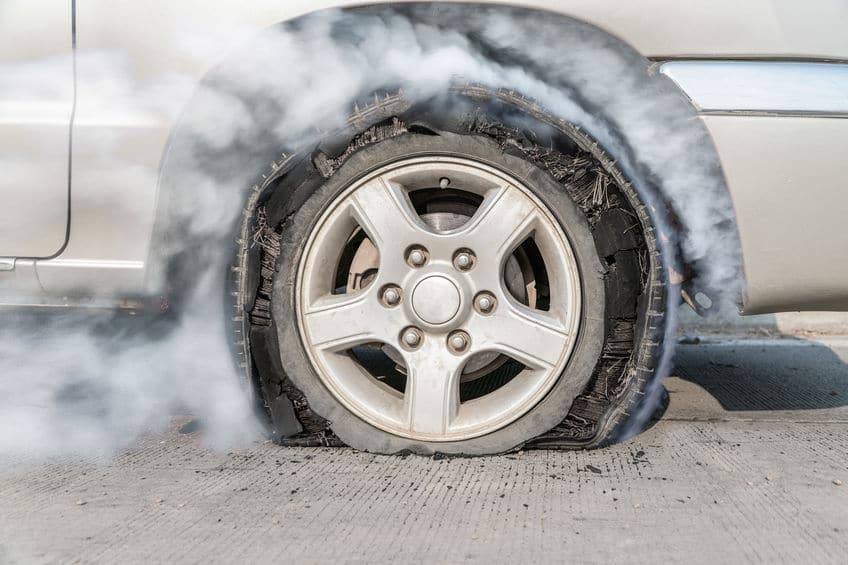 When you are driving and a tire blows out, it can be terrifying and hazardous for other drivers. It is essential to know what to do if it happens to you. A tire blowout can be hard to control and may easily result in a serious car crash.
Your reaction can determine how the situation resolves itself in many cases. Try to remain calm and commit the following tips to memory so you will know what to do when you have a blowout.
Signs of a Blowout 
If you have never been in a car that has blown a tire, you may not automatically know what is happening. Here are some things to expect.
Listen for a Blowout
When a tire blows, the initial thing you will notice is usually the sound. Expect to hear a loud bang. The sound will usually be heard and felt throughout the car. That is the sound of the tire popping.
Next, you will probably hear a whoosh of air leaving the tire. Since there is a hole and the air is seeping out quickly, the rush of air can be heard inside the car in a lot of cases.
Finally, you will hear a flapping sound. That sound will be repetitive because it is the sound of the flat tire slapping the road as you continue moving along. These sounds will alert you of what is happening to your car.
How a Tire Blowout Feels
By blowing a front tire, you will typically feel its force while steering your car. If the back tire blows, you will notice it in the seat or the car's body. Whichever tire blows out, you should react the same way.
Driving When a Tire Blowout Occurs
Remain calm if you hear the pop, whoosh, and flap or if you feel it in the steering or body of the car. Your focus should be on maintaining control of your vehicle. Keep it as balanced as possible to remain safe.
Listed below are some tips for handling a blowout safely. The National Highway Traffic Safety Administration (NHTSA) offers the following suggestions: 
Firmly use both hands to grip the steering wheel.
Even if you are tempted, do not slam on your brakes.
Slowly release the accelerator and allow your car to slow gradually.
Use the steering wheel to keep the vehicle stabilized and work to regain control. Slowly steer in the direction you need to go.
Once you have slowed down to a safer speed, pull over.
Turn your hazard lights on.
What to Do Following a Blowout
After your tire blowout, the first goal is to get out of the way of traffic and move off the road. Staying safe is the objective here. Turn your hazard lights on so that other motorists are alerted that you are having a problem.
If you are unsure how to change a tire or if it is not a safe place to stop and change your tire, call roadside assistance. Many insurance companies offer the service for times just like this. Stay out of the road and out of the way of oncoming traffic. 
If you have a long distance to travel, the spare will not last very long. It is meant to be used for a brief period, at very low speeds, so that you can make it to a tire center for a replacement. It is not a bad idea to understand where the spare and the tools to change the tire are located before a flat tire ever happens, so look this information up in your owner's manual before you are faced with the need.
The manual may walk you through changing a flat tire, but it is smart to practice changing a tire before you are faced with doing it out of necessity.
Preventing Tire Blowouts
Blowouts can be frightening and dangerous, but thankfully, they are, for the most part, preventable. They usually occur between the months of May and October. This is because the roads are scorching at this time. Other factors that contribute to blowouts are listed below:
Underinflated tires
Extreme wear and tear
Overloaded vehicle
Keep your tires filled to the appropriate tire pressure for your vehicle. Inspect your tires regularly for leaks and excessive wear. Another way to avoid a blowout is to keep your load light since heavy loads pop tires.
Stay Safe Out There
Hopefully, you can avoid a blowout by taking preventative measures. However, you may still experience one, so often reminding yourself of what to do in case it happens is critical to resolving the situation safely. With some knowledge and some safety precautions, you can avoid being hurt or damaging your vehicle if a blowout occurs.