Rimac and Pininfarina are trading blows with their respective EV hypercars but it seems the Croatian folk can boast the most after setting 23 speed records in one day.
The full list of achievements by the Rimac Nevera can be seen below but some of the more mind-bending ones include an 8.25 seconds quarter mile, 0 to 300 km/h (186 mph) in 9.2 seconds and 0 to 400 km/h (249 mph) in 21.31 seconds.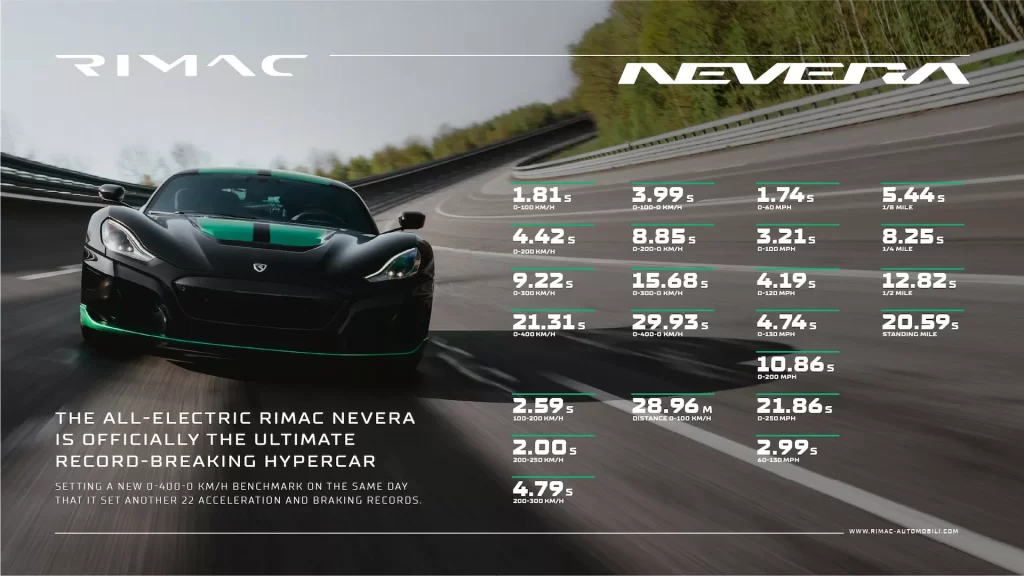 These figures ensure it topples the Pininfarina Battista off the top of the charts for 0 to 100 km/h (62 mph) as well as the quarter-mile time (Battista managed 8.55 seconds).
Rimac is immensely proud of the time it takes the Nevera to get to 400 km/h and back to zero again, claiming that this combined test of traction, acceleration, power, aerodynamics, braking force and grip is the ultimate measure of a hypercar's straight-line performance.
The Nevera achieved the above in 29.93 seconds beating the Koenigsegg Agera RS record from 2019 which stood at 31.49 seconds.
As a reminder, the Nevera packs four motors delivering a total of 1,888 hp (1,408 kW) and 2,360 Nm (1,741 lb-ft).
These numbers are truly staggering and it must be someone else to experience this but for now, we have the video below to enjoy.