Finally it has been announced and the official pictures released. I hate those pictures with all the camouflage and other trim pieces to try and hide what car it is. Firstly I must admit that I have never been a Mini fan. They are overpriced very tiny little pieces of machinery. This being said, they are still an enormous amount of fun to drive. Well the S versions, the standard ones should not be allowed on the road they are so boring. The new 2012 Cooper Coupe is Mini's first proper 2 seater and is the fastest stock mini to date.
2012 John Cooper Works Coupe
My initial impression is quite a good one and I find myself really enjoying how this thing looks. As with the previous Mini's, this will be offered in the standard base Cooper Coupe (yuck), the Cooper S Coupe and a highly spec'ed John Cooper Works Coupe. All of them have a 1.6 liter paired with a manual 6 speed. Base Cooper Coupe produces a decent 121hp which allows it to hit the 100 mark in 8.3 seconds. The better versions and frankly the only ones you should buy, they Works and the 'S' both have a twin-scroll turbocharger (Art Dubai). Now we are talking… The S is rated at 181hp and features an overboost function which sends the power to around 192hp. The Works car has around 208hp and manages to sprint to 100 in 6.1seconds (S version manages this in 6.5seconds). I am impressed with the new Mini Cooper Coupe and I beleive that it will do extremely well. Please just do yourself and buy the S version or the JCW version. It will be worth it and your chances of falling asleep at the wheel will greatly be reduced.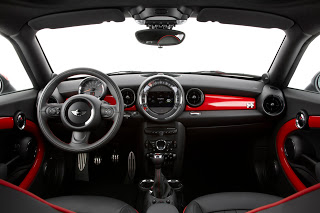 Some old over the top retro interior… Lots of little bits to get broken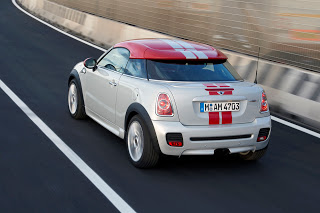 Spoiler on roof automatically deploys… nice!