Another Special Edition M3
The Chinese market will be the only market worldwide to receive the third special edition M3 (limited to a run of 111 examples). Matte Edition and Tiger Edition have been done already. The third one is the CARBON edition… So I am sure one can guess what differences this one will have.. That's right you guessed it, a whole bunch of carbon fiber.
The awesome material is visible on the roof, the hood vents, the rear win and the front splitter. I just love the look of the carbon front splitter. Some decals on the exterior kind of ruin it for me but I do like the 'Carbon Edition' decals on the lower edge of the doors and the very blacked-out 19-inch alloys. Looks very mean… and 'Special' (helmii.com). At a price of $189 000 it is going to be hefty for an M3 but if you want special you going to have to pay special.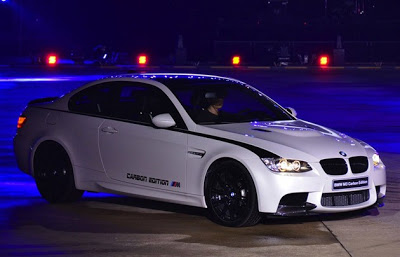 Decals ruin it slightly but carbon front splitter is AWESOME