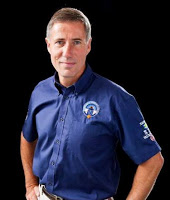 Driver Andy Green
I was fortunate enough to recently attend a lecture at the University of Cape Town in South Africa on the new fastest car in the world, the Bloodhound SSC. I was not expecting much until I saw just how much passion and engineering is going into the project. I was immediately blown away by how well the driver, Andy Green, is clued up on the project and how enthusiastic he is about it. It's not all about smashing world records here and it is more than the thrill for him. He went on to tell us all how the BLOODHOUND SSC will be able to accelerate to 1600km/h and back to zero in less than 100 seconds. The massive amount of thrust force created by the jet-engine the rocket is equal to 133 000hp or 180 F1 Cars (slow cars as he likes to call them). The suspension is loaded upto 30 tonnes, air pressure on the bodywork reaches 10 tonnes per square meter. Each aluminium wheel will be spinning at 10 200rpm at top speed and generating 50 000 G force at the edge of the rim. All the numbers are staggering and this is one hell of an engineering adventure.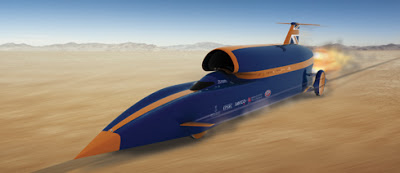 Rendering of the Bloodhound SSC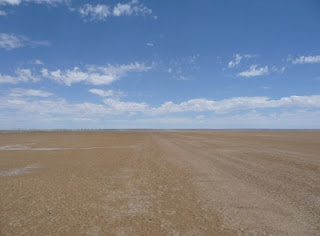 Amazingly flat Hakskeen Pan
What is so special about this adventure is the track they decided to use. It needed to be extremely carefully picked based an many conditions and the result is in our backyard. Hakskeen Pan in the Northern Cape was selected. 19km long and 5km wide with a very hard and very flat surface, great access, closeby accommodation and very solid weather conditions. This was the location that Andy Green had been chasing for well over a year. The area to be cleared is 25 millions square metres and this is going to be done by hand by the local community in the Northern Cape. This will iteslf be a world record and it is safe to say that all involved will be making history as well as a platform for the entire worlds eyes to focus on when they aim to hit the 1000mph mark in 2013.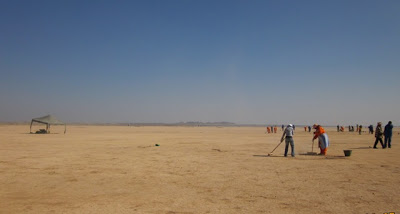 Locals helping clean the track – breaking world record
I myself cannot wait to see this in action and you have no excuse to miss it (provided you dont blink at the crucial time). It will be broadcast live around the world and over the internet to an estimated 3billion viewers. That's right, 3 billion people will have their eyes on the Hakskeen Pan in the Northern Cape and hopefull see the Bloodhound SSC hit a cool 1600km/h. Watch the video below for a fantastic animation as to how they hope the run will go.