Summer is fast approaching in the UK, and as soon as the sun does shine, drivers all over will be looking to drop their convertible tops. It's always time to take a drive when the sun is in a clear blue sky, and here are our favourite convertible cars.
Audi TT convertible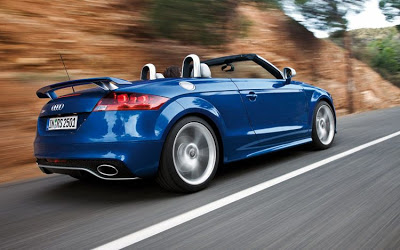 The Audi TT has been with us for a good while now, but it's still one of the coolest curvy cars in town. And even more so with the fabric roof folded away, so everyone can see you as you bathe in the surely soon-to-arrive spring sunshine. The original Audi TT was launched as a coupe, but it was clearly always intended by Audi to go topless at some point, with its rounded and tightly packed coupe lines lending themselves to that convertible look so wonderfully. In fact, with the roof stowed away, the Audi TT is one of the very prettiest convertible cars you can buy today. A little feminine perhaps, but most convertible cars are. Stylish, sleek and desirable, an Audi TT convertible has always been high on the wish list of well-heeled drivers, but prices have come down a little thanks to the awful weather that we're all suffering, so why not take a look to see what drop-top TTs CarShop has in stock? You might be surprised by what you can get for reasonable money, and when the sun finally pokes through these freezing clouds you'll be smiling the widest.

BMW M3 convertible
If you want some pretty serious speed to go with your roof down motoring, then the BMW M3 convertible is definitely worth your test drive attention. The convertible variant of the one of the most well respected sports saloons is one of a very limited number of convertible cars that still manages to look tough. And that tough look is backed up by impressive performance. Your budget will dictate which M3 convertible you can stretch to, but the current yet soon to be replaced car, with its 4-litre, V8 petrol engine and over 400bhp to play with is one sexy way to really mess up your hair. Friends with comb-overs will not thank you for buying one of these V8 bad boys! Prices for the V8 M3 are getting seriously attractive right now, but convertible prices are likely to creep up again with the temperature outside.
Caterham 7
If you're talking about the purest form of open top motoring, it has to be the iconic Caterham 7. This most famous of British sportscars just gets better with age, and with used prices starting at around £10,000, they are within reach of more real world budgets these days. Two seats for two people to have double the amount of fun in, these fast and so-fine-handling cars are as much fun to drive as they are stunning to look at. So much grip, so little weight to pull and rear-wheel drive, the Caterham 7 will attack your favourite back lanes with as much gusto as you can handle. Any driving holiday or road trip will only get better in a Caterham 7, but mark my words, when that spring sunshine eventually pops out, the used prices for these sweet little sportsters will only climb and climb.