Finally I got my turn to drive the highly anticipated MKVII Golf GTI and I was impressed. I have been a very happy owner of the Golf 6 GTI for 2 years now so I would certainly be able to notice differences between the two generations. The car I got to drive was a manual unfortunately so I could not compare directly to my DSG but nonetheless I got on my way and got my first feel of VW's new baby.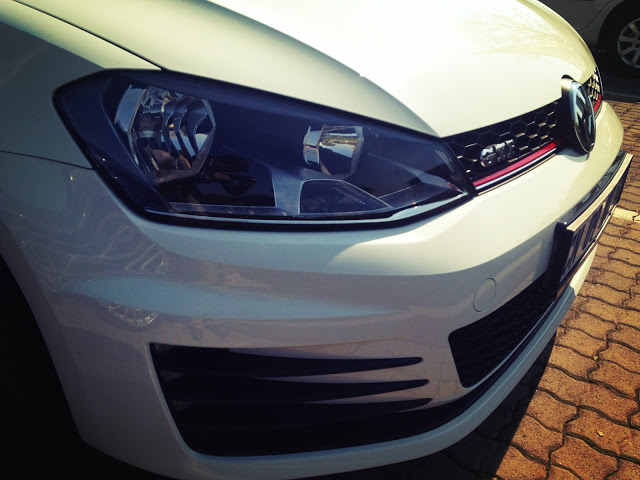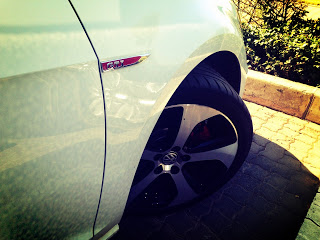 As I sat inside the car I immediately noticed the improved interior. Now I am not saying the MKVI is bad in any way at all because it is still very smart but VW have made sure that you know you in a sporty little number as soon as you sit down. The seats are extremely comfortable and the new 'indented' steering wheel is a pleasure to hold.
As I drive off the first thing I take not of is how much lighter the steering is. The first time I realised that the steering in my car was 'heavy' was when I drove the new Audi A3 Sportback recently. This is as light as the A3 but seems like it has better feedback.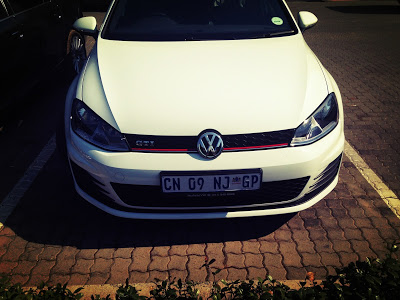 I spotted some open space on the road and gave it the beans. The 2.0-litre turbo kicks into action effortlessly and in no time at all you are moving at a properly rapid pace. Seeing as this was a manual and my gear changes were not fantastic I couldn't really compare the performance of the car to the predecessor. It does only have 7kW extra so it is hard to tell performance differences. The ride of the car however is a lot better. Same size wheels and tyre profile as the previous generation yet it feels more refined and capable.
The new GTI also features some nifty little tricks such as the automatic handbrake. The handbrake applies when the clutch is fully depressed and the car is at a stop. This only releases when the clutch starts to engage so there is no chance of rolling back (quite a nice car to do your driver's license test in). When this car came out I absolutely loved the red striping that continued through the lights but I only found out that this comes with the Xenon lights package which costs an additional R9600.00.
On to the pricing and options of the car and this MK7 GTI comes standard with touch screen media interface as well as Bluetooth. If you want to be able to control your iPod however, you will need to fork out an extra R850.00 and this is a small price to pay to have full control over your iDevice whilst driving.
In my honest opinion, I think Xenon's should come standard on the GTI as that red-line is what really caught my eye on the new front-end design and this is VW's premium hot-hatch. Sunroof is R9000, sat nav is a hairy R18 350 and if you really want some serious sound, the 300W system is R8200. The manual base price is R368 600 with the DSG coming in at R382 800 so if you want some extra's be prepared for the R400 000 mark and if you want them all, you are looking at R460 000 (DSG version).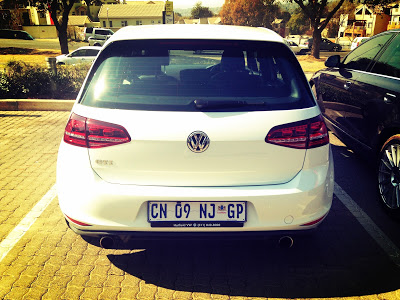 With the above being said, the car is still fantastic to drive and only you can be the judge if you want to buy one for yourself. Thanks to VW Hatfield Bryanston for letting me take one for a spin.