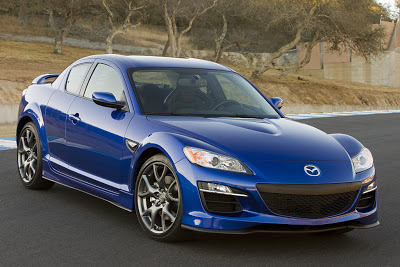 Whatever you're looking for in a used car, the odds are good you'll find it in a used Mazda available at Bristol Street Motors. With a history dating back to 1920, the car company has long-since established its reputation for dependable designs at affordable prices. Boasting a long run of impressive looking, high-performance vehicles over the years, it wasn't easy to narrow down a "best-of" list. Still, with apologies to the turbocharged 323 GTX from the 1980s and its rapid fan base:
Mazda MX-5: Popularly known as the Mazda Miata, the MX-5 is a lightweight two-seater roadster that has been winning hearts and minds since it first hit the market in 1989. Currently in its third generation, the MX-5 is known for its sporty handling, sleek design, and affordable luxury. Fast, light-weight, and bursting with personality, the MX-5 is one of the most famous cars that Mazda has ever produced for a good reason—it's a lot of fun to drive.
Mazda2 or Mazda Demio: A supermini now in its third generation, the 2008 version won the prestigious 2008 World Car of the Year title. The current generation shares the same platform as the award winning Ford Fiesta, but offers a lighter and more nimble driving experience. The Mazda2 comes with a five speed manual or four speed automatic transmission, and offers body styles including four-door saloon, three-door and five-door hatchback.
MazdaSpeed3: Launched around the same time as the current MX5 and Mazda2, the MazdaSpeed3 has established itself as a go-to for sport-compact lovers. Augmented by sleek-lines and a futuristic exterior, the five-door hatchback has received numerous awards in both its first (2007-2009) and second (2010- ) generations. Excellent balance, a powerful engine and an affordable sticker price on even new models continue to bolster the MazadaSpeed3's reputation.
Mazda6: The successor to the ahead-of-its-time 626 model, the Mazda6 was launched in 2002. Featuring a wide range of body and engine configurations in both its first (2002-2006) and second (2007- ) generations, the Mazda6 has repeatedly drawn raves for its handsome design and excellent handling. A third generation, unveiled in August 2012, may have raised the bar even higher—its design was a finalist in the 2013 World Design of the Year awards.
Mazda Cosmo (Series I and II): While only about 1500 of these cars were ever made, no list of Mazdas could be complete without them. Produced between 1967 and 1972, the Cosmo (or 110S) was a hand-built grand touring coupe that has long-since taken on iconic status. While not the fasted or the most powerful car of its generation, it did introduce the company's famous two-rotor Wankel engine. Far more importantly, even years after its release, the car still manages to define 60's cool.
Whichever Mazda you decide to buy you will be more than happy. Mazda constantly works on improving its technology in order to stay on top of their game and also prove a point to once a partner, now rival Ford. Ford will always remain a threat with the success of their cars such as the Ford Fiesta available at Bristol Street Motors.