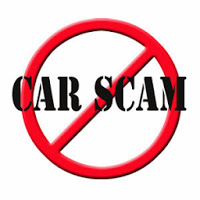 If you have been on the market for a used car for some time and have done the appropriate research, the next step is to inform the dealer or seller that you are interested in their vehicle. However, this next step is especially crucial – you must be ready to ask for a good price, but you must also be willing to negotiate or work out a deal that benefits all concerned.
But there is one adage that always holds true for situations such as purchasing a used car, especially if it is a luxury model such as a Toyota: "if it sounds too good to be true, it usually is." Remember that scams are prevalent, even when buying used vehicles. And in this regard, it is better to be safe than sorry.

The seller and the car are not located in the same place
If you have been in touch with a seller and they tell you that they are located in a different place than where the vehicle is, then you may have to be a bit wary. Of course, the seller could be telling the truth (perhaps they had to relocate or are a member of the military, for instance), but you have to be careful. You have to find a way to inspect the car and also meet the seller personally before you buy anything from them.
A vehicle that's priced too cheaply for what it's worth
As buyers, we always want to get a good bargain. But if you have found a vehicle that you like and the price is too cheap when compared to vehicles of the same year, make, and model, then you may be in for an unpleasant surprise. Some sellers would even go as far as making up a story to go along with the car, such as divorce and family problems or death. Again, proceed with caution, and don't take their word for it. Better yet, walk away – this is where it's definitely better to be safe than sorry.
The seller asks for the payment in advance
Once you have contacted a seller, have inspected their car, and like what you see, the paperwork begins. But if the seller asks for money in advance even before the paperwork is done, then you might be the potential victim of a scam. It's an unspoken rule: until all the paperwork is finished and the car is actually in your hands, then the payment should not be made.
There is a sudden change
Another situation to be wary about is when you have already met and spoken with a seller and they suddenly change their mind in the middle of the transaction. They may suddenly have the sale terms changed without informing you beforehand, or they may ask you to transact on a different website. If any change seems suspicious, then do not go through with the deal, no matter how much you love the car.
Whether you are seeking Toyota used cars or off-road vehicles, it always pays to know what to expect. Be careful and wary, and stay away from shady dealers or sellers who may give you vague or unsubstantiated information. Stick with an authorised dealer; that way you'll be assured of professional service, excellent workmanship and of course security and real value for money.