For the second time in two years, Ford Motor Co. has cut the price of its Focus Electric car in the hopes of boosting sales.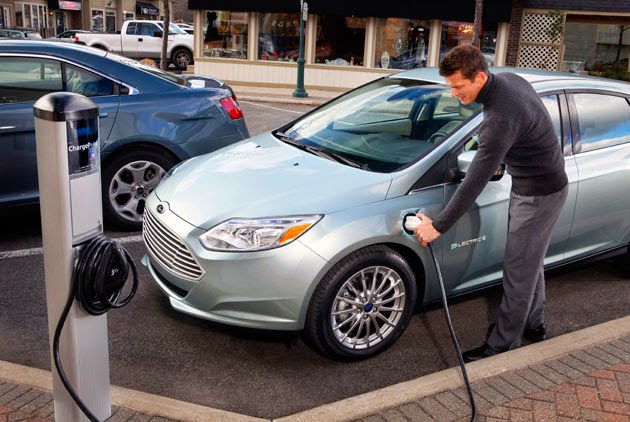 The Ford Focus Electric 2015 edition is getting a significant price cut of about $6000, down to $29,995, according to recent reports — thus finally putting it on competitive terms with the market leader, the Nissan LEAF. The battery-electric Focus is now in its fourth model year, and only about 4,000 have been sold since it first went on sale in December 2011.
"We hope by reducing the price we're giving customers another reason to consider the Focus," said spokesman Aaron Miller, adding it puts the electric car at a "very competitive price point."
With rare exception, automakers have been cutting prices of both plug-in and pure battery-electric vehicle (BEV) models in a bid to boost sluggish sales. And with gas prices now near or below $3 a gallon in much of the U.S., industry analysts suggest it will be even more difficult to persuade buyers to opt for vehicles that plug in rather than tank up.
The slow pace of sales is pegged as the reason for the price cut, which finally brought the Focus Electric into Nissan Leaf territory. Ford has managed to sell just 1,534 examples of the Focus Electric so far this year, according to Automotive News, compared to 21,822 Leafs sold by Nissan for the first nine months of this year.
The growing market share for electric vehicles is largely attributable to declining costs. Electric vehicles are quickly becoming more affordable, and vehicle sales are rising correspondingly.
The Focus Electric remains, however, a good electric car with excellent ride quality and handling attributes.
Source: Kayser Online